A new community program, jointly hosted by the Abilities Expo and Cure Medical advocates, aims to pay it forward by offering free peer support events at local rehabilitation hospitals before or after Abilities Expo shows nationwide.
With wildly-popular events already hosted at Marionjoy Rehab Hospital in Chicago, and the TIRR Peers program in Houston, the latest Pay It Forward support program took place at Boston's Spaulding Rehabilitation Hospital on September 20, 2018, as the Abilities Expo rolled into Beantown for the weekend!
Pay It Forward: In-Person, Practical Knowledge for Newly Injured
The Pay It Forward educational program began with a simple intention to give back to the community served by the Abilities Expo and Cure Medical nationwide.
In each city that the Abilities Expo visits, an expert team of wheelchair users and peer educators offers practical advice and personal examples of life after spinal cord injury in a structured peer counseling setting.
The goal of the Pay It Forward program is to encourage people who are newly injured while also helping them discover lifestyle activities and opportunities post-SCI.
Abilities Expo CEO David Korse says, "The Pay It Forward program supports our overall mission in a meaningful, tangible way. The Abilities Expo exists to introduce opportunities that can enrich your life, especially ones that you never knew were out there, and these in-person hospital programs do exactly that."
"We also invite any medical professional who wants to learn more about the Abilities Expo to join us at our Boston event, free of charge," Korse continues.
Cure Advocate Andrew Angulo knows firsthand the power of peer programs like Pay It Forward events. After being paralyzed in a motorcycle accident nine years ago, Andrew has personally committed his own career to uplifting and encouraging other people who are also living with spinal cord injury.
Andrew explains "Peer support is absolutely vital in recovery from a personal standpoint. Being surrounded by health professionals, friends and family can only help with so much. But with peer support, you find recovery is possible by listening and receiving from people who've been there and are going through it just as you are."
In addition to his role as a Cure Advocate, Andrew is also a Patient Experience Representative at California Rehabilitation Institute in Los Angeles and speaks monthly at Triumph Foundation peer support events throughout Southern California.
Meet Andrew in person at the San Mateo Abilities Expo on October 26-28, 2018!
Paying it Forward in Boston
Cure Advocate Chris Collin, a T5 paraplegic, teamed up with Catalyst Sports executive director Eric Gray to share adaptive sports advice and post-injury experiences at Spaulding Rehabilitation Hospital on September 20, 2018.
Chris shared his passion for adaptive skiing and quad rugby from his volunteer role with Maine Adaptive Sports and Recreation as Eric highlighted "out-of-chair" experiences like adaptive rock climbing and other fun, inclusive activities.
Chris welcomes all to join the Cure Medical Pay It Forward peer programs as he says, "Peer programs helped me when I was in rehab too. It's important to see and hear from people that have been through similar situations, as it shines light on what you're capable of doing as a person in the 'new world' you are in."
Eric agrees as he adds, "So many individuals going through rehab feel alone. They may have a supportive family but they are also going through something they never thought would happen to them. Having a peer program that offers fun events like what we are doing with the Pay It Forward initiative is like seeing a pot of gold at the end of the rainbow."
"That's why we've partnered with Cure Medical to better reach the community we serve. Thanks to their help, and organizations like them, Catalyst Sports can teach more people to look past their disability and on to what's possible through engaging and inclusive sports," Eric continues.
VIDEO: CBS NEWS FEATURES CATALYST SPORTS
How You Can "Pay It Forward" In Your Community Too
The Pay It Forward peer program is free for any participating rehabilitation hospital or local non-profit organization. The Abilities Expo and Cure Medical cover all event costs including speaker travel and dinner for participants.
"Cure Medical is a proud sponsor of these complimentary clinical events. The Pay It Forward program is a real-life example of the Cure Commitment to our customers and partners."
"Beyond these events, more free resources for life after SCI are available on our website to the Cure Nation. Cure Medical also remains distinguished as the only intermittent catheter manufacturer in the world that donates 10% of all net income to medical research programs in pursuit of a cure for paralysis and central nervous system disorders," she shares.
Learn more about the paralysis research programs that Cure Medical financially supports here.
To request a complimentary Pay It Forward peer event for your organization, please contact us here.
Enjoy Our Free Resources & Articles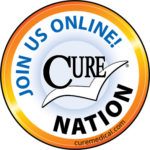 CURE NATION is designed with you in mind, to offer assistance and education when you need it through a personal support program.
All of the information you find below and on our related social media pages is meant to guide you to places, topics and resources that enhance your life, while also connecting you with a growing group of friends.