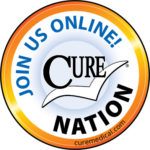 Spinal cord injury is an equal opportunity villain. It doesn't care what kind of car you wrecked, or whether you jumped or got pushed. SCI could care less if you're young or old, hip or square, mean or nice.
Welcome to the least exclusive club nobody ever thought about joining.
It's a long way from your comfort zone, yes? Untethered, and totally unprepared for all this drama? How could you not be.
There's too much happening, too fast:
life and death medicine,
rehab and recovery,
prepping to go home,
finding ways to pay for it, and
figuring out how to live with it.
A new book called "SCI: The First 90 Days" is now available to the Cure Nation, thanks to the generosity of  author Sam Maddox.
We understand this free resource won't make the anxiety of adjusting to life with SCI disappear, but it can help you process it. That's why we're helping Sam share this guide with you and your loved ones.
SCI: The First 90 Days offers resources and connections to sort through the madness so you can make informed choices for the long-run.
Download your free copy here:
It will take time but you will get your bearings. It will take even more time, but you will also find ways to calm the turbulence in your head. For newbies in the club, there's no denying that you have hit the reset button.
Yes, SCI sucks and life's difficult at first. But then you live and more importantly, get back to active living. What choice do you have but to go forward, to reboot? You will.
Your inner warrior has more grit than you ever dreamed was possible.
From the archives of best advice within the book, here's what others who have already traveled the road with SCI have to say:
Don't go into this alone. There is a vibrant and caring SCI community in your area. If you don't find these folks, don't worry, they'll find you.
Stay active. Be part of something. Get out, play, travel, explore.
Stay aggressive about staying healthy.
Stay hopeful. An army of researchers has its eye on new therapies.
Read. Learn. Interact. Connect. Information is the coin of this realm.
Know your rights and be ready to advocate for yourself.
Here's what you'll learn when you download your free copy of this book:
– YOU ARE NOT ALONE
Welcome to Planet SCI, Peer-to-Peer Resources
– EMERGENCY MANAGEMENT
At the Scene, At the Trauma Center, Clinical Trials
– SCI BASICS
What Got Damaged, Predicting Outcome Non-Traumatic SCI
– CHOOSING A REHAB
Comprehensive, Specialized Care Choosing a Rehab. Insurance. The Top Tier SCI Centers Post-Acute Care. Lifelong Rehab.
– PEDIATRIC SCI
Spinal Cord Injury in Children
– BODY AND MIND
Secondary Conditions. Psychosocial Issues and Coping. Sexuality.
– CAREGIVING
SCI Affects the Whole Family
– GETTING MOBILE
Supplies, Equipment, Tools, Home Modification
– YOUR LEGAL RIGHTS
Civil Rights. How to Choose an Attorney
– RESEARCH & RECOVERY
The SCI Cure: Is it Close?
– RESOURCES
Recreation, Sports, Active Living Education, Work & Funding Strategies
Cure Medical founder Bob Yant, who is a C6 quadriplegic, is acknowledged in this book for assisting with its' development.
Bob's work in the spinal cord injury community is just one aspect of the Cure Commitment, and his vision of a cure for paralysis and neurogenic bladder is the cornerstone of:
Cure Medical's product development process,
our financial support of ongoing scientific research and
the underlying purpose of the Cure Nation support program.
Learn more about the ways Cure Medical supports the SCI research community here.
Disclaimer: The material contained in this book is presented for the purpose of educating and informing readers about spinal cord injury.
Nothing contained herein should be construed as medical diagnosis or treatment advice. Information in this book should not be used in place of the advice of a physician or qualified health care provider. 

Enjoy Our Free Resources & Articles

CURE NATION is designed with you in mind, to offer assistance and education when you need it through a personal support program.
All of the information you find below and on our related social media pages is meant to guide you to places, topics and, resources that enhance your life, while also connecting you with a growing group of friends.