Bert Burns is not your regular businessman with a spinal cord injury. He's also a Paralympian, and carries on a passionate sports life outside of the office. After recovering from his injury in his 20's, Bert was introduced to the sport of wheelchair racing and went on to compete globally for over 15 years, and won a gold medal at the 1992 Olympics.
That's just the start of it. A motivational speaker, husband and father of twins, Bert's accident instilled in him not only the desire to live, but to live fully. We're thrilled to share Bert Burns' Pro-Tips for Adapted Driving with the CURE NATION!
Paralympian Bert Burns was paralyzed more than 35 years ago when a drunk driver ran a red light and struck the car he was driving.  It would be understandable if, after that life-changing experience, Bert decided not to drive anymore.
However, as a 20-year-old on wheels, Bert realized then – and now – that in order to stay active and engaged in life, he had to get back on the road.
If you are new to using a wheelchair, and are not yet driving again, please take a moment to review Bert's advice below.  The world is waiting for you – don't be afraid to get back behind the steering wheel!
Q:  Bert, what if I am a higher-level quadriplegic – can I drive again?
A: If you have arm function, you can drive, even if you don't have as much hand dexterity as you used to have.  The level of adaptation your car will need depends on your level of function, but where there's a will, there's a way!
For example, if you have a C6 injury level or below, you can drive a car using a manual chair [that you take apart and load into the car when you get in].  If you are higher than a C6, you will probably be using a power chair and in that case you'll need a van or a mini-van with a ramp that allows you to enter the vehicle with your power chair.
Depending on your level of hand function and your injury level, you may need a lift, or assisted mechanical braking and steering with customized devices like a tripod or a knob on the steering wheel to help with your adapted driving.
Q: What are the best hand controls to use when adapting my car?
A: There are a variety of hand controls on the market including push-button controls, knobs and accelerator rings.  There are four main hand control types , according to your physical abilities:
PUSH/RIGHT ANGLE STYLE
PUSH/PULL STYLE
PUSH/ROCK STYLE
PUSH/ROTATE STYLE
You're going to want to talk to a hand control specialist about the steering style that is best for your personal needs.
I recommend two individuals in particular, Scott Coots and Mo Abusham. Both are wheelchair users themselves.
Scott installed the hand controls on my own vehicle and he works at Mobility Works in Marietta, GA.  Scott is a high-level quadriplegic. You can reach him at 770-422-9674.
Mo Abusham owns Better Life Mobility that has locations in California and Las Vegas.  Visit their website at: http://www.betterlifemobility.com/.
Bert recommends getting a two-door car instead of one with four doors, because of the extra space the driver's side door will have to navigate your wheelchair closer to the vehicle.
Q: What should I look for when selecting a car for my personal use?
A: If you use a manual chair and can transfer into a vehicle, I would recommend getting a two-door car instead of a four-door.  Two-door cars are easier to enter because the driver side door opens much wider than that of a four-door vehicle.  That makes the entry area bigger to let you pull up your chair next to the driver's seat.
A transfer board will help you move onto the driver's seat more easily, and will reduce the stress on your shoulders from lifting your body.
Also, if you can transfer yourself, you don't need a special adapted vehicle in terms of having a lift or other assistance for entering the vehicle. You can just buy a regular car and have hand controls installed.
From there, the only other support you may need to drive is a transfer board to help you get in and out of the vehicle. The transfer board puts less strain on your shoulders.
When choosing a car though, your transmission matters.
Get an automatic, as you obviously won't be using a clutch to shift gears. It is possible to have a mechanical adaptive clutch installed, but why add that expense if you don't need to?
Q: What should I do if I am travelling and need to rent a car?
A: If you're a low quad or a paraplegic, any major rental company in large towns will have hand controls available for use with their rental vehicles.  You will want to give them at least a 24-hour notice for reserving the hand controls so they will have time to install them on the vehicle that you are renting.
Also, tell them if you are left or right-handed, and if you need a knob or another steering device in addition to the hand controls.
If you use a transfer board to get in and out of a car, you will want to bring that with you because rental car agencies do not have them on hand. You can also buy portable hand controls that you can pack in your luggage and put on any car you use when you travel.
Keep in mind though, that if you are a higher-level quadriplegic or if you drive a customized van with a lift, you won't be able to rent a similar van that you can drive.  You may be able to rent an accessible van that has a lift, so you can easily enter and ride in the van with your power chair, but you won't be able to drive it.
Don't be afraid to get back behind the wheel! Bert often drives his family to weekend getaways and summer destinations.
Q: Bert, I can't afford a brand new car or van that has been adapted. Where can I look for a used adapted vehicle?
A: Contact your local rehab hospital or physical therapy centers and their related peer support groups. These organizations often post flyers on bulletin boards or create places to share information about buying used adaptive vehicles.
People will often advertise their used vehicles for sale through these places.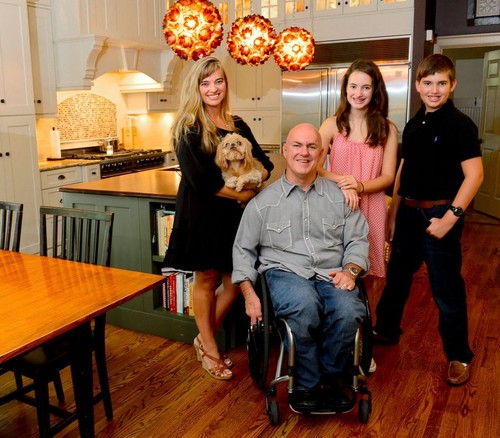 MORE TRAVEL-FRIENDLY AIDS
Planning a big trip? Be sure you have a catheter that travels well with you! Ladies, you'll love our Cure Twist that fits easily in your purse and looks like a cosmetic.
Guys, we have you covered too! Consider our M14XL that helps reduce the need for transfers in public restrooms and eliminates your need to pack extension tubing.
2.  Seeking more accessible travel destinations as you hit the road? Get our free book from the annual Get Out, Enjoy Life event!
In this book, you'll discover a state-by-state directory of accessible travel destinations across the United States as well as pictures and perspectives from people who are exploring their world on wheels.
These accessible travel suggestions are part of the 2017-2018 Get Out & Enjoy Life [GOEL] program that is a joint educational initiative between SPORTS 'N SPOKES magazine, published by the Paralyzed Veterans of America, the Spina Bifida Association and Cure Medical.
Each chapter of this book provides easily-accessible destinations that are fun and engaging for friends who use wheelchairs.
Please note that not every state in the US is featured in this travel guide, just the ones that we have included in our GOEL program to date.  Download your copy using the button below.
BERT BURNS SUPPORTS CURE MEDICAL AND THE CURE COMMITMENT
When Bert was asked for his opinion on Cure Medical's policy of giving 10 percent of the company's profits to research to help cure spinal cord injuries, he answered, "I think this is a great program. If more research can be funded, I believe we'll get a cure for spinal cord injuries sooner."
"I really believe that all the disabilities we know of and the diseases that people get can be cured, if we can come up with enough money for the research required to cure those problems."
"I can't say enough about how wonderful it is that Cure believes in funding paralysis and urinary retention research, and that's one of the reasons why I appreciate Cure Medical," Bert says.
"One of the reasons I recommend Cure catheters is that they're very good catheters and are cost effective," Bert explains.
"Because Cure's catheters have polished eyelets, these catheters don't cause as much irritation in your urethra as other catheters without polished eyelets do. That polished smooth tip allows the catheter to go in and out much easier and more smoothly, causing less damage to the urethra," Bert adds.
CHOOSE A CURE!

To request free samples of the Cure Catheter® or any Cure Medical catheter, contact your local distributor of quality healthcare products, or click here.
"When I'm asked by people, 'How can I decide which catheter is best for me?' I suggest that you try several different catheters from various companies.

But make sure that Cure catheters are in your test group," Bert recommends.
"Good catheters are being made today that are safe and comfortable for everyone. You just need to find out which style of catheter works best for you," he adds with a smile.
---
Enjoy Our Free Resources & Articles

CURE NATION is designed with you in mind, to offer assistance and education when you need it through a personal support program.
All of the information you find below and on our related social media pages is meant to guide you to places, topics, and resources that enhance your life, while also connecting you with a growing group of friends.