Rolling Ahead with a disability or traumatic injury takes many forms, but doing so helps people become more than they've thought they can be.
Giving people resources and encouragement to roll ahead is one of the core missions of Cure Medical, in addition to the medical products we create to improve people's quality of life.
While Cure Medical intermittent catheters are designed to address a physical, medical need,  the rest of the information we provide through the Cure Nation is intended to support people from an emotional and mental standpoint, to help you get from Point A to Point B in your personal journey – regardless of your medical condition or disability.
Rolling Ahead: Stories of Success with Disabilities is a powerful book written by John E. Phillips that shares the personal experiences of 14 people who have all overcome physical challenges and medical conditions of their own, as well as perspectives of people who support others in this journey.
Here's a few of the individual stories you'll find in this amazing book that's bound to change the way you look at people who have disabilities. Hopefully it will also change the way you view your own!
Unstoppable: Christine Kent Fought Her Attacker Who Paralyzed Her
Christine Kent fought off her attacker and then faced him again in court to hold him accountable for her life-changing injuries. Her story caught the attention of media outlets nationwide, including this interview on CNN.
Today, Christine is a hand cyclist, and an advocate for women who have survived violent crimes.  Here's how she survived.
In It to Win It: Paralympian Scot Hollonbeck Created Blaze Sports
Paralyzed by a drunk driver when he was 15 years old,  Scot Hollonbeck became a world-renowned Paralympic athlete. Scot also shares his story of creating Blaze Sports, a national adaptive sports program for children with disabilities.  See how Scot began to get back on top after his injury.
PARALYZED VETERAN CHERI ARNOLD GETS HER POWER AFTER SCI FROM THE OUTDOORS
When Paralyzed Veteran Cheri Arnold was diagnosed as an incomplete paraplegic, she had two options. She could have stayed at home and watched the world pass her by, or she could rediscover herself by attempting new experiences in new places and meeting new people. Cheri has learned the value of new and different experiences. She says that new experiences can be fun, exciting, rewarding, and liberating!
Cheri also believes that it is important to step out of your comfort zone and experience new things, even if you're injured. "Since I've been trying new activities and learning more and more about the outdoor world, I've become extremely empowered."
Hear Cheri's advice for your life after SCI.
Reel Inspiration: Clay Dyer Has No Hands But Is a Champion Fisherman
Professional fisherman Clay Dyer, who turns heads as quickly as he casts his line, and consistently redefines the image of an outdoorsman for crowds nationwide.  It's no surprise that he's a crowd-turner as Clay doesn't have any hands or feet. Clay was born with no legs, no left arm and only part of a right arm, yet he earns his living fishing the FLW professional bass tour.
See his secret to bass fishing success!

Belle On Wheels: Monica Quimby Didn't Let SCI Stop Her Career as a teacher
An avid outdoors lover, Monica had the whole world in front of her as she took the mountain one sunny afternoon while out for a ski trip with friends.  Paralyzed after an unexpected fall, Monica didn't let her spinal cord injury stop her from becoming a pageant winner and an educational professional. Today, she teaches science to college students as a university professor.
Here's her advice for career-minded women who roll.
Aiming High: Paraplegic Michael Dickey Is a World-Class Marksman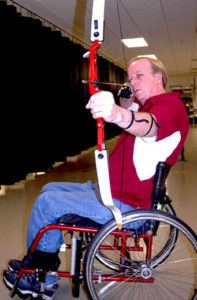 Michael Dickey is a member of the U.S. Paralympics Marksmanship Team who's traveled the world competing for his country.  But in 1979, when he was 19 years old, his world spun out of control following a terrible car accident.  Michael suffered a T-6-level spinal cord injury [a couple of vertebrae above his belly button] as a result of that accident.
"I thought my life was over," Michael recalls. "I didn't think I could take care of myself and participate in the sports that I'd loved for so long. I thought those things would be a distant memory for the rest of my life."
That all changed when Michael got involved with the sports program at the Lakeshore Foundation in Birmingham, Alabama. See what he did to become a champion!
Nursing a Dream: Misty Blue Foster Helps Others with Spina Bifida Too
From being raised in foster care to pursuing a career in health care, Misty Blue Foster followed her dream in order to help other kids who grew up with Spina Bifida like she did.
Misty says, "I always wanted to become a nurse, since the nicest people throughout my life had always been nurses and people in the healthcare industry. I grew up without a family and had an extremely difficult early life, but every time I went to the hospital or to see my doctor, someone with a friendly smile was always there and had a genuine concern for me. Because of the friendliness of the nurses I came in contact with, I decided that was the kind of person I wanted to be when I grew up."
Here's how Misty pursued her Bachelor's degree to become a clinical nurse.
One To Row On: Paralympian Angela Madsen Sails the High Seas
From the Marines to the marina, Angela Madsen enjoys life on the open water.
The entire world cheers when an athlete stands on the podium to accept first-place prize for a difficult race. Yet often the race for success in our lives is through dangerous waters and various disasters.
Today, Angela is one of the most successful rowers in the world, having rowed across the Atlantic and Indian Oceans besides accomplishing numerous other rowing feats. She's also the recipient of the Amateur Athletic Foundation's Women Who Inspire Us Award and the Leo Reilly, Jr., Award for outstanding spirit and determination.
In sharing Angela's story, we'll first share what happened when she was a top-level basketball player in the military, because at the time she had no idea what lay ahead as she would become homeless, face death and then reach the pinnacle of endurance and speed in her chosen sport. Angela's philosophy is to never allow her disabilities to stop her.
See what it looks like to row the ocean with Angela.

The Fast Lane: Drag Racer Craig Hairston Drives with Hand Controls
Like everyone else who has a spinal-cord injury, Craig went through a season of depression, especially on the days when he tried to do what he thought he could do and found out that he couldn't.
Craig says, "I tried to walk, and I fell millions of times. There were days when I wasn't really happy. Yes, I had those moments like all spinal-cord injury individuals had, but luckily the depression didn't hang-around for a long time."
He continues, "Finally I came to the realization that my life was not about what I couldn't do, but rather I needed to find out what I could do. Another real advantage I had was that I was surrounded by a great network of friends. I decided I would not be bound by what other people said I couldn't do."
That's when Craig decided he was going to race. 
Rolling Ahead: Stories of Success with Disabilities  includes a kind foreword from Paralympian and Life After Spinal Cord Injury [LASCI] founder Bert Burns, who shares his thoughts on the value of Rolling Ahead.
See why Bert wants you to read this book!  Download your free copy here.
For More Great Stories: Join the Cure Nation!
If you enjoyed this book, see more stories from John E. Phillips at www.curemedical.com/cure-nation. This book was made available to you through an educational grant from Cure Medical, one of the nation's leading manufacturers of intermittent catheters.
Cure Medical offers two areas of support to our community, with the intermittent catheters we manufacture, and also through the neurological research programs that we financially support.
WHEN YOU USE CURE MEDICAL CATHETERS, YOU ARE ALSO TAKING PART IN THE PURSUIT OF A CURE!
Founded by quadriplegic Bob Yant, Cure Medical is the only catheter manufacturer in the world that donates the first 10% of its net income to support research programs in pursuit of a cure for urinary retention, paralysis, spinal cord injury and central nervous system disorders.

To request free samples of the Cure Catheter® or any Cure Medical catheter, contact your local distributor of quality healthcare products, or click here.
All of the information you find on our website and on our related social media pages is meant to guide you to places, topics and resources that enhance your life, while also connecting you with a growing group of friends.
Thank you for choosing a cure!
Enjoy Our Free Resources & Articles

CURE NATION is designed with you in mind, to offer assistance and education when you need it through a personal support program.
All of the information you find below and on our related social media pages is meant to guide you to places, topics and, resources that enhance your life, while also connecting you with a growing group of friends.