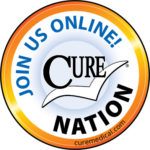 Still in its infancy, Wheelchair Lacrosse USA offers 30 programs with 15 competitive teams nationwide. But the sport of wheelchair lacrosse is steadily growing! The hope is that one day this sport created by Native Americans will be a part of the Paralympic Games. To find out how the sport of wheelchair lacrosse began, Cure Medical talked with 45-year-old Ryan Baker, the co-founder of Wheelchair Lacrosse USA.
Wheelchair Lacrosse Takes Off
"I never played lacrosse before my injury in a 1991 car accident that put me in a wheelchair," Ryan Baker explains. "In 2009, a buddy of mine, Bill Lundstrom, and I realized that wheelchair team sports were very limited for the wheelchair community. It wasn't the quality of the sports we played, but rather the number of team sports itself was limited. Sled hockey, basketball, softball, rugby, tennis, track and field, swimming and others were available. Some of these sports were injury specific."
Bring Wheelchair Lacrosse to Your Community!
"As we looked into wheelchair lacrosse, we couldn't find any adaptive programs that included lacrosse for people who use wheelchairs."
Ryan and Bill  searched for rule books, curriculum and individuals to find a starting point for the possibility of creating a wheelchair lacrosse team. Being unsuccessful in their search for information, the guys found some used lacrosse equipment, headed to the tennis court and began to throw and catch the ball.
Within a month or two, there were eight more guys in wheelchairs on their court, throwing the ball around to each other and catching it with lacrosse sticks. Then, the group searched for a roller hockey rink that would allow them to practice and play.
"Once we found a venue that we felt was suitable for wheelchair lacrosse, interest grew in the sport," Ryan remembers. As more people in wheelchairs expressed an interest and popularity grew, Ryan and Bill realized it was time to begin organizing competitive events.
The sport of wheelchair lacrosse is expanding quickly and they've found support in the national governing body of U.S. lacrosse.
"Many of the able bodied sports now have wheelchair counterparts," Ryan explains. "USA basketball has a wheelchair component, USA Hockey is involved with sled hockey and works with the National Governing Body of the sport of hockey." Although lacrosse is not an official Olympic sport yet, US Lacrosse has been helping out with the idea of wheelchair lacrosse.
Wheelchair Lacrosse is based in San Diego, California, and the organization has created 30 programs over the last 7 years.
Many of those programs have sprung up from wheelchair lacrosse and US Lacrosse clinics that have been presented to many sports groups with disabilities. Some of these organizations may have a sled hockey team and/or a wheelchair basketball team.
When groups learn about the wheelchair lacrosse program, they can call (619-807-9327) or email the offices of Wheelchair Lacrosse, to learn how they can hold a clinic on wheelchair lacrosse at their locations.
That's how wheelchair lacrosse programs have started all over the country. "After learning about wheelchair lacrosse, some of these programs start their own without having first seen a clinic," Ryan explains. "Remember, we are a very small, shoestring organization. Bill and I both have full time jobs, we are both married, we don't have a lot of money like wheelchair basketball has, and we don't have 80 teams playing all across the country. But we are trying to slowly grow the sport of wheelchair lacrosse."
When asked why he had co-founded the sport of wheelchair lacrosse, Ryan answered, "Lacrosse is a new and different sport for the wheelchair community, and Bill and I wanted to help increase the opportunity and options for wheelchair team sports."
"We realize that wheelchair lacrosse isn't for everyone. Plenty of people in wheelchairs don't play basketball, tennis, rugby or sled hockey.  Our intent has been to create a new sport for people in wheelchairs who want to participate in team sports but either are limited by their physical conditions or don't have an interest in any of the sports currently being offered."
Wheelchair lacrosse is team oriented and  a very physical sport, as you're learning to throw a ball with a stick and catch a ball in a net on a stick. It takes some coordination. A player learns to push with one hand and handle the stick with the other hand.
Ryan Baker's Story
The day after Ryan graduated from high school, he was out with friends and laid down on the floorboard of a full-sized van and fell asleep. Unfortunately, the person driving the van also fell asleep. "I was on top of a sleeping bag between the front and the rear seats with my head between the two front seats of the van," Ryan recalls.
"When the accident occurred, the van immediately stopped, but I didn't. I was thrown forward and my head hit the engine cover of the console, compressing and crushing my T6 vertebra. Today I can't feel or move my legs, so I consider myself an incomplete paraplegic. However, I feel fortunate I don't have any nerve pain."
The driver of the van only suffered a broken ankle. Baker wasn't released from the hospital until August, 1991.
"I knew right away that I couldn't walk, and today I call my inability to walk an unfortunate inconvenience," Baker says.
"The spinal cord is  fickle and is one of the things in your body that won't repair itself. You can put a cast on a broken leg, and it will heal, you can put stitches in a severe cut, and it will heal, but the spinal cord doesn't have that same type of ability to repair itself."
Ryan's family moved to Steamboat Springs, Colorado, and once released from rehab, he joined them and lived there for the next 9 years. He attended the local community college, received an Associate of Arts Degree and also learned how to ski.
"The accident happened when I was young and strong, and I kept trying to adapt myself in as many different activities as I could – not really knowing what I wanted to be when I grew up," Ryan reports. "Before my accident, I had played baseball and soccer, surfed a lot and snowboarded."
Next, Ryan says he moved to San Diego to "get on with his life." Baker enrolled at the satellite campus in San Diego, California, of Azusa Pacific University.
Today, Ryan works for Spinergy Wheelchair Wheels as a sales manager. He's been at Spinergy for about four years and enjoys working with the wheelchair community and various wheelchair manufacturers.
"I feel fortunate to be able to work in the wheelchair community and with folks with disabilities all day long."
The Future of Wheelchair Lacrosse
"Of course, our long term goal is to ultimately have Wheelchair Lacrosse USA a part of the Paralympic Games," Ryan shares. "Our short term goal is to continue to grow the sport domestically and to find people interested in the sport of wheelchair lacrosse."
"Of the 30 programs that we currently have, about 15 of these programs haven't evolved to the point of being able to field a competitive team yet, but we are hoping that in the near future they can. These 15 programs are trying to recruit enough players to have teams and to get the equipment to equip the players."
"One of the big differences between the lacrosse team and any other wheelchair sports is we need a lot of equipment like helmets, sticks, balls, gloves, elbow pads and shoulder pads to play wheelchair lacrosse."
"Some of our programs are attempting to recruit more players, and not all of our programs have access to rinks where they can play or practice. The venue for competition is a roller hockey rink."
"Our wheelchair lacrosse season begins in the late spring and summer and runs opposite of basketball and hockey seasons, beginning when those sports conclude. We don't want to be in conflict with the wheelchair basketball and hockey programs."
Although wheelchair lacrosse has not yet obtained the status of a major wheelchair sport, it is actively growing and searching for new players and venues where they can play.
Click to learn more about Wheelchair Lacrosse, visit them on Facebook or shoot them an email. Get out and PLAY!
Looking for a Great Way to Stay Active Without Transfers When You're on the Go?
The popular, U-shaped Cure Medical® Pocket Catheter is an ideal choice for individuals who value the convenience and discretion of carrying a catheter in a pant pocket or small bag.  Now, the family of Cure Medical® Pocket Catheters includes the M14XL – an extra long, 25-inch option.
This catheter eliminates the need to transfer from a wheelchair or use additional extension tubing.
The extra long Cure Catheter is perfect for athletes who need to get in and out of the restroom quickly during practice and competition!

ORDERING INFORMATION + REQUEST A SAMPLE
The sterile, single use, Extra Long Cure Medical Pocket Catheter is not made with DEHP, BPA or Natural Rubber Latex. It offers discreet portability by easily fitting in most pant pockets.
The Cure Medical M14XL Extra Long Pocket Catheter is offered with polished eyelets on a straight tip and funnel end in an extra long (25") length. It is also offered as an extra long (XL) with lubricant and gripper sleeve.
Offered as a case of 300 units (10 boxes of 30).

To request free samples of the Cure Medical® Extra Long Pocket Catheter or any Cure Medical catheter, contact your local distributor of quality healthcare products, or click here.



Enjoy Our Free Resources & Articles
CURE NATION is designed with you in mind, to offer assistance and education when you need it through a personal support program.
All of the information you find below and on our related social media pages is meant to guide you to places, topics and, resources that enhance your life, while also connecting you with a growing group of friends.