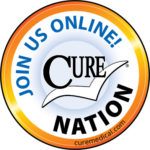 Our friends at the Spina Bifida Association (SBA) have a busy summer ahead!  Cure Medical will see you at their next event, the Chattanooga Walk-N-Roll on Saturday, June 3rd at 9 am in Coolidge Park.
Nationwide, chapters are busy hosting and preparing for a variety of events to raise awareness for Spina Bifida and offer valuable resources to their members. The Walk-N-Roll for Spina Bifida, with over 25 events across the country, provides a great opportunity for families, chapter leaders, sponsors and community members to come together and enjoy some sunshine, physical activity and education.
On their website, the SBA describes the Walk-N-Roll as a family friendly, non-competitive one mile walk featuring an Interactive Festival and Adaptive Health Fair that raises awareness about Spina Bifida and celebrates the accomplishments of the approximately 177,000 Americans living with the challenges it brings. Event proceeds support local community programs and services for all individuals affected by Spina Bifida, as well as national awareness, prevention, and research initiatives.
Cure Medical focuses on improving the quality of life for the people we serve. We're proud to sponsor this SBA fundraising event!
Cure Representative  Beau Alford will on hand to pitch in at the event in Coolidge Park, near the waterfront, at 150 River Street (rain or shine). Registration opens at 9:00 a.m. and participants will Walk-N-Roll together across the Walnut Street Bridge.
Afterward, guests can enjoy the adaptive resource fair, free lunch, entertainment and a raffle (cash only); the fun wraps up at 2 pm.
There is no registration fee to participate, but individuals and teams alike are encouraged to fundraise as much as possible to support local chapter events of the Spina Bifida Association. (50% of the funds raised goes to the local chapter and 50% goes to the National SBA).
There are even prizes available for fundraising levels. For example, when you raise $25, you'll receive a SB Awareness Car Magnet at check-in! When you raise $100, you'll receive the official 2017 Walk-N-Roll for Spina Bifida t-shirt or Walk-N-Roll baby bib!
Individuals and teams can also participate virtually by donating. Visit the Walk-N-Roll FAQ page to find out how to get help fundraising, how to send in donations, and much more.
Over 120 participants are currently registered, and they have already raised nearly 40% of the event's goal – so it's not too late to get involved! On the day of the event, the hosts suggest arriving early to avoid lines, as registration closes promptly at 10:15 a.m.
For information on parking, raffle prizes, contact info for even organizers, additional details and how to volunteer, check out the Walk-N-Roll Chattanooga page here.
The Spina Bifida Association selected the name "Walk-N-Roll" because it embodies a sense of inclusiveness and invokes the sense of empowerment which the Spina Bifida community embraces in all that it does.
The SBA believes in a better tomorrow, and the activities that take place during these events represent their progress made toward realizing that goal.
That's why we knew it was important for Cure Medical to offer our support. Join the Cure Nation, and come visit us in beautiful Chattanooga!
Enjoy Our Free Resources & Articles

CURE NATION is designed with you in mind, to offer assistance and education when you need it through a personal support program.
All of the information you find below and on our related social media pages is meant to guide you to places, topics and, resources that enhance your life, while also connecting you with a growing group of friends.