Bob Yant, the founder of leading catheter manufacturer Cure Medical, has personally made a positive impact on the world of spinal cord injuries. We are sharing his own journey with SCI so you can understand why he's such a strong advocate for finding a cure for spinal cord injuries.  Below, Bob Yant vividly remembers the day he was injured.
I was saved from drowning, but I knew I was badly hurt. I remember lying on the beach, lifeless, when the paramedics came. They put me into an ambulance and I was rushed to the hospital . I did not feel pain, but I couldn't feel my body, and I couldn't move.
One thing that really scared me at the hospital was when the neurologist came to see me in the emergency room.

He said, "You and I are going to get to know each other pretty well."
That statement alone showed me that my injury would not be short term. I hurt myself pretty bad—all because of one dive into the ocean.
When I woke up the next morning, I was in the middle of a living nightmare. I was in the Intensive Care Unit (ICU). I heard things like, "Your family is on the way." and "The guy who pulled you out of the water made sure you were okay before he left."
But this wasn't a nightmare—it was real life. Doctors told me that I had broke my neck at C5 and that I would most likely have permanent paralysis. The break in my spinal cord occurred in the middle of my neck. I could move my arms and my right wrist, but I had no finger movement at all.
I was devastated when I found out how little function I had left.
Bob Shares His Journey Through the Four Stages of Acceptance
I learned later that anyone who has any type of loss goes through four stages of accepting their situation. The first stage is denial.
When friends came to the hospital to visit me, I would tell them, "Don't worry; I'll be walking out of this hospital." A few weeks after the denial stage when I realized that I would be like this for a long time–possibly for life, then I moved into the stage of anger .
My dad tried to do what he could to satisfy my anger, but it actually caused him to get angry. I constantly asked the question, "Why me?" I'm sure I wasn't the only one who asked that question after a traumatic injury .
Looking back, I think the anger stage is better than what follows.
The third stage is depression, which is the scariest. I was suicidal.
It is not uncommon for people in the early stages of spinal cord injury to feel this way. I knew people who actually committed suicide. I was in the worst, deepest and darkest hole of depression once I was transferred to a third hospital. I lost the motivation to be myself and to do anything. I didn't have the desire to live.
When I mentioned suicide to the doctors and nurses in the hospital, they took it very seriously and reacted quickly. They put me on Elavil to alleviate my depression and suicidal thoughts.
Not everyone with spinal cord injuries will have same depth of depression that I did. Everyone handles his or her depression in a different way, and I've learned this from talking with people from all over the world who have spinal cord injuries.
Recently, I talked with a young man who only had been injured for a month. This 30-year-old man was extremely positive about his injury—he had a wife and children. He knew from the moment he was injured that he was paralyzed and that he may have to do certain things differently. He didn't have the sense of loss that I had.
This young man went back to work and school within a month after his injury.
Everyone deals with loss in a different way, whether it's the loss of a loved one or the loss of certain body functions.
The fourth stage of loss is coping. The medication I took helped me move into the coping stage of my injury within a couple of days. But I had a new problem–I was very concerned when the doctors wanted me to no longer take the Elavil. I was afraid that I might become suicidal again, but I remained positive and was no longer depressed.
Bob believes in getting out and enjoying life!
In the 1980s when I was injured, many spinal cord injury patients stayed at the hospital for six months, as I did, but today, because of the healthcare system we have, patients are discharged within two months.
This is very unfortunate because not everyone can recover physically and emotionally in such a short time.
In the first six months the hospital staff not only taught me about living with my injury, but they also trained my family on how to help me transfer from one location to another. They also monitored my physical condition, taught me how to get in and out of a car, take a shower, and feed myself. They even made a splint for my left arm and taught me how to type. I had thorough physical and occupational therapy.
I had no idea what my life would be like when after being in the hospital. A psychologist told me that after I left the hospital, "You'll lead a fairly normal life."
Now, 30 years later, I can see that he was absolutely right. I know what a fairly normal life is, and I am so fortunate to have had the support that I did to get here.
We are always here to help at Cure Medical with your questions and concerns.  Please feel free to reach out to us!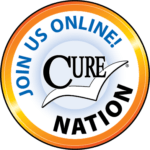 About Cure Medical
The Cure Commitment is unsurpassed in the industry. Only Cure Medical has committed to donating 10% of net income to SCI scientific research. Cure Medical catheters are not made with natural rubber latex, DEHP or BPA. Simply by using new Cure Catheters® or Cure Catheter® Closed Systems for routine intermittent catheterization, you take part in the sustained pursuit of a cure. Learn more at www.curemedical.com.


---
Enjoy Our Free Resources & Articles

CURE NATION is designed with you in mind, to offer assistance and education when you need it through a personal support program.
All of the information you find below and on our related social media pages is meant to guide you to places, topics and, resources that enhance your life, while also connecting you with a growing group of friends.