just for the cure nation — Get Out, Enjoy Life Presents the Accessible U.S. Travel Guidebook: Florida Spotlight
Do you love to travel, but have concerns about accessibility? Then, you'll love this!
Check out our FREE Accessible Travel Guide, brought to you by Sports 'N Spokes, a publication of the Paralyzed Veterans of America, Cure Medical and the Spina Bifida Association.
Scroll down for some great opportunities, organizations and programs in beautiful, sunny Florida that are inclusive and accessible to people with disabilities. From wheelchair basketball to museums and beaches, you'll have plenty to pick from!
Note: This isn't an inclusive list of all the accessible travel spots in Florida. It's more of an idea generator to help you get moving and planning your next getaway. Photos below courtesy of 2017 Get Out, Enjoy Life event. Enjoy!
Kennedy Space Center
Kennedy Space Center helps everyone in reaching for the stars. Visitor guides are available in alternative formats, including Braille, large print and audio tape. Advance reservations are advised. Many of the tour buses are equipped with wheelchair accessible lifts to accommodate wheelchair users, and a separate van is available for those who require special assistance. Complimentary wheelchairs are available.
Website: www.kennedyspacecenter.com
Address: Kennedy Space Center Visitor Complex,
SR 405  Kennedy Space Center, FL 32899
Phone: 855-433-4210
Walt Disney World
Walt Disney World is the most magical place in the world! It is the land of Mickey and Minnie Mouse, The Disney Princesses, "It's a Small World After All", and the giant Mickey Mouse ears ice cream bars. It is where dreams come true. Dreams will come true for anyone here, even for those with disabilities. Walt Disney World is committed to provide for as many guests as possible, so there are specific accommodations for those with hearing, mobility and visual disabilities. Service animals are allowed as well. For more information, please visit the Walt Disney World website and check out their Facebook page.
Website: disneyworld.disney.go.com/guests-with-disabilities/
Facebook: facebook.com/WaltDisneyWorld
Phone: 407-824-4321
Dolphin Research Center
The Special Needs Pathways Program at the Dolphin Research Center assists and enables individuals with disabilities to interact with dolphins and sea lions. This organization provides private workshops, specialized equipment and in-water or on-dock assistance depending on the adult or child's disability.
Website: www.dolphins.org
Facebook: www.facebook.com/DolphinResearchCenter
Phone: 305-289-1121
Email: joan@dolphins.org
Florida Aquarium
Explore one of the most magnificent attractions in downtown Tampa at the Florida Aquarium. This is a family friendly spot that is fully accessible. There are even wheelchair rentals available and several handicapped parking spaces.
Website: www.flaquarium.org
Facebook: www.facebook.com/#!/florida.aquarium.tampa
Phone: 813-273-4000
Florida Disabled Outdoors Association
The Florida Disabled Outdoors Association is a non-profit 501(c)(3) organization that strives to enrich lives with accessible recreation for all. Health and wellness is always promoted through several programs such as SportsAbility, Recreation Activity Program for Adults with Disabilities, Brain and Spinal Cord Injury Resources, ALLOUT Adventure Program, and Miracle Sports.
Website: www.fdoa.org
Facebook: www.facebook.com/#!/fdoa.org
Phone:  850-201-2944
Rock Bottom Divers
Rock Bottom Divers is a scuba diving charter and instruction organization that provides rehabilitation to wounded military veterans. You will meet Scott Crawford, who has been a Handicapped Scuba Association Open Water Instructor for 20 years. You will dive off Rock Bottom's vessel in the beautiful Gulf of Mexico.
Website: rockbottomdivers.net/disabled-divers
Facebook: www.facebook.com/#!/RockBottomDivers
Phone: 855-448-7625
Miami Heat Wheels
"The Miami Heat Wheels is a competitive wheelchair basketball team in the National Wheelchair Basketball Association (NWBA). Competing at the Division III level in the Florida Wheelchair Basketball Conference, the adult wheelchair basketball team competes in local and regional competitions associated with the the NWBA."
"The Heat Wheels continue to excite everyone from South Florida and around the country. Inspired by the recent and dominating presence of great players such as Carlos Ocasio and Ricardo Lucien, the members of the Heat Wheels are to broaden their commitment to the community through service, athletics, and fine citizenship."
Website: www.miamiheatwheels.com
Facebook: facebook.com/heatwheels
Get Out, Enjoy Life: 2017-2018 Accessible US Travel Guide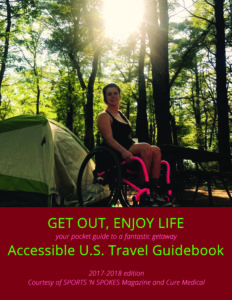 Looking for more fun ways to experience the outdoors across the nation?
Download our free accessible travel guide HERE!
This updated travel guide is an easy, encouraging read that will help you explore all kinds of travel destinations and family fun spots, whether you are new to using a wheelchair or a seasoned pro.
These accessible travel suggestions are part of the 2017-2018 Get Out & Enjoy Life [GOEL] program that is a joint educational initiative between SPORTS 'N SPOKES magazine, published by the Paralyzed Veterans of America, the Spina Bifida Association and Cure Medical.
Enjoy Our Free Resources & Articles

CURE NATION is designed with you in mind, to offer assistance and education when you need it through a personal support program.
All of the information you find below and on our related social media pages is meant to guide you to places, topics, and resources that enhance your life, while also connecting you with a growing group of friends.
SaveSave