Stoke for Life Foundation founder Charles Webb became a T-7/8 para from a motorcycle vs. Buick Skylark accident in 1986 that left him lodged under the car's back tire for half an hour. He spent the next 11 months in hospitals recovering, knowing even then he would find a way to help himself and others return to the water after SCI.
That's where the genesis for Stoke for Life began! Read on to find out how you can explore more adaptive water sports too, especially for the CURE NATION.
VIDEO: STOKE FOR LIFE PARTICIPANTS HIT THE WAVES
OVERCOMING A STRUGGLE TO ADJUST AFTER SCI
Charles grew up in San Diego county so life for him centered on the surf culture. "Before I was injured at 19, my life was all about surfing," Charles says. "It was pretty rough around here in the 80's though. When we moved to Carlsbad in 1980, you had to fight sometimes if you wanted to surf. The local guys would try to run you off of their turf!"
"Being in the hospital for so long was tough for me. My mom was there every step of the way and it was hard on her too," Charles laments.
"That made it more difficult for me, to see what I was putting my mom through… but we made it. They wanted me to start learning computers while I was in rehab but I kept tellin' 'em 'No, No, No.' I hated being in there. I told them to show me everything I needed to know to live and let me go."
"Going home for me was bliss… and strange at the same time," Charles confesses.
"Unfortunately, meth had just arrived on the scene and my friends' idea of helping me cope was to feed me drugs. I did it for a year and then started using cocaine for the next five, but I gave it up for my stepson Edward. I loved that boy and one morning he saw me after an all-night binge and he broke down crying. I promised him then and there that I'd never do it again and to this day I'm keeping that promise. That was 25 years ago."
CHARLES GETS BACK ON THE WATER AFTER SCI
In 2010, Charles injured his left rotator cuff. Three years later, he tore his right one doing rehab. At the time he was working for Aladdin Bail Bonds until the pain got too much for him to bear, forcing him to take a lot of time off.
That's when his friend Kawika Watt showed up with something called an On-It Ability board, a paddle board he'd invented specifically for Charles so he could get back in the waves. Scott Chandler had shaped the board but they hadn't actually tried it with a wheelchair user yet. They were about to though.
Charles saw the opportunity that had just shown up. "I do public speaking and one of the things I talk about is realizing when your chances come by and taking them when they do," he asserts.
For Charles, this was his way to get back on the water. He started working with the On-It Ability board, and two months later he was paddling five miles at a time.
BATTLE OF THE PADDLE INSPIRED CHARLES TO DO MORE
"It just so happened that around this time there was a race called Battle of the Paddle at Doheny State Beach in Dana Point, CA, and people were telling me I should enter it," Charles recounts.
"I didn't think it was that big a deal so we went down there for a few training runs and I entered the race and when I showed up there were 6,000 racers on the beach that day. In my division, there were at least 500-600 people," he adds.
"I was the first paraplegic to compete in an open-water paddle race board race."
"I didn't know any of this at the time though. I was just trying to connect with the water guy I left behind when I got hurt," he says.
"I finished the race and afterwards everyone was making a big deal out of it but I was just happy to have been back on the water. When Laird Hamilton, a legend in the surf world and one of my idols, came up to me after and told me I inspired him, I knew something great must've happened. Suddenly I was accepted into this paddle board community and it fed my soul."
Charles' life of adventure took off from there. Articles, social media buzz, interviews, sponsors… they all came. And with it came another opportunity, an opportunity to help many more people who wanted to try adaptive water sports.
In his own athletic pursuits, Charles has achieved considerable goals too. He is a two-time Western Surfing Association Adaptive Surfing Champion, winning back to back titles in 2015 and 2016. He also placed 2nd overall in the Surfing America 2016 U.S. National Adaptive Surfing Championship in his division.
STOKE FOR LIFE: ADAPTIVE WATER SPORTS FOUNDATION
Stoke for Life Foundation helps many people as possible who are looking for a way to get back on the water. Charles understands just how many people helped him reach his own goal and this is his way of paying it forward.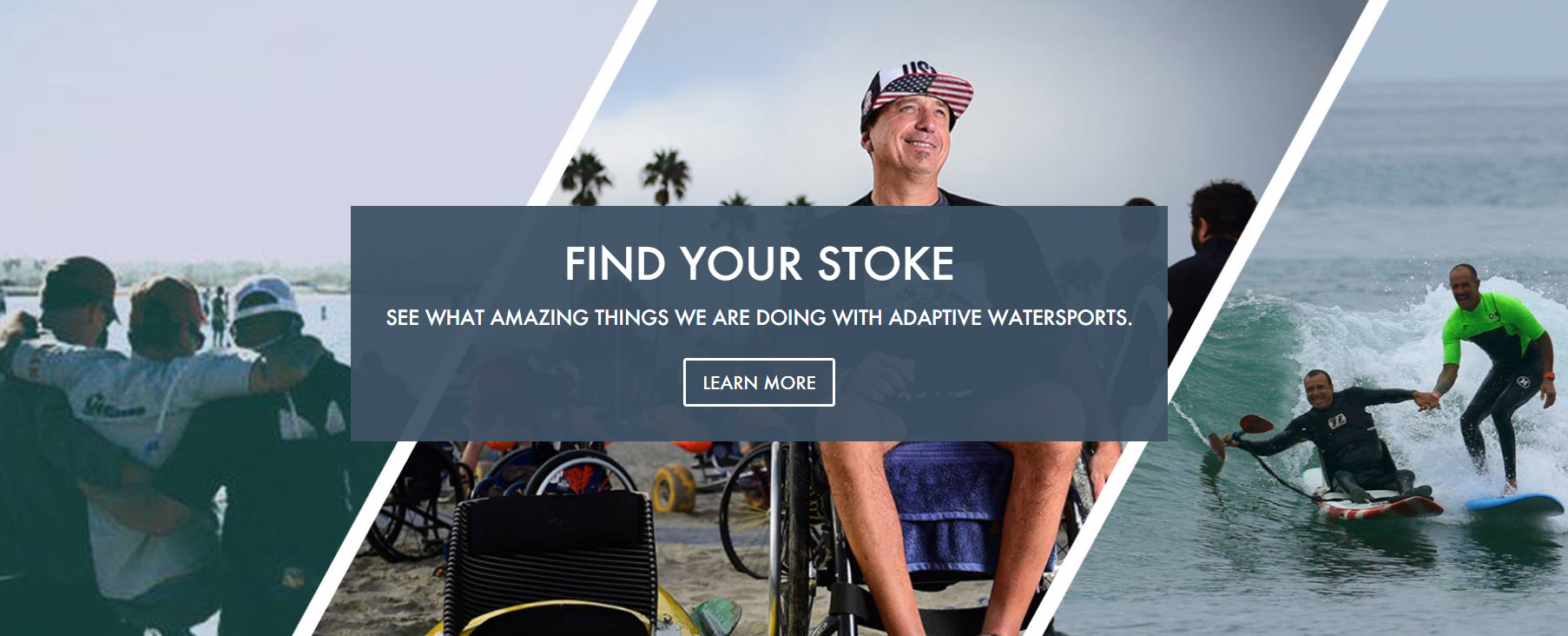 "They don't do Battle of the Paddle anymore, but Stoke for Life offers ten surfing camps every year in Oceanside, CA, and we also host the U.S. Open Adaptive Surfing Championships," Charles says proudly.
"This year, the championships will be held on September 26th-29th. We'll have twelve different divisions for adaptive surfers from all over the world and it all began because my friends helped me get back to doing what I love."
CHARLES IS STOKED ABOUT CURE CATHETERS TOO
When it comes to staying healthy so he can hit the water, Charles knows that his cathing routine makes a big difference. That's why he's a fan of Cure Catheters!
"When I first tried Cure catheters, they sent me a bunch of different ones to try free of charge. It took a while to try them all but I found one that I really liked – the Cure Catheter® with Coude tip," Charles explains.
"When I cath, I need one that isn't too soft and the Cure Coude Catheter was just right!"

To request free samples of the Cure Catheter® or any Cure Medical catheter like Charles did, contact your local distributor of quality healthcare products, or click here.
Founded by a quadriplegic, Cure Medical is the only catheter manufacturer in the world that donates the first 10% of its net income to support research programs in pursuit of a cure for urinary retention, paralysis, spinal cord injury and central nervous system disorders.
Enjoy Our Free Resources & Articles
CURE NATION is designed with you in mind, to offer assistance and education when you need it through a personal support program.
All of the information you find below and on our related social media pages is meant to guide you to places, topics and resources that enhance your life, while also connecting you with a growing group of friends.
View our lifestyle resources by condition type:
Multiple Sclerosis, Pelvic Organ Prolapse, Prostate Cancer, Spina Bifida, Spinal Cord Injury and Transverse Myelitis