As seen in November 2017 SPORTS 'N SPOKES magazine:
The Get Out, Enjoy Life: Summer Tour 2017 (GOEL) comes to end as we bid farewell to summer and prepare for the cold winter months.
As many of our GOEL regulars know, this year's contest ran later than usual in order to clear room for our junior athlete of the year coverage and a few other editorial changes that landed on our production timetable.
Despite the later-than-usual schedule, our readers, followers and fans came through and shared their pictures and accessible travel suggestions, making this one of our more successful contests to date.
With more than 40 daily destinations and just under 400 hundred photos submitted, the GOEL contest was a nonstop whirlwind of encouragement and inspiration for others to follow.
Since its inception, GOEL's main mission has been to encourage others to seek an active lifestyle of sports, recreation or accessible travel and to share those experiences with people who might not know about the limitless possibilities waiting for them.
As always, we were able to collaborate with some very amazing organizations and companies to help bring everything together, so indulge a few sentences of thanks to our supporters, partners and friends.
Our contest partner   Cure Medical  is a long-time friend of S`N' S and we're proud to have them in our GOEL community. To help shoulder the logistics of getting everything together, we happily welcomed the   Spina Bifida Association. Their mission has always been of inclusion and community and we couldn't have asked for a better "Tour" partner.
Our grand-prize participating partner are the fine folks from   Colours Wheelchairs. This year's first-place winner is going to be sporting a brand-new Razorback chair courtesy of the Colours gang. Much love to the whole team.
Because of the many amazing photos that were submitted this year, our photo judges had their hands full coming to a final decision, but their professionalism prevailed and here are this year's GOEL winners.
First-place goes to Wyoming resident, Ashlee Lundvall, for her photo "Fly Fishing." Lundvall will receive a custom-built Razorback wheelchair courtesy of Colours Wheelchairs, the Get Out, Enjoy Life prize pack and the cover of the November 2017 S'NS issue.You can read her story in this week's Spoke Spotlight.
Second-place goes to Las Vegas resident, Sean Conroy, for his amazing shot of Horseshoe Bend in Northern Arizona. Conroy will receive an Apple iPad courtesy of Cure Medical, a complimentary one-year subscription to SPORTS `N SPOKES magazine, the Get Out, Enjoy Life prize pack his winning photo will be featured in the Final Frame of the November 2017 issue of SPORTS `N SPOKES.
Third-place goes to New York resident, Ismael Arenas, for his photo "Columbian Off-roading." His photo was taken during a trip to the mountains of San Pedro de Los Milagros In Antioquia Colombia. Arenas rented All-Terrain Vehicles (ATV) to access the hills and scenic landscape, using bungee cord to secure his legs and not get burns from the ATV engine. Arenas will receive a $300 gift card courtesy of At Home Medical, the Get Out, Enjoy Life prize pack and his winning photo will be featured in the "Spoke of the Week" module on sportsnspokes.com.
Congratulations to this year's winners and remember to get out and enjoy life!
Get Out, Enjoy Life: 2017-2018 Accessible US Travel Guide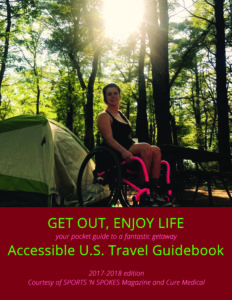 In this book, you'll discover a state-by-state directory of accessible travel destinations across the United States as well as pictures and perspectives from people who are exploring their world on wheels.
These accessible travel suggestions are part of the 2017-2018 Get Out & Enjoy Life [GOEL] program that is a joint educational initiative between SPORTS 'N SPOKES magazine, published by the Paralyzed Veterans of America, the Spina Bifida Association and Cure Medical.
Enjoy Our Free Resources & Articles

CURE NATION is designed with you in mind, to offer assistance and education when you need it through a personal support program.
All of the information you find below and on our related social media pages is meant to guide you to places, topics, and resources that enhance your life, while also connecting you with a growing group of friends.