Life can take some strange and unusual turns, but it's always worth living. Cure Advocate Jerry Diaz knows that we all have a destiny that we are here to fulfill. Diaz works two jobs, goes to school full-time and considers his life after spinal cord injury to be amazing.
I'm currently attending Mech-Tech Institute in Orlando, Florida, and studying welding. When I'm not in class, I've also worked at a surf shop for more than 2 years.
Since I enjoy making art out of metal, when I saw a commercial on TV for Mech-Tech where welding was taught, I signed up to take classes there. I've studied welding for about 13 months now and will graduate in May 2017. Then I can become certified in various areas of welding.
I chose welding as a career because I've always preferred being hands-on and like building cages for people who have animals – especially reptiles.
I have two reptiles as pets myself. And I enjoy doing manual labor and have a brother who's a welder.
I've always thought welding was cool and wanted to learn it, and was thrilled to know using a wheelchair wouldn't stop me from pursuing this career!
Jerry Understands How Positives Can Come From Bad Moments
I'm a paraplegic and in a wheelchair, through no one's fault but my own. My spinal cord injury was a result of my being hit by one car and run over by a second car.
Just before my injury, I was in a very dark place where I didn't want to be anymore. I decided to take my own life.
On April 12, 2011, around midnight, I went to a highway, jumped in front of a car going 55 mph that knocked me up in the air, and then I was run over by a second car. I was in the hospital in therapy for about 4 months. I lost so much weight, I was sent to a nursing home for 2 months to first gain weight and build up my body to be physically stronger before entering rehab.
Something that helped me was getting on YouTube and looking at videos to learn how to live in this new body.
I came across Aaron Fotheringham's videos, and I thought, "This guy is cool – doing skateboarding tricks in a wheelchair." I had skateboarded often prior to my accident but realized I was in no condition to do tricks at a skateboard park at that time. I buried that idea in the back of my mind.
However, as my strength returned, and I learned more about how to live life in a wheelchair, the idea of going to a skateboard park and trying to throw tricks often would come to me.
Just Got Out of Rehab! Let's Break a Leg!
One day I was rolling around, spotted a skateboard park and soon started riding my wheelchair there. Everything was scary, and to be honest, I didn't know what I was doing. I did wear a bicycle helmet to protect my head.
But the first week throwing tricks, I broke my leg.
In watching Aaron Fotheringham's videos, the safety devices he used I'd never considered having were harnesses and seatbelts to strap himself into the wheelchair. That's how I broke my leg – I fell out of my wheelchair, since I was using no restraints at that time. I didn't have as much feeling in my legs then as I do now, so I thought my leg was just bruised.
After my crash, I showered and took a nap. But then the pain in my leg was overwhelming. After I'd been x-rayed at the ER, the doctor said "You broke your femur, and you'll need surgery."
I thought to myself, "Wow, I've just gotten healthy after being hit by a car, run over by another car, having my whole body put back together and going through rehab. Now I've broken my leg. Do I really want to keep trying to throw tricks at the skateboard park?"
However, during the 6 months my leg was healing, all I could think about was returning to the skateboard park and doing tricks again.
The next time I went back to the park, I was strapped in and harnessed to my wheelchair and wore a quality helmet, knee pads and forearm pads to throw back flips. I can do a one-wheel 360 as well as many more tricks that you can see on my YouTube channel  and www.youtube.com/user/MRreptile13.
VIDEO: Jerry freestyles on his 6-year anniversary of SCI
I attend the World Championships in Texas and compete every year in this competition sponsored by Rise Adaptive Sports. The competition is called a WCMX/BMX, which means that the competition incorporates tricks from both skateboarding and BMX competitions. In 2016, I won 4th place; in 2015 I got hurt and couldn't compete; and in 2014, I took 6th place. I'll be competing again in 2017.
As excited as I am about competing, I'm more excited about building the trophies for the girls' side of the 2017 competition.

Jerry Diaz Uses His Welding Skills for WCMX Trophy Building
The tires on my wheelchair were slick, and I asked my friend Aaron Fotheringham, who was sponsored by a wheelchair tire company, if he could sell me some tires for a lower cost than retail. Soon two tires arrived at my home from Aaron, with no invoice. I called Aaron to see what I owed him, and he said, "Nothing, just enjoy the tires." I said I couldn't take these tires for free, so asked if I could build Aaron something, and he answered, "Yes, that would be awesome!"
I studied a picture of Aaron doing a hand plant on a ramp and sculpted a trophy like that with the guy in the chair looking just like Aaron. Many people saw what I'd made for Aaron, and I was asked to build trophies for the Women's Division of the Rise Adaptive Games in 2017.
Jerry Shares His Passion for Metal at the Skate Park
I really enjoy going to new skateboard parks. When I start strapping myself into my wheelchair and putting on my pads and helmet, I can read people's eyes and see what they're thinking like, "What in the world is a guy in a wheelchair doing at a skate park!"
But then when I drop off the ramp and practice my tricks, people I don't know will come up to me and ask, "Dude, how in the world are you doing that?"
I've learned that when I come down that ramp I've got to zone out everything around me and just concentrate on the trick I'm about to do.
I don't go to the skateboard parks to impress people but rather to get better at old tricks and practice new tricks. I really have to focus hard on what I'm trying to do when I come down that ramp.
I'm often asked how I have time to practice, learn new tricks, work two jobs and go to school. I work at night, and most of my school is at night, so I have part of every day to go to the park.
Why Jerry Diaz Chooses a Cure
One day in the not too distant future, I hope research scientists will find a cure for spinal cord injuries. By using Cure catheters, I'm helping to support research, because 10% of the net income from Cure is donated to spinal cord research to help me and other people with spinal cord injuries.
If you can't afford to donate money for spinal cord research, then by using Cure products, the company donates for you and for me.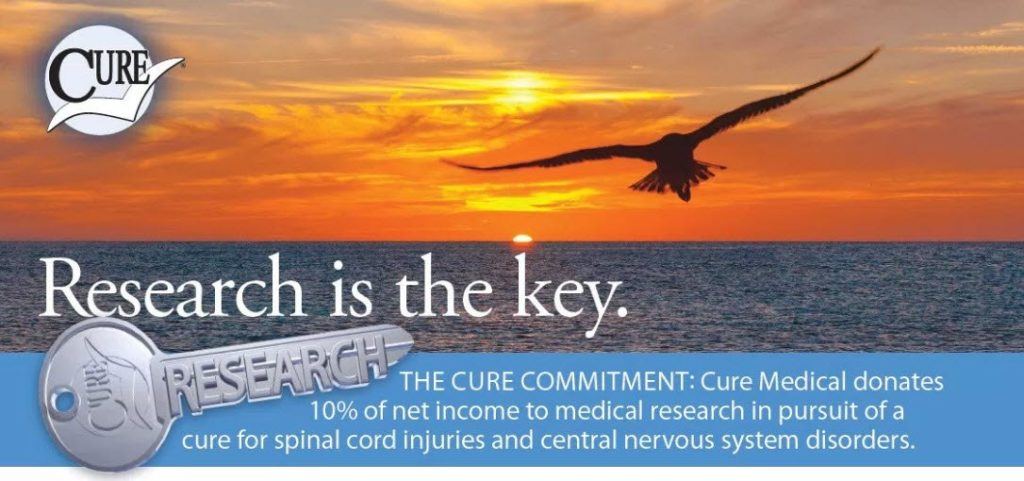 I'm often asked which catheters I use. I like the Cure pre-lubricated closed system catheters, because the tubes don't kink-up or collapse. Also, each catheter comes with the tube and the bag all connected. Then I don't have to get a water bottle to attach to it or sit on the toilet.
I haven't had a urinary tract infection for 4 years, and I think that's because I use Cure catheters.
Please know that I'm very diligent too about washing my hands before and after I use the catheter, and I wear gloves when I self-cath.
I'm able to get my Cure catheters through my medical supply company. The medical supply company calls and checks on me to find out when I need more catheters shipped to me.
Video: WCMX Star Jerry diaz shares why he uses the cure medical closed system
Although I've used several different brands of catheters since my injury, I've found Cure catheters to be the easiest to use, and I've had the fewest problems with the Cure catheters. I'm sold on them.
If you're interested in learning more about Cure, and why so many people are using Cure's catheters, come to this website frequently where you can read stories of people just like us, what they're doing, and why they prefer Cure."
Jerry Diaz Says His Future is Bright
I'm looking forward to finishing welding school, going to work for a welding company and buying my own welding tools to work at home and build art projects from metals. I enjoy making sculptures and selling my art. If I can get a regular welding job and do my art part-time, then I'll be in a really good place.
I have plenty of options in spite of one bad decision at a bad time in my life. Life is good, and I'm really enjoying it.
The next WCMX World Championship competition, sponsored by Rise Adaptive Sports, will be April 22-23, 2017, at Grand Prairie, Texas. For more information, go to: www.riseadaptivesports.org/wp/2017-wcmx-world-championship.
The name RISE is an acronym for: Recover, Inspire, Succeed, Empower.  And together, that's exactly what we are going to do!
Meet Jerry Diaz at the 2017 NY Metro Abilities Expo
If you'd like to meet Jerry in person, and learn more about his involvement with WCMX or his career as a welder, join the Cure Nation team at the 2017 Abilities Expo in New York!
It's free to attend, and Jerry will be there to hang out all weekend with friends from the Cure Community.
Thanks for being part of the Cure Nation!
Enjoy Our Free Resources & Articles

CURE NATION is designed with you in mind, to offer assistance and education when you need it through a personal support program.
All of the information you find below and on our related social media pages is meant to guide you to places, topics and, resources that enhance your life, while also connecting you with a growing group of friends.