GET OUT, ENJOY LIFE PRESENTS THE ACCESSIBLE U.S. TRAVEL GUIDEBOOK: Texas SPOTLIGHT
Hey, ya'll! Do you have the travel bug, but have concerns about accessibility? Then, this is for you and our friends in the CURE NATION!
Check out our FREE Accessible Travel Guide, brought to you by Sports 'N Spokes, a publication of the Paralyzed Veterans of America, Cure Medical and the Spina Bifida Association.
Below, you'll find some great opportunities, organizations and programs in the Lone Star State that are inclusive and accessible to people with disabilities. From an accessible amusement park (you heard us right!), to adaptive sports and wildlife viewing – Texas has so much to offer!
Note: This isn't an inclusive list of all the accessible travel spots in Texas. It's more of an idea generator to help you get moving and planning your next getaway. Photos below courtesy of 2017 Get Out, Enjoy Life event. Enjoy!
Morgan's Wonderland
This magical amusement park is available for all ages and all special needs. It is safe, clean and fully accessible. There are several accessible rides, attractions, shows, playscapes, activities, and more!
The New York Times video below shows what happens when children of all different abilities get to play with each other! They take you inside a first-of-its-kind ultra accessible water park at Morgan's Wonderland, which is changing the way families spend time together.

The park welcomes service animals as well and provides shady rest areas for them and the guests. This is the first ever Ultra-Accessible Family Fun Park in the world, stretching across 25 acres of San Antonio's northeast side.
Website: www.morganswonderland.com
Facebook: facebook.com/MorgansWonderland
Phone: 210-495-5888
Houston Parks and Recreation Department MMSC Adaptive Sports and Recreation
The Metropolitan Multi-Service Center provides opportunities for people with disabilities such as structured classes, a fitness room, full court gym, indoor heated pool, a beep baseball field, a tennis court, a quarter mile trail, and an urban garden. The possibilities are endless here! Just last year, a brand new, massive, colorful and accessible playground was built for the children. You can also participate in adaptive yoga, adult sports such as wheelchair basketball, rugby, soccer, tennis and power soccer. Come get fit at the MMSC in Houston!
Website: www.houstontx.gov/parks/adaptivesports
Phone: 713-284-1973
Handicap Van Rentals
If you're in the Greater Houston area and are in need of a handicap rental van, go visit Handicap Van Rentals! They are a family owned company that is open seven days a week to serve you. There are daily, weekly, monthly and even long term rental agreements that are reasonably priced.
Website: www.handicapvans.net
Phone: 713-723-8618
Email: doug10101@aol.com
Brain Injury Association of Texas – Support Group
Have you suffered a brain injury? Do you feel like no one can relate to what you've been through? The Brain Injury Association of Texas will help you find a support group with individuals who have similar experiences to you. Support groups can be found online on the BIATX website, which is very convenient. Find groups who are interested in outdoor activities and sports!
Facebook: facebook.com/pages/Brain-Injury-Association-of-Texas
Phone: 512-326-1212
Email: info@biatx.org
Discovery Green
This non-profit park raises all funds for the activities and events that take place for Houstonians.  Discovery Green ensures that it remains a fully accessible, incomparable public gathering place. There are several health and wellness activities, special events such as a monthly vintage market, entertainment, art, trails, boat rentals, and more! There is always something going on, even on the weekends, so come join in on the fun!
Website: www.discoverygreen.com
Facebook: facebook.com/DiscoveryGreenHouston
Phone: 713-400-7336
Eels On Wheels
"The Eels on Wheels Adaptive Scuba Program is a registered 501(c)3 not-for-profit organization that provides people the opportunity to dive at their own ability level by certifying divers through the Handicapped Scuba Association (HSA)."
Website: www.eels.org
Facebook: facebook.com/groups/eelsonwheels/
Email: eelsonwheels@sbcglobal.net
Wheelchair Accessible Wildlife Viewing Sites in Texas
This is a resource full of wildlife viewing sites in Texas that are wheelchair-accessible. This list is offered as a public service, offering a variety of accessible trails, historic sites, wildlife management areas, education centers, community parks and more.
Website: tpwd.texas.gov
Email: NatureTourism@tpwd.state.tx.us.
Facebook: facebook.com/texasparksandwildlife
Interested in Wheelchair Accessible Fishing Sites in Texas too? See the list here.
Texas Adaptive Aquatics 
"TEXAS ADAPTIVE AQUATICS (T.A.A.) features an outstanding adaptive water skiing program that allows people with physical and/or mental disabilities the opportunity to discover the thrill and excitement of water skiing, sailing, and kayaking. T.A.A. founded in 1989 and incorporated in the State of Texas in 1990, is a non-profit sports training program for children and adults with disabilities."
Website: https://taasports.org
Phone: 281-324-4653
Facebook: facebook.com/texasadaptiveaquatics?ref=ts
National Veterans Wheelchair Games
"Co-Presented by the Department of Veterans Affairs and the Paralyzed Veterans of America, the National Veterans Wheelchair Games is a rehabilitation and wheelchair sports program empowering Veterans with spinal cord injuries, multiple sclerosis, amputations and other neurological injuries to live more active and healthy lives through wheelchair sports and recreation."
"Each summer, Veterans from across the United States, including a team from Great Britain, travel to a new community hosting the NVWG. During the week, Veterans compete in 18 wheelchair sports events while providing encouragement and mentoring for new Veterans."
Website: https://wheelchairgames.org
Email: tombrown@pva.org
Facebook: facebook.com/wheelchairgames
Get Out, Enjoy Life: 2017-2018 Accessible US Travel Guide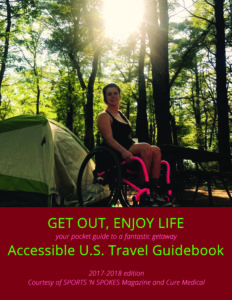 Looking for more fun ways to experience the outdoors across the nation?
Download our free accessible travel guide HERE!
This updated travel guide is an easy, encouraging read that will help you explore all kinds of travel destinations and family fun spots, whether you are new to using a wheelchair or a seasoned pro.
These accessible travel suggestions are part of the 2017-2018 Get Out & Enjoy Life [GOEL] program that is a joint educational initiative between SPORTS 'N SPOKES magazine, published by the Paralyzed Veterans of America, the Spina Bifida Association and Cure Medical.