In 1981, Bob Yant, sustained a C-5 injury from a diving accident. Since then, he has devoted much of his time to raising financial support for research toward a cure for spinal cord injury (SCI), paralysis and other neurologic disorders.
To that end, Bob served for over twenty years as member of the national board of directors of the Christopher and Dana Reeve Foundation, (and its predecessor the American Paralysis Association).
In this capacity, he has helped to raise millions of dollars for spinal cord research.
In 2007, Bob persisted in his pursuit for a sustained means of supporting research by founding Cure Medical® with a permanent Cure Commitment to donate 10% of net income to research for a cure for SCI and CNS/D.
"I am passionate about funding research because it is the key to discovering a cure. Cure Medical supports some of the most advanced studies and has seen amazing breakthroughs."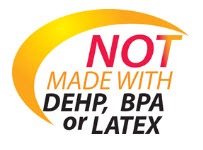 Bob maintains that Cure Medical is not only investing in future relief from SCI, it is providing important present benefits for improving bladder management.
"My relentless efforts in support of research are comparable to my commitment to the pursuit of product excellence for the benefit of end users."
Understanding the importance of catheter comfort, safety, discretion, and ease of use – Cure Medical products always feature smooth polished eyelets and are not made with DEHP* nor natural rubber latex.
Thank you for Choosing a Cure!
People with SCI value the fact that Cure Medical is the only catheter manufacturer serving as a means for funding of research. However, I believe the foremost reason that doctors recommend, and people choose, Cure Medical products is because of their exceptional quality and variety.
The Cure Medical product line includes the Cure Catheter® for men, women, and children; the Cure Catheter® Closed System with 1500 ml collection bag; Cure Medical® Catheter Insertion Kit; the Cure Twist™ for women on the go, and the discreet U-shaped Cure Medical® Pocket Catheter for men.
Ask your healthcare provider about Cure Medical products today! 
* See CA EPA Office of Env. Health Hazard Assessment List of Chemicals Known to the State to Cause Cancer or Reproductive Toxicity, December 8, 2006.

Enjoy Our Free Resources & Articles

CURE NATION is designed with you in mind, to offer assistance and education when you need it through a personal support program.
All of the information you find below and on our related social media pages is meant to guide you to places, topics and, resources that enhance your life, while also connecting you with a growing group of friends.