CURE NATION: In 2015, Troy Plunkett created SCI Active Network to serve people who roll in the Bay Area. Through his non-profit, and with support from his community, he facilitates recreational outings and runs a Share-A-Chair program to provide used wheelchairs to newly-injured people in need of a better ride.
Troy Plunkett was born and raised in Vallejo, California. He graduated from Hogan High school just months after becoming a paraplegic in a motocross accident. As a spinal cord injury survivor, he's attended college, worked full-time for Lucky Supermarkets and Farmers Insurance. He's an adaptive athlete and in 2017 finished 4th in the nation with the championship division Sacramento Rollin' Kings wheelchair basketball team.
We bring you Troy's story and share more about the SCI Active Network below!
Troy Plunkett Stays Active, Before and After SCI
When you find yourself chatting with Troy Plunkett, it only takes moments to pick up on his zest for life and enthusiasm about the work it seems he was born to do. He has always been physically active, enjoying the outdoors and a healthy sense of adventure. In his last year of high school, Troy was already busy with a full-time job, and an avid motocross rider in his spare time.
On Easter Sunday morning of 2003, Troy was training for an upcoming motocross race when he "had a mechanical failure with his engine off the face of a jump," causing a crash that resulted in a thoracic spinal cord injury.
His spinal cord injury didn't slow Troy down for long. As soon as he could, he dedicated himself to therapy and faced his new life with a pretty optimistic attitude.
He recalls, "At 17, I just kind of went with it. It was something I knew, being a motocross rider all my life, that was a risk – something that could potentially happen."
Five weeks after his SCI, Troy was on his way home. He continues, "After rehab, I immediately went back to school, this time at a junior college. I got back to work in the retail industry and was driving myself. I'd get calls from my rehab center quite often to go back and mentor, and I did as much as I could – but I was working and going to school full time."
Troy is determined to Help Others Live Active Lives with SCI
Over 10 years later, Troy was still busy as ever with work and school. He found himself with a pressure sore, which he battled for about a year and a half. Eventually, he decided to have a flap surgery and took some time off to do that. With the extra time on his hands, he began getting more involved in the disability community – and it didn't take long for him to realize that there was a need for more mentorship.
Troy shares, "I was already a dozen years in, but I saw that others that had also been rolling for a while were not adjusting like I had. In 2015, I started to gather some friends and contacts I had made over the years and we began meeting for a bowling night – a 'Roll on/Bowl On.' Then, I thought, 'How could I do something more?' So, I created SCI Active Network."
In 2015, Troy Plunkett created the SCI Active Network, a way to connect SCI survivors in the Bay Area, and their families, to peer mentoring and activities.
Today, SCI Active Network has two locations – in Berkley and San Francisco – for monthly support group meetings, where mentors are able to connect with individuals needing support.
They host many different presenters from local organizations, to product specialists, to different educational topics. They also work with newly injured individuals to help them navigate the questions and challenges that come with a recent SCI.
VIDEO: MEET TROY AND LEARN ABOUT SCI ACTIVE NETWORK EVENTS
SCI Active Network: Outings and Recreational Activities
Troy's organization hosts a number of group activities throughout the year for all ages and levels of ability. Their regular Roll On/Bowl On outings are very popular, as well as handcycle demos, and they're in the process of setting up an event with one or both of the California locations of iFly for adaptive indoor skydiving. The SCI Active Network group also attends a yearly Oakland A's game that doubles as a fundraiser for the non-profit.
"We usually get about 200 people to come out to the baseball game," Troy explains. "The last four years, they've incorporated a fireworks show and we have a designated area on center field for our group and other people with disabilities. This year, we're switching it up a bit and doing the A's vs. Giants game, which is our rivalry game, so we hope to draw even more people."
Recently, SCI Active Network had the opportunity to collaborate with a local whale boat company (think big wooden boats, or oversized canoes, in which two rows of four people row). Troy says the Straits of Mare Island Rowing Association reached out to him because they wanted to expand their program for inclusion.
So, they got busy adapting a couple wheelchairs that could be secured in the boat, with higher backs for balance. Not long after, they had four wheelchair users, including Troy, ready to hit the water and try them out!
He shares, "We put two adaptive athletes in each boat, with six able-bodied rowers who had experience. There were three paraplegics and one quadriplegic, and we all were able to participate. We did some practice runs and everyone had to get used to the adapted rowing motions, but we got it."
"It's a fun, new activity that is different for our community and hasn't really been done before. It's great because people can participate with and compete against others – even family and friends without a disability. Plus, it's a great physical activity to build strength and endurance. It's just nice to have this activity available for people who love the outdoors and the water. Our goal, eventually, would be to have four adaptive rowers with four able-bodied in the boats."
For all of their activities, Troy says, "We really stress family inclusion. When you meet people that have family that have really been involved, it seems to really benefit them short- and long-term. Every event we have, we encourage families to attend and participate. We have many different age groups, too, and it's powerful to see them all together."
Introducing the SCI Active Network Share-A-Chair Program
Another need in the SCI community that Troy had observed over the years was the fact that people were leaving rehab in chairs that didn't fit and were difficult to use. Often, the wait for a custom-fit chair could be months after getting home, or longer in some cases. Troy noticed what a profound impact that had on people's emotional well-being and ability to cope early on.
Instead of believing that all wheelchairs were cumbersome and uncomfortable, Troy wanted to help people get in a chair, as soon as possible, that helped them feel independent and empowered.
Troy started talking to some friends and realized that between them, they had a good pool of different-sized wheelchairs of multiple brands, with a variety of accessories. He asked himself, "Why couldn't they loan those out to people until they got one of their own that worked?"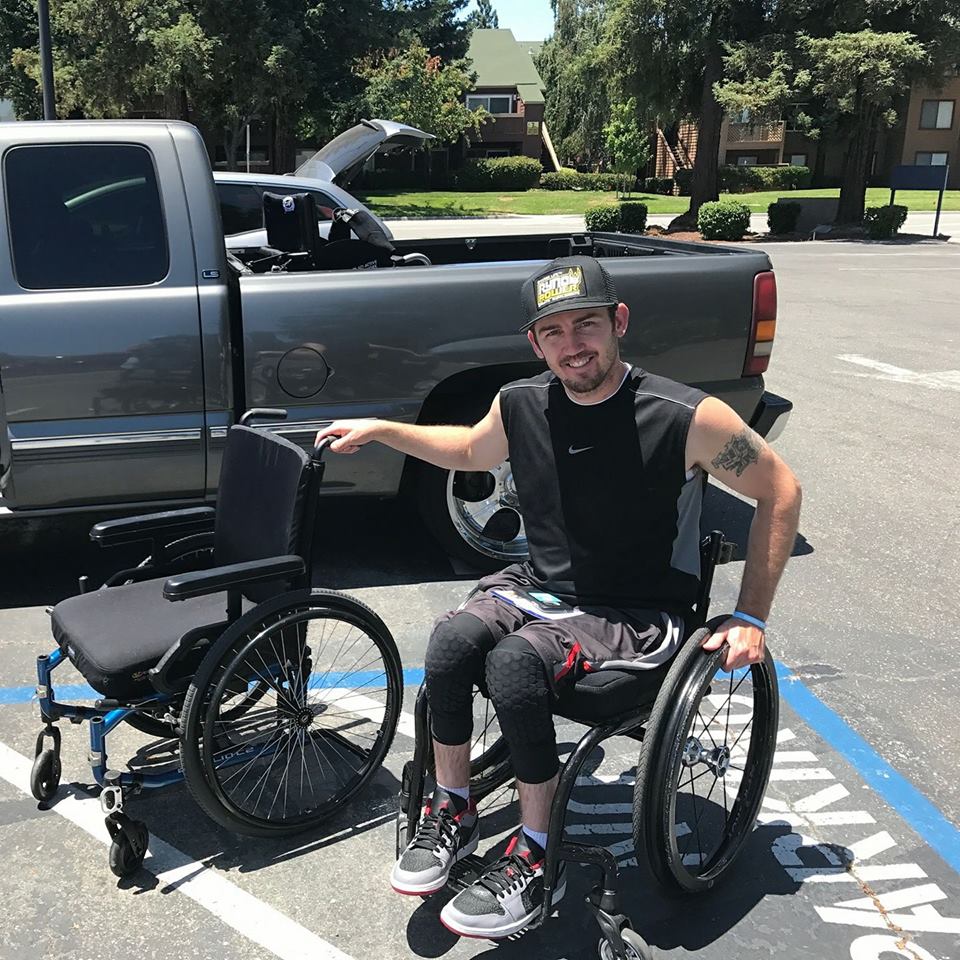 As of now, the Share-A-Chair program has 21 wheelchairs in inventory of all types. In 2018, they loaned out 18 chairs, and hope to double that number this year. And, they seem to be on the right track, because they have already loaned out two in the first two weeks of 2019!
Troy says that people typically borrow a chair for 3-4 months, but one consumer has had to keep one for two years due to insurance complications.
"Many of our members have limited or no insurance," reflects Troy, "so there's a lot that goes into getting a chair. It really doesn't matter to us why they need one, we just want to get them in a chair and give them the independence and comfort they deserve. We underestimate how much the type of wheelchair that we leave rehab in, impacts our mental and physical well-being as we adjust."
Learn more about SCI Active Network and the services they offer HERE.
15 Years Post-SCI, Troy Plunkett is Happy He discovered Cure Medical
Troy first learned about Cure Medical catheters late last year at the Abilities Expo in San Mateo.
He says, "After trying out some samples from Cure Medical, I'm getting ready to order the Cure Hydrophylic Catheter, coated with water. I've used the same old product for years before this, but have heard so many stories of friends with so many issues using that other brand. Lately, I've started thinking more long-term about my future health and preserving my body so I can have a long, active life."

To request free samples of the Hydrophilic Cure Catheter® or any Cure Medical® catheter, contact your local distributor of quality healthcare products, or click here.
Troy continues, "I love that 10% of every Cure catheter sale goes back to research [with the Cure Commitment] and I believe that many, many more companies should be doing that – not just in our industry, but others as well. Cure is definitely first class in that way."
"Plus, they've educated our community about the dangers of DEHP and other chemicals that could possibly be in medical products. Getting that awareness out there, not just for us, but for medical professionals, is so important," he explains.
Learn more about DEHP and your health here.
"I want to be able to educate my members to the best of my ability about the best products for them. Now that I've learned about Cure Catheters, I'm in a better position to do that," Troy concludes.
Enjoy Our Free Resources & Articles
Founded by a quadriplegic, Cure Medical is the only catheter manufacturer in the world that donates the first 10% of its net income to support research programs in pursuit of a cure for urinary retention, paralysis, spinal cord injury and central nervous system disorders.
CURE NATION is designed with you in mind, to offer assistance and education when you need it through a personal support program.
All of the information you find below and on our related social media pages is meant to guide you to places, topics and resources that enhance your life, while also connecting you with a growing group of friends.