The Spina Bifida Association is one of those wonderful organizations that supports and serves the ever-growing Cure Nation, and we're proud to collaborate with them to help sponsor their Spina Bifida Education Days taking place nationwide throughout the year.
Per their website, the Spina Bifida Association (SBA) serves adults and children who live with the challenges of Spina Bifida. Since 1973, SBA has been the only national voluntary health agency solely dedicated to enhancing the lives of those with Spina Bifida and those whose lives are touched by this challenging birth defect. Its tools are education, advocacy, research, and support.
SBA Education Days aren't just for kids and their parents, though. They also offer adult education opportunities, like this panel:
Each year, as many as 10,000 people are connected to accurate information from numerous reliable resources and publications through the National Resource Center on Spina Bifida – housed at their headquarters in Washington, DC. Often, assistance is provided through a referral to a caring person at an SBA Chapter (with more than 125 chapters nationwide) where compassionate support can be found in one's own community.
With all the good work they are doing, we couldn't be more excited to sponsor the impactful SB Education Days!
Held every other year, these day-long learning experiences are designed to deliver vital and affordable education from experts in the field to a greater number of people in the Spina Bifida community that may not be able to attend a national conference.
Cure Medical Attending Spina Bifida Education Days Nationwide
Cure Medical will be financial supporting and exhibiting at each SB Education Days event this year. The first already took place in Baltimore at Johns Hopkins and it was a successful and meaningful event for everyone who participated.
Here's the schedule for the upcoming events:
Aug 26  – Orange, CA @ Children's Hospital Orange County
Aug 26  – Nashville, TN @ Vanderbilt Children's Hospital
Sept 16 – Ann Arbor, MI @ North Star Reach
Sept 30 – Salt Lake City, UT @ Primary Children's Hospital
If you or someone you know is interested in attending an event near you, advanced registration can be completed online at sbeducationdays.org (simply click on your event). Space in some locations is limited, so advanced registration is highly recommended.
If you're having trouble registering online, you can contact Juanita Panlener at sbaa@sbaa.org, or call 800-621-3141, ext. 35. Scholarships may be available through local chapters, so visit the link above to find out more!
Check back often to our website to find out what other community events and initiatives we'll be supporting this year, or follow us on Facebook.
About the Cure Commitment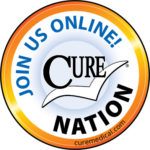 At Cure Medical, community support is at the core of our business and mission. We are committed to improving and advancing quality of life. Not only do we donate 10% of our net income to Spinal Cord Injury and Central Nervous System research, but we are also actively involved with many of the organizations that exist to support and empower the people that use our products.
We look forward to seeing you all over the country at SBA Education Days and don't forget…..CHOOSE A CURE!
That's because the Cure Medical® Pediatric Catheter is the first of its kind and the only FDA-approved pediatric catheter available to consumers.
These sterile, single-use catheters feature polished eyelets with an uncoated, straight tip. It is offered in 4 pediatric lengths for use by boys and girls.
And there aren't any scary chemicals like known-carcinogen DEHP or BPA, or natural rubber latex in any Cure catheters. All of our medical products are not made with DEHP, BPA and latex.
CURE MEDICAL® PEDIATRIC CATHETERS ARE NOT MADE WITH KNOWN CARCINOGENS
Supporting research isn't the only Cure Medical distinction. Material choices and manufacturing processes also set Cure Medical catheters apart from other brands.
Other manufacturers often use Di(2-ethylhexyl)phthalate (DEHP) as an economical means for making catheters flexible.
DEHP is included on a published list of chemicals known to cause cancer and reproductive harm according to the state of California.

That's why Cure Medical products are not made with it.*
Likewise, latex may be in other brands of catheters. Natural rubber latex is a chemical which commonly causes irritation and can cause life-threatening allergic reactions – therefore, Cure Medical products are not made with it.
Learn more on why you should keep the chemicals out of kids' catheters.
Enjoy Our Free Resources & Articles

CURE NATION is designed with you in mind, to offer assistance and education when you need it through a personal support program.
All of the information you find below and on our related social media pages is meant to guide you to places, topics and, resources that enhance your life, while also connecting you with a growing group of friends.