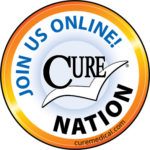 Jan Krentz is a proud mother and grandmother residing with her husband, Tim, in North Fort Meyers, Florida. After cathing daily for over a decade due to urinary retention, she recently discovered Cure catheters and was inspired to share her story with the Cure Nation!
Early in her adult life and shortly after having her first child, Jan Krentz began having unforeseen medical problems that, over time, would challenge her resolve and strengthen her resilience.
That was 43 years ago and since then, she has faced a variety of diagnoses, including spinal stenosis, fibromyalgia and a neurogenic bladder that resulted in urinary retention. These conditions have resulted in many surgeries and eventually, the need to catheterize on a regular basis.
According to the Urology Care Foundation, "Neurogenic bladder is the name given to a number of urinary conditions in people who lack bladder control due to a brain, spinal cord or nerve problem."
Jan and Tim are originally from Illinois, where they were both career educators. Before her own medical conditions had advanced too much, Jan worked with kids with special needs as a teaching assistant, then as a teacher.
She explained, "Some of my students had spina bifida. That was quite an inspiration – and I had no idea I would later go through a bad time with my own medical issues."
Part of Jan's role in leading a group of special needs students was assisting parents with their child's personal care. She was trained by a nurse to help catheterize those that needed the assistance.
"I saw that the parents needed help with their children's care and I wanted to help give them some relief. I never thought I would later need to cath myself," Jan remembers.
Jan Krentz was introduced to cathing as a special needs teacher long before it became something she had to manage in her own life.
Jan and her husband Tim went on to have three children and six grandchildren, and they are the light of Jan's life. Being the matriarch of a family isn't easy, though, and Jan's family's story offers no exceptions.
Jan Persists in spite of urinary retention Challenges
May of our readers can relate to how tough it can sometimes be to manage one's own medical conditions and disabilities – and endure all the pain and procedures and fatigue that comes with them.
"It was a struggle," Jan recalls, "having to raise a family and do everything, as well as deal with the health complications, medications and occasional cathing."
Unfortunately, Jan's medical challenges haven't been the only ones that the Krentz family has had to endure. Jan and Tim became grandparents 20 years ago, and a couple of their grandchildren are experiencing medical conditions of their own. "One of our youngest has autism," Jan shares, "and another has leukemia. But they're both doing good and we're all okay. We stay strong."
Jan also shared, with pride in her voice, that two of their grandchildren plan to go into medical fields. The oldest, who is 20, is currently living in Australia studying to be a doctor. Her plan is to also work with children with special needs.
As her grandkids grew up, Jan was not willing to let her health conditions keep her from being an active, engaged grandma.
Managing her neurogenic bladder was a big part of her ability to do that. When she was first diagnosed and told she would need to self-cath, she says, patients like her were pretty rare and given catheters very sparingly.
Jan eventually realized it was necessary to begin cathing on a more regular basis although the process remained complicated and uncomfortable.
Luckily, Jan discovered Cure Medical and learned their line of products would make a huge positive impact on her personal care. 
Why Jan Loves Cure Catheters
To Jan, the catheters that she'd been using for well over a decade were nothing more than a necessary evil. She described them as being "stiff and inflexible, with no give."
After trying Cure Catheters, she realized there was a much better option available. Today, Jan alternates between using the Cure Ultra and Cure Twist for women and loves them both.
"I'm happy to say that [the cathing process] has gotten much easier because of Cure catheters. They're just more flexible and easier to use."
"I love the size of the Twist and how it's contained, as well as how easy it is to dispose of. The gel lubricant is already there, too, which is great. I don't have to get into such an awkward position for my back, either. Both products are the perfect size for when I need to use them. I've also noticed I don't get as many infections when I use Cure catheters."
Jan also appreciates the driving philosophy behind Cure Medical, as well as Cure's commitment to quality and their customers.
She says, "I appreciate the Cure Commitment and the fact that my business is going to a good cause in funding medical research by using Cure catheters. I'm very grateful for this and for the fact that there are people out there trying to make life better for others."
About the Cure Ultra® Ready-to-Use Catheter for Women
The sterile, single use Cure Ultra® is a ready-to-use catheter for women.  The small, flexible package features an easy tear top and enables disposal of minimal material. The Cure Ultra is offered in 6" length, 8FR -16FR for women.
About the Cure Twist® – Ready to Use Catheter for Women
The sterile, single use, Cure Twist® intermittent catheter by Cure Medical is similar to the design of small cosmetics, and is preferred by women who value discretion and convenience.
Ready to use, it features an easy, twist open top and polished eyelets on a pre-lubricated straight tip that allows for 'No Drip/No Mess' cathing. The Cure Twist® is offered with a universal funnel end for maximum compatibility with drainage solutions.

To request free samples of the Cure Ultra® or Cure Twist® Ready-to-Use Catheters or any Cure Medical catheter, contact your local distributor of quality healthcare products, or click here.
---
Enjoy Our Free Resources & Articles
CURE NATION is designed with you in mind, to offer assistance and education when you need it through a personal support program.
All of the information you find below and on our related social media pages is meant to guide you to places, topics and resources that enhance your life, while also connecting you with a growing group of friends.
SaveSave