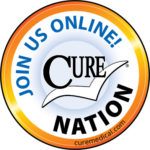 Depending on where you live, it could already be chilly out; you may have even seen snow already. Perhaps you're in a part of the country that is still enjoying warmer weather. Or you could be in an area that is still deciding whether it wants to be fall or winter – warm one day, chilly the next.
Regardless of where you are, you know the colder temperatures are coming.
The  big question is: are you ready for them?  Before the winter hits (and along with it, snowy and icy conditions), it's a good idea to make sure you're prepared to deal with whatever comes your way.
Here's some cold weather tips especially for the Cure Nation that can keep you warm while also alleviating issues associated with your MS.
1. Winterize your Gear
Your wheelchair, cane, walker, and even your accessible van all need
TLC to keep running smoothly. Cold weather and road grime can affect their performance, so it's a good idea to have a maintenance plan in effect before the weather gets cold.
For manual wheelchair users, you should check tire pressure, wheel balance, and whether there are any loose bolts and nuts. It is a good idea to lubricate all pivot points as well.
If you live in an area that might get snow, it is recommended that you change tires in the winter because the new treads can grip better; you can also purchase snow tires from many online retailers.
Power chairs will have to be maintained by an authorized service provider, but the guide can you help to listen and feel for any problems you might encounter.
If you have balance issues, the thought of walking through snow and ice might be terrifying; however, if you need to go somewhere, it might be beneficial to purchase ice tips for your cane or walker. For added support, wear hiking boots or another shoe with deep, rugged treads, or get spiked shoe covers.
Don't forget to winterize your vehicle as well.
2. Stay Warm
While it's widely known that Multiple Sclerosis and hot weather don't get along, more and more research shows that cold weather can have similar effects. Because of the correlation between vitamin D and MS, it is possible that the lack of the vitamin received in colder months can worsen symptoms.
The National MS Society has a few tips to increase your vitamin D levels:
SOAK UP THE SUNSHINE
As much as you can stand to be outside during the warmest part of a sunny winter day, do it (within reason). Help your body produce Vitamin D with sun exposure. Even better, get a little exercise outside while you are at it.
DON'T OVERDO THE HEAT INSIDE
Sometimes people tend to get a little emotionally sensitive when they get too cold and often may take hot baths or showers to warm up. Remember that when you have Multiple Sclerosis, excessive heat is not your friend.
WARM YOURSELF FROM THE INSIDE
Try drinking a hot beverage to take the chill off and warm your core faster.
3. Dress Appropriately
If you are spending any time in the cold weather, remember to dress in layers and wear gloves and head protection. Make sure you have a pair of gloves with some type of grip — you won't be able to hold onto your cane or move your wheelchair with a pair of knit gloves.
If you can, invest in some waterproof rain boots or pants, especially if you're in a wheelchair.
Sleet and snow can kick up onto your clothing and leave you cold and wet.
More Multiple Sclerosis Resources
Please see the following educational resources for patients, caregivers and medical professionals to help increase awareness, support and assistance for people affected by Multiple Sclerosis.
Just Diagnosed
You may have a wide range of questions and concerns if you or a loved one has just been diagnosed with Multiple Sclerosis. The National Multiple Sclerosis Society has created a special page to help you with the information and support you need to live comfortably and confidently with this change in your life. Please visit http://www.nationalmssociety.org/about-multiple-sclerosis/newly-diagnosed/index.aspx
Advanced MS
Although MS is a progressive disease, the rate of progression differs from one person to another. The key message to anyone living with advanced MS is that there is always more that can be done to improve the situation. For people whose MS has become more disabling—and their family members and friends—the NMSS has provided information about how to manage the challenges they face at http://www.nationalmssociety.org/about-multiple-sclerosis/living-with-advanced-ms/index.aspx
Multiple Sclerosis & Urology Questions
The National Multiple Sclerosis Society also has produced an excellent video to assist people with urological information.
People with MS may find that bladder and bowel symptoms prevent them from fully interacting with their community, friends and family. It doesn't need to be that way.
Learn about the latest advances and recommendations from clinicians at the forefront of MS research and treatment, and from people living with MS as they share experiences and insights here.

(Source: National MS Society) Note: The information in this article should not be construed as medical advice. Please contact your physician for questions about your individual health.
Enjoy Our Free Resources & Articles

CURE NATION is designed with you in mind, to offer assistance and education when you need it through a personal support program.
All of the information you find below and on our related social media pages is meant to guide you to places, topics, and resources that enhance your life, while also connecting you with a growing group of friends.