Karen Roy of Baton Rouge, Louisiana, has used a wheelchair for nearly 30 years – since September 19, 1987, when she was 19 years old. With an undergraduate degree and a master's degree in social work from Louisiana State University (LSU), Karen began her career in the mental health profession working with geriatric and mentally ill patients, doing group and individual counseling. Then she spent 10 years as a medical social worker at the NeuroMedical Center in Baton Rouge.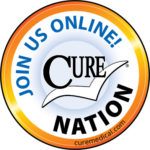 Today, she works for a company that provides Complex Rehab Technology (CRT) for people in custom wheelchairs plus service and repairs. She's a territory manager and does sales and educational events where she counsels and advises pediatric patients as well as adults. She also serves the Brain Injury Association of Louisiana (BIALA) that's also the Louisiana Chapter of the United Spinal Association. And, she's a big fan of Cure Catheters!
Karen Roy eXPERIENCED a Personal Evolution after sci
When Karen was a sophomore at LSU, she was shot as an innocent victim in an attempted armed robbery. At the time, her boyfriend was playing in a band. After a LSU football game, he took Karen to a club, Tabby's Blues Box, because he wanted to listen to a certain band playing there. "We left the club early and went out to my car," Karen remembers.
"As we walked toward my car, we saw that one of its windows was busted out. I was calling the police department to make a report when someone sneaked up from behind me, and another person sneaked up behind my date. Both men had guns.
The man who attacked me grabbed my shoulder, hit me over the head with his pistol and took my purse that only had $2 in it. The robber on the other side of the car put his pistol against my boyfriend's head. My boyfriend grabbed for the gun in the robber's hand. There was a struggle.
The robber wrestling with my boyfriend screamed to his partner holding me, 'Shoot em, Dody. Shoot em.' So, the robber holding me put his gun in my back and squeezed the trigger."
Due to the gunshot wound, Karen sustained a punctured lung, and the swelling in the area of the gunshot wound caused Karen to be paralyzed at the T-10 level, resulting in paralysis from the waist down.
The couple continued to date for 5 more years after the accident, but, when Karen was in graduate school, she called off the wedding. Later, she married her husband Phillip and together, they had three children. Austin is now 19 and is studying graphic design at LSU. Joseph, 17, is a senior in high school and plans to attend LSU next year to become a rich entrepreneur.  Caroline is a 23 year-old junior at LSU, studying English. She's considering being a flight attendant.
"For the past 2 years, I've been a territory manager for a medical equipment company, doing education and sales throughout the Gulf South, including Louisiana, Mississippi, Alabama and some of Florida," Karen explains.
"I drive quite a bit in the southern gulf states. I fly to many educational events and national conventions representing my company too. I've also been able to help in the development of some of the new products that our company brings to the marketplace.
Recently, I went to the Roll on Capitol Hill event for the United Spinal Association to advocate for people with disabilities.
I also traveled to Europe with my daughter Caroline for 2 weeks of vacation."
VIDEO: KAREN HAD THE CHANCE TO TRY THE TEK ROBOTIC DEVICE
Karen Enjoys Accessibility and Inclusiveness While Traveling to Europe
Two years after her injury, in 1989, Karen took her first trip to Europe. Later, Karen wanted to return and visit many of the places she didn't see on her first trip. But life happened – marriage, children and work. In 2017, she finally was able to make her dream to revisit Europe come true, and her daughter accompanied her.
"A childhood friend of mine had planned a European spring break for herself and her daughter, who was graduating from high school," Karen says. "When she told me about the trip and the price of the trip, I knew it was within my budget.
So, I asked her, 'Do you mind if my daughter and I tag along with you on your trip that's already planned?' She answered, 'We would enjoy having you guys with us.'
We went to Paris, France, Florence, Italy and Athens, Greece. I honestly can say that traveling as a person in a wheelchair was a little bumpy, but it was far easier traveling in Europe in a wheelchair now than it was 28 years ago. The buses are far more accessible now too."
Karen enjoyed meeting different people from various countries and seeing in person art she'd only looked at in books.
She loved eating the foods from every country they visited. She also learned that the countries they visited were making a concerted effort to be more accessible to people with disabilities than ever before.
"All the museums and the ancient ruins we visited were accessible," Karen reports. "Typically, people in wheelchairs would skip the lines waiting to go to these attractions and would be taken to the fronts of the lines. We didn't have to pay to go to any of the sights.
The places we visited were as welcoming in Europe as Disneyland in the U.S. was welcoming to people in wheelchairs.
I was surprised and extremely happy with the way Caroline and I were treated there. Each country we visited seemed to go out of its way to make our travel and admission to the sights as easy as possible. I went to the very top of the Acropolis in Athens, Greece, because a lift there was left over from the Paralympic Games."
Why Karen Roy Chooses Cure Medical
"Cure Medical is extremely generous with its samples, which enables Cure to introduce a multitude of products to potential customers, free of charge to them," Karen says. "Then the person can decide while in the hospital or at home which style of catheter works best for him or her." In the last 30 years, huge advances have been made in the research and development of new and better catheters, so it's important for people to be able to try the latest innovations.
VIDEO: SEE WHY PARAPLEGIC KRISTINA RHOADES LOVES THE CURE TWIST
"Cure allowing catheter users to try out several different types of catheters, free of charge, to select the catheter that best suit their needs is so important to people who need catheters," Karen says.
Karen explains, "This process reminds me of how important a consumer searching for a new car is to drive several different types and styles of cars before making buying decisions."
"Cure also supports the United Spinal Association, and many other research organizations that are important to people in wheelchairs.
Cure is the only catheter company that I know of that gives 10% of its profits to support spinal cord research and to aid the organizations that help and support people in wheelchairs and with other disabilities.
For the last 30 years that I've been in a wheelchair, I know of very few companies that have donated money for these purposes. In the current business climate, a company donating 10 percent of its profits to try to help people in wheelchairs is very rare."
"Cure is a special and unique medical supply company. For Cure Medical to reinvest a portion of its profits in the population the company serves is very unusual and very much appreciated," Karen adds.

To request free samples of the Cure Catheter® or any Cure Medical catheter, contact your local distributor of quality healthcare products, or click here.
Play Along: Share Your Photos in the Get Out, Enjoy Life Summer Tour 2017
Do you have an awesome vacation photo to share like Karen's above? We officially "hit the road" during the month of August for our seventh consecutive year in search of accessible destinations, new hot-spots to explore and adventures to uncover, and as always, you're invited to play along.
The GET OUT, ENJOY LIFE Program is brought to you by SPORTS 'N SPOKES Magazine, the Spina Bifida Association and Cure Medical!
Over the years we've received hundreds of photos from around the world of your adventures of accessible hiking, extreme chair skating (WCMX) and bungee jumping – to name just a few.
To participate in the daily destination contest, visit us on Facebook. SPORTS `N SPOKES, SBA and/or Cure Medical.
PHOTO CONTEST DETAILS:
The Get Out, Enjoy Life – Summer Tour 2017 photo contest kicks off August 1 and runs the entire month. We want to see the places you visit and the sports and recreational activities you enjoy. At the end of the contest – August 31 – three grand-prize winners will be selected from those who share pictures of getting out and enjoying life this summer.
So, what do you win? Three winners total will receive the Get Out, Enjoy Life Prize Pack that includes an the Get Out, Enjoy Life – Summer Tour 2017 T-shirt, a few carabineers and a copy of the latest issue of S`NS. We may even toss is a few prior issues of S`NS.
If you've ever wondered what we look for in a cover,  the SPORTS `N SPOKES art director talks about what she looks for when choosing a cover photo nd what it takes to Land the Cover.
Enjoy Our Free Resources & Articles

CURE NATION is designed with you in mind, to offer assistance and education when you need it through a personal support program.
All of the information you find below and on our related social media pages is meant to guide you to places, topics and, resources that enhance your life, while also connecting you with a growing group of friends.