RespectAbility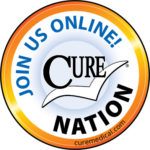 is a nonprofit, nonpartisan organization that understands we are a stronger community when we live up to our values – when we are welcoming, diverse, moral and respect one another.
As a community, we owe so much to the advocates that work tirelessly to protect and advance the rights of people with disabilities. It's never an easy fight and can be even more challenging in the political climate that we're experiencing today. So, when we come across an organization like RespectAbility that is dedicated to uplifting our community and making positive change – we're compelled to share it with the Cure Nation!
RespectAbility was formed in 2013 with the goal of taking away "the pity lens away from disability" and supporting the community in achieving more gainful employment. Their mission is to reshape the attitudes of American society so that people with disabilities can more fully participate in and contribute to society and to empower people with disabilities to achieve as much of the American Dream as their abilities and efforts permit.
RespectAbility works to educate, sensitize and engage Americans to focus on what people with disabilities can do, rather than on what they cannot do.
Advancing Employment for PWDs
In four short years, the organization has worked with "over 46 America's governors to talk about how they could realign state programs to enable employment opportunities for the disabled."
In collaboration with RespectAbility, Gov. Scott Walker of Wisconsin and Gov. Tom Wolf of Pennsylvania have helped create thousands of new jobs for people with disabilities in their states.
At RespectAbility, they don't consider themselves lobbyists – they're educators. And an important point when educating employers is to help them understand that they will make more money and achieve better outcomes by hiring people with disabilities, as they are often dedicated, creative and bring a unique perspective.
"Our free tools and factual resources inform so people with disabilities can achieve the education, training, jobs, security and good health that everyone needs and deserves."
Looking Toward the Future: Disability in Media
For a demographic that represents about 20% of the population of our nation, the disability community is majorly under-represented in film and media. In fact, only 2% of actors on TV portray characters with disabilities – and too often actors with disabilities are not used to play those roles.
RespectAbility was clear in a recent interview with HME News, "Fairness toward the disabled community shouldn't be considered simply an act of charity. Right now, viewers almost never see people with disabilities on TV."
On their website, they explain, "Entertainment contributes to the values and ideals that define us. What we see, we feel. And what we feel impacts how we act. RespectAbility is reaching out to Hollywood to stand up against ableism and other prejudice – while promoting positive, accurate, diverse and inclusive media portrayals on TV and in film."
Investing in the Leaders of the Future: Fellowship Opportunities with RespectAbility
RespectAbility is going even further to invest in the future for people with disabilities. Their National Leadership Program is for young leaders who are committed to disability issues and plan to go into careers in public policy, advocacy, communications, fundraising, nonprofit management or faith-based inclusion. The program enables participants to gain skills and contacts while making a positive difference for people with disabilities.
There are three cohorts per year and RespectAbility is currently taking applications for their Fall 2017 Fellowship, which allows for flexible dates between August 14 and December 29, 2017, for a minimum of nine weeks. They offer opportunities for both paid and unpaid Fellowships.
Are you a college or graduate student or recent graduate? Do you have a disability (or are passionate about helping the community) and aspire to have a career in media, public policy or advocacy?
Find out about applying for a Fellowship with RespectAbility here.
FALL 2017 FELLOWSHIP OPPORTUNITIES
IMPORTANT DETAILS FOR APPLICANTS
Excellent communication and organizational skills are strongly preferred, and Fellows should exhibit leadership skills to complete their own projects.
Strong preference for college juniors and above.
Commit for a minimum of nine weeks.
Hours are 9-5. Summer Fellows are required to work a minimum of 35 hours per week and Spring/Fall Fellows should be able to work at least 20 hours a week, though 40 hours per week is preferred.
There is no tuition cost to do the Fellowship, and unpaid Fellows will be awarded $250 a month as a transportation reimbursement.
The Fellowship takes place in Rockville, Maryland. The office is a short distance from the White Flint Metro Station on the Red Line.
Your cover letter must explain why this Fellowship in particular is of interest to you and why you believe you have the skills, focus and independent drive to make a positive difference in your time with us at RespectAbility.
Fill out their linked Google Doc Form and send your resume and cover letter to Christopher Trujillo at christophert@respectability.org to apply for any of our National Leadership Program opportunities! If you are applying for a paid Fellowship, explain in your cover letter how you can advance diversity and intersectionality issues.
Photos are courtesy of RespectAbility's Facebook Page.



Enjoy Our Free Resources & Articles

CURE NATION is designed with you in mind, to offer assistance and education when you need it through a personal support program.
All of the information you find below and on our related social media pages is meant to guide you to places, topics and, resources that enhance your life, while also connecting you with a growing group of friends.