Rare Patient Voice  began as a clearing house for information for people with rare and unusual diseases. Today, Rare Patient Voice is reaching out to many people with problems that may not be common in the places where they live.
Cure Medical talked with the President and Founder, Wes Michael, who created this online resource for people with unusual medical problems and also for clinicians, medical supply companies and researchers who want to hear from patients firsthand. His comments are below.
The Mission of Rare Patient Voice
Rare Patient Voice is a market research firm that specializes in helping connect people who have rare diseases or unusual injuries with others. In years past, most manufacturers talked primarily to researchers and doctors.
There is a growing need for manufacturers to talk with patients to better understand their needs and to learn how the medical supply industry can better create products and programs to help meet those needs. That's what Rare Patient Voice does by interviewing the end user, the consumer.
Manufacturers in the medical industry are beginning to ask the right questions:
"Who is using our products?
What do they think about our medical products, prescriptions and enabling devices?
What can we do to help improve the quality of care that these individuals want and need through the products we develop?"
I finally decided there needed to be a way to get patients involved with the clinicians and manufacturers who recommend and supply the medical products and medicines that patients use.
Our focus is on what people think of new products that are being introduced to the market to meet their needs and how they live their daily lives.
I started Rare Patient Voice four years ago to get consumers involved in opinion surveys. Rare Patient Voice has had more than 500 different requests from the pharmaceutical and medical industry wanting to learn what customers think about their products, their medicines and their treatments, and how those products, medicine and treatments have affected their lives.
Although most pharmaceutical research firms talk to academics and research scientists, our company helps them to know what the consumer thinks, when a company is working on a new method, treatment or device.
The company wants to know:
what people think is good about this new treatment, service or product;
what's bad about it; and
how this product or service is influencing their lives.
How Rare Patient Voice Works
People who participate in our surveys help bring about new products and possibly new treatments that may help their overall health. Sometimes, the pharmaceutical companies will develop a new treatment or a new medicine and provide information on both the positive and the negative attributes of that product to the consumer.
Participants are paid and privacy is protected.
Rare Patient Voice pays people who participate in our surveys $100 per hour.
If we interview them 30 minutes on the phone, we generally will pay about $50.
We send the companies the answers that we get, but the company doesn't know the people's names. The answers may come in as respondent 1, 2, 3, 12, 26, etc.
This system protects the privacy of the respondent.
When we tell a patient about a survey we're conducting, we'll usually ask the patient, "Can our company use your first name or initial to go along with your response to the questions?"
Rare Patient Voice then agrees that if you give our company your phone number, your number only will be used for one phone call and one interview to protect your privacy. Other companies may give a patient a 1-800 number that they can call and take a survey. In one study, an opinion poll, all the people surveyed were given bird names. One respondent might have been a redbird, a bluebird, a robin or a chickadee.
Something else that has been interesting is that people with rare diseases or rare impairments may not know anybody in the town where they live who has that same type of medical condition.
However, when we talk to them, especially the younger patients often will say, "Oh, yeah, I know several people who have the same type of problem that I do. I've never seen or met them, but I know them from online chat rooms, webpages or Facebook groups."
We tell the people we talk to, "If your friends are interested in taking this survey and learning what we do, then have them call us at 410-218-0527, or go to our website."
One of the things that is really refreshing and positive is that the medical supply companies now want to know about people's lives and to learn what programs and services possibly can make their lives better.
For instance, if a family has a child with a rare disease, and the family also has other children, these parents may need programs, resources and advice on how to take better care of the other children in the family, as well as the child or the person who has an unusual medical condition.
Another way we meet people to interview for surveys is we help to sponsor "walks." We'll set-up a table and meet people. We talk with them about what type of disease or disability they may have, what kinds of medications they take, and/or what types of medical devices they may be using.
If they're interested in participating, we collect names and emails. Then when we have a need to do a survey, we can contact these people and see if they want to participate.
For people who don't want to provide personal contact info, they can set-up special email accounts under pseudonyms that allow them to participate anonymously.
We explain to people that by helping us, they can make sure the people who make the products and/or medicines they use hear their voices.
For more information, you can email Rare Patient Voice President and Founder Wes Michael here.
Improving the way the disability community is served
Rare Patient Voice started out mainly doing surveys with people with rare diseases. But today, we cover a wide variety of medical problems like diabetes, arthritis, spinal cord injuries, muscular dystrophy, cerebral palsy and/or ostomies. They can call us and register to have their voices heard.
We also receive requests to do paid surveys with people who use wheelchairs.
When we go to the Abilities Expo, we see quite a few wheelchair manufacturers there and learn the new designs in wheelchairs, scooters, walkers and other devices that help make people who aren't mobile to become mobile, and even more mobile than they've ever been.
We've had requests from wheelchair manufacturers to learn what the users want to see built into a wheelchair to make their lives easier or more mobile.
Manufacturers need to hear from wheelchair users about features and additions that would make their product better.
I'm amazed at all the new types of wheelchairs that are being produced to solve a multitude of problems. There are even ATV wheelchairs that look like mini-tanks and can go through almost any type of terrain.
Anytime we see new developments that will help people who have disabilities, rare diseases or unusual medical conditions, we post it on our Rare Patient Voice Facebook page. It's a great resource because many people find videos about new research on other online and share links to those videos on our Facebook page, as well.
We feel the people who participate and share their experiences with us are winning because their voices are being heard by researchers and manufacturers who want to know what they can do to make these persons' lives better. They also get compensated for their time and opinions!
Our clients like the interview system we use because then the people most impacted by various medicines and/or treatments get to provide their opinions and knowledge about those medical devices and treatments.
To sign up as a study participant with Rare Patient Voice or to learn more, visit this link.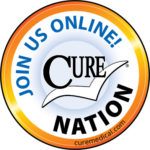 If you found this story to be helpful, you'll want to join us in the Cure Nation to stay up to date on all that is interesting and educational for our community. And connect with us on Facebook, too!



Enjoy Our Free Resources & Articles

CURE NATION is designed with you in mind, to offer assistance and education when you need it through a personal support program.
All of the information you find below and on our related social media pages is meant to guide you to places, topics and, resources that enhance your life, while also connecting you with a growing group of friends.