Get Out, Enjoy Life Presents the Accessible Travel Guidebook: Nevada Spotlight
Do you have the travel bug? From all the excitement and entertainment that you can enjoy in Las Vegas, to stunning desert landscapes – all sorts of adventure awaits you in the Silver State!
Cure Nation, we don't want accessibility to be a concern in your travels. Here are a few great resources about navigating Las Vegas on wheels, Nevada accessible transportation and adaptive outdoor excursions.
If you are looking for accessible information for any other state in the U.S., we've still got you covered.
Download your copy of the Get Out, Enjoy Life FREE Accessible Travel Guide, brought to you by Sports 'N Spokes, a publication of the Paralyzed Veterans of America, Cure Medical and the Spina Bifida Association.
Note: This isn't an inclusive list of all the accessible travel spots in Nevada. It's more of an idea generator to help you get moving and planning your next getaway. Photos below courtesy of 2017 Get Out, Enjoy Life event. Enjoy!
Las Vegas Accessibility 
"Vegas is a service-oriented town dedicated to making vacations comfortable and enjoyable for everyone regardless of their physical abilities. We've put together some helpful tips and information on getting around the city for those visitors with special needs."
Website: https://www.vegas.com/lounge/handicapped.html
Wheelchair Getaways
"Wheelchair Getaways of Las Vegas, Nevada provides quality accessible van rentals throughout the Las Vegas Area. All of our vehicles are wheelchair accessible, with lowered floors and automatic ramps. Many of our wheelchair accessible van rental customers want to travel to the Grand Canyon, no problem – a great adventure. Hoover Dam is on the way and highly accessible.
Whether you are going through rehabilitation, replacing a vehicle that has been in an accident, or are simply traveling to the great state of Nevada, Wheelchair Getaways of Las Vegas has your transportation solution. Our rental vans are available by the day, week, month, or longer, insuring that you have 24-hour transportation for all your needs."
Website: www.wheelchairgetaways.com
Phone: 800-642-2042
Email: info@wheelchairgetaways.com
Turning Point Nation
"Turning Point was founded in 1979 by Michael "Shorty" Powers. After an injury at age 17 left Shorty without the use of his legs he began looking for opportunities to become involved in the outdoor recreational activities that he had always loved. He found no organized activities that were available to people who had major mobility impairments. Not willing to give up his love of fishing, kayaking, scuba diving and hunting, Shorty established Turning Point to assure that outdoor activities were readily available to people with many types of physical challenges.
Turning Point is a 501(c) 3 nonprofit organization designed to teach people with mobility impairments the skills necessary to fully enjoy the outdoors, and to provide free or low cost activities. Turning Point provides the encouragement and support needed for people who have major physical challenges in life to fully participate in the adventure of living."
Website: www.turningpointnation.org
Phone: 530-414-4804
Email: ccable@turningpointnation.org
Looking for more Las Vegas accessible travel resources? Check out this helpful article by Wheelchair Accessible travel.
Here's a few of their favorites:
Fremont Street Experience
The Fremont Street Experience (FSE) is a 5-block span of Fremont Street with a pedestrian walkway that is covered by a canopy. This canopy amplifies the lights of the casinos and hotels connected to the canopy at night, as you can see in the photograph above. Among the hotels which comprise the FSE are Las Vegas icons the Golden Nugget, the Fremont Hotel and Casino, and the California Hotel and Casino. The casinos collectively stage the Viva Vision Light Show beneath the canopy every night. The FSE is fully wheelchair accessible and offers access 8 casinos in just a 5 block stretch. For more information on the FSE, visit vegasexperience.com.
Neon Museum
A boneyard covering more than 6 acres of real estate, the Neon Museum in Las Vegas displays the signs from old casinos and other businesses. The museum maintains the restored signs used in the Fremont Street Experience and those housed in the sign boneyard. Some of the pieces currently held by the museum include the iconic Silver Slipper, Stardust hotel, Caesars Palace, Moulin Rouge Hotel and Desert Inn signs. Daytime tours are $18.00 for adults and $12.00 for seniors age 65+, active military and veterans. The evening tours featuring the lit signs are $25.00 and $22.00, respectively. For more information or to purchase tickets, visit neonmuseum.org. The museum and boneyard are ADA compliant and wheelchair accessible.
And don't forget the VooDoo ZipLine Las Vegas. A Thrill Ride between two of Rio's Hotel towers, it's also open to friends who use wheelchairs. See the Official Site of the VooDoo Zip Line at the Rio Hotel and Casino Las Vegas here.
Get Out, Enjoy Life: 2017-2018 Accessible US Travel Guide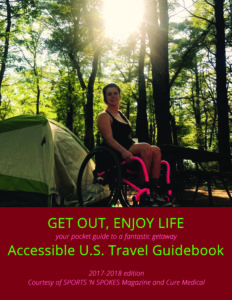 Looking for more fun ways to experience the outdoors across the nation?
Download our free accessible travel guide!
This updated travel guide is an easy, encouraging read that will help you explore all kinds of travel destinations and family fun spots, whether you are new to using a wheelchair or a seasoned pro.
These accessible travel suggestions are part of the 2017-2018 Get Out & Enjoy Life [GOEL] program that is a joint educational initiative between SPORTS 'N SPOKES magazine, published by the Paralyzed Veterans of America, the Spina Bifida Association and Cure Medical.
Enjoy Our Free Resources & Articles
The CURE NATION is designed with you in mind, to offer assistance and education when you need it through a personal support program.
All of the information you find below and on our related social media pages is meant to guide you to places, topics, and resources that enhance your life, while also connecting you with a growing group of friends.
SaveSave
SaveSave
SaveSave