Experienced skydiver Nick LiBassi's life changed dramatically in 1996 when he jumped out of an airplane to create formations with a group of five other skydivers. As they free-fell over an airstrip with thousands of spectators watching, tragedy struck.
Today, at 46 years old, Nick believes he would have been killed if it weren't for the grace of God. He shares his experience below with the CURE NATION.
I was certified for everything a person could be certified for in skydiving, and I had many, many jumps to my credit. On this particular jump, I was making formations with five other skydivers, who had jumped out of an airplane at 15,300 feet. Once we reached 5,000 feet, I waved everyone off to turn and break away so they could prepare to open their chutes.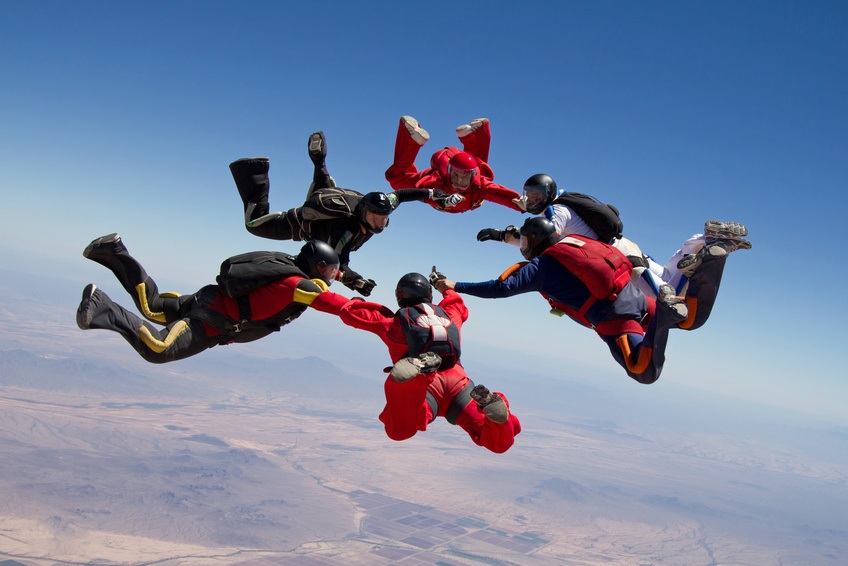 Nick Recounts His Fateful Fall
As I came out of my position of tracking (flying horizontally across the sky), with my hand on my ripcord and about to pull it to open my parachute, I heard someone screaming.
I looked behind me, and another skydiver collided with me at terminal velocity, going 120 miles per hour. But I saw his parachute open and knew he'd be safe.
My leg broke upon the impact. I had to try and recover from my femur being snapped, and the other guy ripping my main canopy halfway off my back. I pulled my reserve parachute ripcord, and when the chute came out, it got wrapped up in my broken leg and didn't open. I attempted to clear my lines again and get my reserve parachute to open. Then I looked down and saw the tarmac coming up to meet me.
I knew if I hit that asphalt runway, my life would be over.
So, I flew instead toward some trees that I soon hit going 85-95 mph. But, miraculously, I never passed out. As I was falling and crashing through the trees, I heard a lot of noise – wind noise and tree limbs breaking. Suddenly there was a dead, calm silence.
I grew up as a Christian, and I was an altar boy, so I thought for sure I was in heaven. I had a calm demeanor.
But then instantly, I felt tremendous pain and realized I was alive and not in heaven. I looked up and saw that I was leaning against a tree on the ground with one leg behind me. The other leg had gone into a stream, and my foot was buried in about 18 inches of mud.
When I finally could look straight up, I saw the sky and the broken ends of the branches I'd sheared off from the tops of the trees to their bottoms. I'd cleared out about 120 feet of branches with the impact of my body.
On the ground, I realized I had a number of broken bones and a broken back. I saw blurs coming through the woods and recognized my friends moving toward me, before they stopped about 60 yards away. I was conscious enough to tell them, "Don't move me. We need to wait for the paramedics and let them extract me."
A helicopter landed, and the paramedics spent about 45 minutes trying to move my leg out of the mud and get me into a position where they could put me on a backboard. Then various people switched on and off, carrying me out of the woods to reach the helicopter.
I never passed out during this whole ordeal. I had so many broken bones that I couldn't identify where I hurt. I just hurt all over.
NICK DEFINES HIS NEW LIFE DURING REHAB
When we reached the hospital, I learned I had a broken tibia, fibula and pelvis and a L1 burst fracture in my spine and was paralyzed from my belly button down. I was given pain medication at the hospital for some hours, since the neurosurgeon was out of town. The hospital had to wait for him to return, although this was a major trauma center. The hospital also had called in an orthopedic surgeon.
We had jumped out of the airplane about 1:00 pm. The hospital staff finally got me stable about 5:00 pm. I went to surgery about 5:00 am the following morning. The doctors repaired all my broken bones first before starting on my back surgery. When I woke up, I realized I was still paralyzed from my navel down. Today I'm a T10 Asia A paraplegic.
I was in the hospital for 6 days before being transferred to the Kessler Rehab Center in West Orange, New Jersey.
I was lucky because I stayed in rehab for 3 months, but today most patients only go to rehab for 21 days.
Christopher Reeves was going through outpatient therapy when I was at Kessler, and I had the opportunity to meet him. Reeves and I were both placed on a committee to try to get legislation passed to add $1 from every motor vehicle accident to go toward spinal cord research. The bill passed in New Jersey, and Governor
Christine Todd Whitman invited Reeves and myself to her office when she signed the bill.
My story was published in a book titled, "From There to Here," a collection of essays about people adjusting to spinal cord injuries.
Each of the 45 people featured in that book share how they moved from their accidents or their injuries to where they were at that time. This book was published in 2004, and at that time I was working for Johnson and Johnson as a regional sales director. Johnson and Johnson sponsored the first edition of the book.
Nick Returns to Work and School
Before my accident, I'd been a contractor, a trade I'd learned from grandfather and my uncle. By the time I was 19, I had built my first home. At 26 years old, I had had my own contracting business.
As I considered what I'd do after my accident, I realized that one of the skills I had was the ability to sell.
In my contracting business, I had to sell people on the idea of letting me build a home for them. At that time, I had no college experience. I looked in the newspaper for jobs in sales, and my first job was working for a family-owned wholesale floral business that sold cut flowers to flower shops. I worked there for more than a year, set many sales records and brought in a ton of new business. Then I took a job with another family owned company selling Persian and oriental rugs in Manhattan, New York.
At the same time, I started a fundraiser for spinal cord research – a golf outing – and donated the money to research at Rutgers University. After holding the fundraiser for several years, an official from Rutgers called me and said, "You've raised and donated a lot of money to our research team. We have an open seat at one of our tables in Lincoln Center. We'd like for you to come."
So, I rented a tux and sat at the Rutgers University table where two vice presidents for Johnson & Johnson were also hanging out. We talked, they liked me, and I liked them. We stayed in touch. Within a year, Johnson & Johnson offered me a job in sales for the company.
Then Johnson & Johnson brought me to the main office where I worked under a sales coordinator, who trained the company's salesmen. When he left, I moved up to his job. After several years as the sales director, I wanted to go back into the field and became a regional sales manager for Johnson & Johnson, reporting to the company's general manager and the vice president of sales.
Not only did Johnson & Johnson provide me with a job and benefits, the company also had a program to reimburse expenses for college for an employee without a college education who wanted to obtain one.
While working for Johnson & Johnson, I went to college at Bergen Community College to get my associate's degree. Next I went to Montclair State and obtained a BS degree in business with a concentration in management.
I really loved returning to school. Here's why.
When I graduated from high school, I didn't feel I needed a college education because I knew I'd be a carpenter. However, once I went to college after my accident, I was ready to learn.
At first, college seemed strange, especially since I was older than most of the students. But I got great grades and graduated with honors. I still was traveling 175,000 miles per year with Johnson & Johnson, while I went to school at night. Even with the studying and the traveling, I still loved to learn at college.
My college degree is one of the things I'm the most proud of in my life.
Then I was asked to be on the board of directors for the United Spinal Association, a position I held for 4-5 years. I've been affiliated with United Spinal for 11 years now and finally left Johnson & Johnson to take a full-time job at United Spinal.
Today I'm the Vice President of Partnership and Expansion for United Spinal. I help United Spinal partner with other nonprofit and for profit organizations to build relationships and to integrate some of our programs. I pass along the names of these companies and their contacts to our development team to enable us to all work together for funding.
Nick's Thoughts about Cure Medical
I've known John Anderson, CEO of Cure Medical for awhile, and I've known Lisa Wells, Cure's vice president of marketing for many years. I truly believe that the people at Cure have their hearts in the right place, since the company gives 10% of its net income back to fund spinal cord research.
I think that the top management at Cure Medical is doing the right thing for the company while also seeking a cure for spinal cord injuries and paralysis overall.
Cure Medical offers two areas of support to our community, with the intermittent catheters we manufacture, and also through the neurological research programs that we financially support.
WHEN YOU USE CURE MEDICAL CATHETERS, YOU ARE ALSO TAKING PART IN THE PURSUIT OF A CURE! Learn more about the scientific research programs that Cure Medical financially supports here.
what's in store for nick libassi
I enjoy eating, and I like eating healthy food, especially lots of vegetables. I'm Italian, so I like to prepare Italian recipes, enjoy grilling fish and chicken, love zucchini and ravioli and like to create new recipes that always turn out well.
I also really like politics. I've been on the zoning board for my town, and I'd like to run for public office someday, but I'm not sure at what level yet.
My ultimate dream is to serve one term in Congress.
I believe in term limits for the U.S. Senate and the U.S. House of Representatives, which will be one of the planks in my platform.
I believe in the rights of citizens to keep and bear arms, and I've been trained through the NRA on how to shoot and how to protect myself.
I'm also an advocate of the military, although I never served. My dad was in the U.S. Navy.
I love to snow ski in the wintertime and handcycle in the spring and summer. I'm not married yet but that's always a possibility if I can find the right lady!
Enjoy Our Free Resources & Articles

CURE NATION is designed with you in mind, to offer assistance and education when you need it through a personal support program.
All of the information you find below and on our related social media pages is meant to guide you to places, topics and, resources that enhance your life, while also connecting you with a growing group of friends.