As seen in Mobility Mgmt magazine:  https://mobilitymgmt.com/articles/2018/05/06/should-crt-providers-expand-into-urology.aspx?s=emob_100518&admgarea=emob
Urological supplies — i.e., catheters and accessories/supplies — have traditionally been the realm of the home medical equipment supplier. But complex rehab providers also have inside knowledge that could favorably position them to make these sales.
Lisa Wells is the VP of marketing for Cure Medical, a urological supplies manufacturer, and serves on the board of directors for the Spina Bifida Association. A veteran of the home medical association, Wells talked about why she believes CRT providers should consider expanding into this niche.
Q:   How big is the urological supplies market in the United States? How many people are long-term users of urological supplies?
Lisa Wells:  Several million people in the U.S. are long-term users of urological supplies, including intermittent catheters, condom catheters and indwelling catheters. That doesn't count short-term users, such as patients who use catheters briefly while hospitalized or for a limited time at home after recuperating from surgery, injuries or other temporary conditions.
Spinal cord injuries cause the bladder and brain to be unable to communicate, also resulting in the need to catheterize.
Benign prostate hyperplasia (BPH) in men and pelvic floor conditions in women are the major conditions that contribute to urinary retention, requiring the use of a catheter, either for the short or long term. The growing elderly population, being more prone to such conditions, is also experiencing increased use of intermittent catheters.
Urinary incontinence is believed to be an undertreated and underdiagnosed condition and is also a part of aging. The National Association for Continence (NAFC) states that it affects approximately 200 million people worldwide. NAFC also states that one third of the men and women between the age of 30 and 70 years face loss of bladder control at some point in their adult life.
A new market research report published by MarketsandMarkets, "Urology Devices Market by Product, End User — Global Forecast to 2022," forecasts the urological market will be worth $44.37 billion by 2022, expanding from $31.44 billion in 2017. The report lists factors driving the growth of this market, such as the growing geriatric population, rising incidence rate of cancer, increasing healthcare expenditure, and technological advancements in urology devices.
Q:   While urological supplies have traditionally been sold by DME suppliers, you say that CRT providers are particularly well positioned to make these sales too. Why?
Lisa Wells:   Because ATPs know their clients so well. Through providing seating and wheeled mobility, ATPs are well aware of their clients' abilities and limitations. They know their current medical challenges and are familiar with their prognoses, with how their conditions could progress and how quickly.
Among the CRT diagnoses that most often result in people using urological supplies are spinal cord injury — both paraplegia and quadriplegia — spina bifida, transverse myelitis, multiple sclerosis, cerebral palsy and others that lead to bladder dysfunction and require these catheters for urine drainage. These are conditions that ATPs work with every day.
But more importantly, ATPs have earned their clients' trust. So many ATPs form relationships with clients that last a lifetime. These clients trust their ATPs' knowledge and expertise because of all the time they spend together doing evaluations, making adjustments, doing wheelchair training, etc. Consumers value their ATPs' opinions, and ATPs are in a unique position to educate them on urological supplies.
Q: What do you think is the number one misconception about selling urological supplies?
Lisa Wells: That it's a "one-size-fit-all" product. That these are just boxes of product on shelves.
That's not true of today's urological supplies. Today's intermittent catheters are designed and developed according to consumers' needs, and those needs vary widely.
For example, are you working with a client with quadriplegia who has limited finger and hand dexterity? We would probably recommend a different type of catheter than we would for a client with paraplegia who has full use of his hands.
There are specialty products for children, and products are designed specifically for men or women due to differences in anatomy. And within those categories, there are more choices. It's not just a matter of "You're female, so this is the only product we have."
Q: How does environment play a role in urological supply decisions?
Lisa Wells: Knowing a client's lifestyle and environment is key to choosing the best urological supplies.
ATPs who work with clients with spinal cord injuries, for instance, probably have heard that some clients stay at home not because of seating or mobility problems, but because they worry about having an accident while outside their homes. Or they don't know if they'll be able to discreetly and privately use the bathroom at the restaurant or movie theater. We hear that kids are embarrassed about carrying supplies to school.
That's what they worry about. And it doesn't have to be that way.
There are so many intermittent catheter choices these days. Many are discreet and easy to carry in your pocket or purse. For pediatric users, we also offer free clinician-developed educational materials that are kid-friendly while helping parents teach their children how to cath safely, sanitarily and independently.
It's all about helping consumers to find the best choices for them — not just from a clinical standpoint, but also products that are the best fit for what they do and where they'll be all day.
Q: And you believe that since ATPs know their clients well, they're in a good position to also educate clients on urological supplies?
Lisa Wells: Since ATPs need to learn about their clients' activities and environments to optimally build and fit their seating systems and wheelchairs, we know they gather a lot of information, and they can use that information to help their clients with urological product decisions. We think it makes a lot of sense, while also offering new revenue opportunities for CRT providers. We're already seeing examples of large CRT providers who are gaining success by adding urological supplies to their product mix.
Everyone in CRT knows that each client is an individual, with unique seating and mobility needs. That carries over to their urological supplies needs. We know that just because two clients have the same diagnosis, that doesn't necessarily mean they should use the same type of seating or the same model and brand of wheelchair. That's true for urological supplies, as well.
One thing is true for everyone using urological supplies: No one should have to stay home or avoid activities because they're worried about bladder management.
That's our goal, to offer not just products that make a difference, but to also provide our customers with education and support so they feel confident to go out and live their lives.
For HME Providers + Partners
Cure Medical is your partner and your manufacturer. We are here to help you succeed! 
Cure Medical believes that outstanding user comfort and safety should be considered standard care, and we are committed to supporting HME providers who are experts in delivering quality care.
We have partnered with outstanding distributors nationwide who share this vision. They help ensure that end-users receive the ideal combination of high quality products with specialized customer service.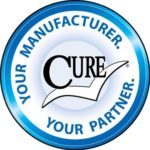 Knowledgeable, experienced, Cure Medical distributors not only provide FREE SAMPLES of our products, they can:
 Assist with product selection
Address questions on insurance coverage and third party billing
Coordinate with physicians or case managers
Ship products promptly and discreetly
Contact your current medical supply provider to ask for Cure Medical catheters.
Or, request samples directly from us and we will help you obtain the name of a Cure Medical catheter distributor near you!
Would you like to partner with Cure Medical? Contact us!