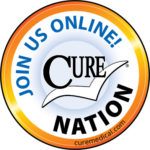 If you self-cath, you'll be the first to admit that sometimes it can be a real pain.  Sometimes self-catheterization can be uncomfortable, and hard to do depending on where you are while cathing and what level of hand dexterity you have. Plus, UTIs can take the cake in terms of making the whole process difficult to look forward to.  But you know it's still something you have to do.
That's why we're offering the following ideas below that may help make cathing less of a hassle and more convenient for your everyday life!
Note: This information should not be construed as medical advice. Always ask your doctor about questions related to your individual health.
1. IS YOUR CATHETER ROUGH AROUND THE EDGES? TAKE THE CURE TOUCH TEST™ TO FIND OUT.
Have you ever felt the eyelets on your catheter?
Take a catheter that you're not going to use, and feel the eyelets. Rub your finger backwards from the tip toward the funnel on the other end.
Do the eyelets feel rough to the touch?  Take the Cure Touch Test™ and compare how the eyelets on your current catheter feel next to those on a Cure.
Cure Medical always uses an ultrasonic process to ensure that all eyelets on all Cure catheters are exceptionally smooth. The difference in eyelet quality between a Cure Medical catheters and others can be seen – and felt!
Having smooth eyelets on the catheter that you use within the sensitive tissue of your urethra – multiple times a day – seems like a really good idea, right?  It sure is! So what are you waiting for?
TAKE THE CURE TOUCH TEST™ AT HOME.
Try a Free Cure Catheter Sample and compare the smoothness of our eyelets next to what you are currently using. You can feel the difference!
2. TIRED OF GOOPY HANDS? SWITCH TO READY-TO-USE CATHETERS
If you've been applying lubricant to your intermittent catheter several times a day for many years, chances are you're sick of messy hands.
There's an easier way.  You could choose a pre-lubricated or hydrophilic catheter instead!  These catheters are ready-to-use without the need to get lube on your hand or anywhere else, other than already on the catheter as you open the package.
Here's some options for ready-to-use and hydrophilic catheters that you may want to try:
3. HAVING A HARD TIME WITH INSERTION? TRY A COUDE CATHETER FOR MEN
If you are having trouble self-cathing, or if you have complications from strictures or other urethral irritation, talk to your physician. Your doctor may recommend that you use a Coude catheter to give you a more comfortable, soothing experience.
A coude catheter has a fixed, bent tip that helps men with easier insertion.
Cure Medical has developed the Cure Ultra® Coude ready-to-use catheter with men in mind who are experiencing discomfort or trouble with insertion when self-cathing.
The Cure Ultra® Coude for men features smooth, polished eyelets and a bent tip, plus a blue control stripe for insertion accuracy and a unique gripper for increased ease of use.
VIDEO: DEALING WITH STRICTURES – WHY RICK HAYDEN CHOOSES A CURE CATHETER
T-8 Paraplegic Rick Hayden, President of United Spinal's Southern California Chapter, shares below why he chooses to use a Cure Medical catheter after having two surgeries to remove his urethral strictures.

4. WAYS TO MAKE CATHING LESS OBVIOUS TO THE WORLD AROUND YOU
Convenient, cool options exist to make your catheter less obvious and easier to carry when you're on the go!
Ladies, you may want to consider the Cure Twist® – a sterile, single use, intermittent catheter by Cure Medical that looks similar to the design of small cosmetics, and is preferred by women who value discretion and convenience.
Appearance isn't the only advantage of the ready-to-use Cure Twist® either.  Watch what Cure Twist user Kristina Rhoades has to say about its portability and ease of use.
VIDEO: CURE ADVOCATE KRISTINA RHOADES SHARES THE CURE TWIST®
Guys, you have discreet options too! Take your pick from the variety of Cure Pocket Catheters that fit nicely in your pocket or bag.
5. REDUCE YOUR EXPOSURE TO KNOWN CARCINOGENS
On March 1, 1987, after a popular voter initiative was approved, the state of California created a comprehensive list of "Chemicals Known to Cause Cancer or Reproductive Toxicity."  You might have heard about it in relation to Proposition 65 labeling on different kinds of products.
DEHP (Di(2-ethylhexyl)phthalate) is listed by California as a known chemical to cause cancer and toxicity in males.
DEHP was removed and banned from being used in children's toys due to its ability to be absorbed through the mouth and skin. DEHP can cause serious health concerns for some individuals, and has even been listed as a chemical that can cause cancer.
This is especially important because the incidence of bladder cancer in people who have spinal cord injury (SCI) is 16 to 28 times higher than that in the general population.  Source
Is your current catheter made with DEHP or BPA? Learn about the concerns with DEHP here  and ask your catheter supplier to verify what chemicals are in your catheters.
CURE CATHETERS ARE NOT MADE WITH DEHP, BPA OR NATURAL RUBBER LATEX.
6. SUPPORT A CURE FOR URINARY RETENTION AND PARALYSIS
Cure Medical offers two areas of support to our community, with the intermittent catheters we manufacture, and also through the neurological research programs that we financially support.
When you use Cure Medical Catheters, you are also taking part in the pursuit of a Cure!
Founded by a quadriplegic, Cure Medical is the only catheter manufacturer in the world that donates the first 10% of its net income to support research programs in pursuit of a cure for urinary retention, paralysis, spinal cord injury and central nervous system disorders.
As long as the need exists for people to use intermittent catheters, we're going to be fighting for a Cure while providing you with quality-made products that can make the process easier and faster for your convenience.
Thank you for Choosing a Cure!
Enjoy Our Free Resources & Articles

CURE NATION is designed with you in mind, to offer assistance and education when you need it through a personal support program.
All of the information you find below and on our related social media pages is meant to guide you to places, topics, and resources that enhance your life, while also connecting you with a growing group of friends.