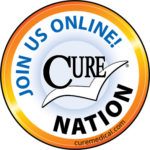 CURE NATION: Amanda Perla's mom, Liza, founded NextStep Orlando to offer her daughter and others with SCI the opportunity to engage in exercise-based therapy.
See Amanda's story below as she shares the difference that exercise- and activity-based therapy has made in her personal life after she experienced a spinal cord injury.
AMANDA PERLA ON Facing HER Spinal Cord Injury
No one can predict a spinal cord injury. Eleven years ago, Amanda
Perla was involved in a motor vehicle accident, and she recalls, "I was just your average high school senior. I was a month shy of graduating. I'd been dancing competitively for 11 years prior and was on a dance team. I was out with friends and was in a car accident that left me with a broken neck. I was paralyzed at C-6, from the chest down."
"I spent the next six months in rehab. They taught me to adapt to life in a wheelchair, but they didn't really seem interested in working with my legs or anything below my injury.
"They only wanted to focus on what was above my injury. They believed I would never live independently and basically told my mom to put me in a nursing home."
As for most families that endure an SCI, things weren't easy after Amanda's accident. Amanda's mom, Liza, was her primary care taker and in addition to the responsibilities of basic daily care, she was committed to finding better options for therapy and recovery for her daughter. The outpatient rehab that Amanda was still participating in just wasn't cutting it.
"We decided to try and find something else and travelled out to NextStep L.A. They had me standing on my first visit – which was great. It took four people, which now it only takes one, but I knew right away that this was what I was looking for."
Amanda and liza bring Exercise-Based Therapy & Recovery to Florida
Amanda and Liza continued traveling to Los Angeles for therapy and loved the methods and results. However, it was getting expensive and time-consuming to spend so much time across the country. So, they arranged to meet with the owners of NextStep L.A. and explored the idea of starting an Orlando location. Before long, that vision was becoming a reality.
In 2009, NextStep Orlando opened its doors to the public to provide hope and recovery for people living with paralysis. It's a state-of-the-art recovery center that is dedicated to meeting individuals' various recovery needs. 
When their local facility opened, Amanda was able to start participating in much more frequent and routine therapy. Even so, this type of therapy is a lifelong commitment. Amanda explains, "When I first started, it was kind of the same as it was in L.A., as far as results. But, as the months and years went on, I started gaining more strength and stamina."
"It was doing it on a consistent basis that made a difference. It's important to keep in mind that it's a long process. It's something I'll have to do for the rest of my life."
How cool is this?! Amanda Perla was chosen to be in a calendar featuring New York Mets fans! Read more here!
In the beginning, Amanda committed 3 hours per day, 4 days a week, to her exercise and rehab program. As she became stronger and found increased energy, she was able to do more in a lesser amount of time. These days, she works out 2 hours per day, 3 days a week. As a quadriplegic, the results have been pretty impressive – though not without a lot of hard work.
"Now, I can stand with only one person supporting me for 30 minutes, just holding on for stability."
"I can take a few steps with a walker or assistant. I can do squats on the Total Gym and pedal the spin bike on my own – the trainers just lift me up and secure my hips and feet. With the shift of my weight in my hips and legs, I'm able to pedal it on my own."
NextStep Orlando is now one of four NextStep locations, with the others in Kansas City and Atlanta. All are independently owned and operated, but collaborate for training and knowledge sharing.
In 2017, NextStep Orlando served 75 different clients, both local residents and people from across the U.S. and beyond. They've enjoyed helping clients from countries including New Zealand, Guatemala, Austria, Spain and Ecuador, to name a few. They currently see about 20 clients per week and most train for 1-3 hours several times each week.
They offer a variety of types of training to maximize their clients results, including locomotor training, guided exercise, functional electrical stimulation (FES) and the NuStep. Their innovative equipment is meant to focus on gait training and standing, cardiovascular exercise and general strength training. For more on their services and equipment, click here.
VIDEO: NEXTSTEP FEATURES LAUREN doing exercise-based therapy

In June 2013, Lauren, just 19 at the time, was attending Penn State University when she dove into and hit her head on a black bottom pool. She broke her neck and is now a C6 quadriplegic, paralyzed from the chest down. In 2016, Lauren began splitting her time between Pennsylvania and Florida so she would be able to come to NextStep Orlando. Recently, Lauren has made some huge gains in her recovery, for example, taking a few steps with her right leg!! She has also become a great advocate for safe diving since her spinal cord injury.
"NextStep Orlando exists to provide those living with a spinal cord injury the opportunity to achieve their greatest recovery potential and an overall increased quality of life. We will achieve this with an innovative, specialized exercise-based recovery program, dedicated staff, in an environment filled with support, hope and motivation."
It's important to Amanda that she shares the benefits and improved quality of life that she has enjoyed from committing for so long to exercise-based therapy – and the environment at NextStep Orlando is a welcoming one.
"We have a really positive atmosphere here – trainers, staff, clients, families. It helps people struggling with paralysis emotionally and mentally, not just physically. We're all going through the same thing."
AMANDA PERLA SHARES HER THOUGHTS ON THE CURE COMMITMENT TO PARALYSIS RESEARCH
Exercise-based therapy and spinal cord injury research go hand-in-hand! That's why Amanda Perla appreciates the Cure Commitment, the initiative behind Cure Medical donating 10% of net income back to paralysis research.
She says, "I haven't heard of another company giving back to SCI research. I think it's really cool."
Can you imagine a cure for SCI/D? We can.
That's why Cure Medical donates 10% of our net income to medical research. We believe research is the key to developing a cure for urinary retention, spinal cord injury and central nervous system disorders. Simply by choosing to use Cure products, you are contributing to a more promising future by supporting research for finding a cure.
We understand SCI/D personally,  as Cure Medical was created by Bob Yant, who is a C4/5 quadriplegic.  We work hard to design our products with your needs in mind.
At Cure Medical, we have a vested interest in the quality, safety, comfort and convenience of our products— as our founder's health depends on them, too.
Cure Catheters and Cure Closed Systems are not only safe and comfortable, but familiar as they work just like any other intermittent catheter.

To request free samples of the Cure Catheter® or any Cure Medical catheter, contact your local distributor of quality healthcare products, or click here.
Enjoy Our Free Resources & Articles
CURE NATION is designed with you in mind, to offer assistance and education when you need it through a personal support program.
All of the information you find below and on our related social media pages is meant to guide you to places, topics and resources that enhance your life, while also connecting you with a growing group of friends.
SaveSave