Get Out, Enjoy Life Presents the Accessible Travel Guidebook: Southern California Spotlight
Are you ready to Get Out and Enjoy Life?! Well, don't let accessibility concerns get in your way! Check out the FREE Accessible Travel Guide, brought to you by Sports 'N Spokes, a publication of the Paralyzed Veterans of America, Cure Medical and the Spina Bifida Association.
Below, you'll find some great opportunities, organizations and programs in Southern California that are inclusive and accessible to people with disabilities. And, there is A LOT to see and do in SoCal, so check out the list below to plan your adventure. Don't forget to bring your shades!
Note: This isn't an inclusive list of all the accessible travel spots in Southern California. It's more of an idea generator to help you get moving and planning your next getaway. Photos below courtesy of 2017 Get Out, Enjoy Life event. Enjoy!
Ability First
"Through 25 locations across Southern California, Ability First provides programs for children and adults with disabilities and special needs services to help participants reach their full potential throughout their lives. We offer a broad range of employment, recreational and socialization special needs programs and operate 12 accessible residential housing complexes."
"Most Ability First programs qualify for funding through the state-supported Regional Centers. However, government support provides only about half of the dollars necessary to deliver high quality programs and services. As a nonprofit organization, we rely heavily on the generous support of hundreds of donors who share our vision."
Website: www.abilityfirst.org
Email: info@abilityfirst.org
Facebook: facebook.com/AbilityFirst
Accessible San Diego
This is an extremely helpful website for travelers with disabilities. It is a non-profit information center that serves as a guide for accessible hotels, tours, lift transportation and attractions. This guide of the San Diego area provides news, event information, travel guides and more!
Website: www.asd.travel
Facebook: www.facebook.com/pages/Accessible-San-Diego
Email: mail@asd.travel
California Coastal Commission – Beach Wheelchairs
This website showcases several coastal cities in California that offer beach wheelchair rentals. The special wheels are able to roll across the sand without sinking. All of the beaches listed on this website provide beach wheelchairs free of charge. The California Coastal Commission is committed to serve ALL residents of the state and ensure their beach experience is wonderful.
Website: www.coastal.ca.gov/access
Email: coast4u@coastal.ca.gov
Discover Los Angeles For Disabled Visitors
This thorough website is an excellent guide for people with disabilities who want to travel to Los Angeles. It lists LA's top accessible attractions which include but are not limited to; aquariums, arts and music, attractions, entertainment, landmarks, museums, gardens, and transportation. Check out Discover Los Angeles and see which accessible activity best suits you!
Website: https://discoverlosangeles.com
Disneyland
Just like Disney World in Orlando, Disneyland in Anaheim, California is fully accessible to people with disabilities. Disneyland is accessible to those with hearing and visual disabilities as well as mobility. Service animals are welcome too! Come make your dreams come true at the magical Disneyland in Anaheim, California.
Website: disneyland.disney.go.com/plan/guest-services
Facebook: facebook.com/Disneyland
Phone: 714-781-4565
LEGOLAND
"With more than 60 rides, shows and attractions it's an interactive, hands-on theme park experience for families with children 2-12. The Resort is also home to SEA LIFE® Aquarium and the world's first LEGOLAND Water Park. And if you've ever dreamed of spending the night at LEGOLAND, LEGOLAND Hotel at the Resort is now open and less than 2 miles from the nearest beach!"
Website: california.legoland.com/FAQ/disabled_access/
Email: experience@LEGOLAND.com
Facebook: facebook.com/legolandcalifornia
L.A. Accessible Transportation: Accessible Taxi Services

Wheelchair accessible, ADA compliant taxi vans with side or rear entry wheelchair ramps are available within the Los Angeles metropolitan area and are charged at the same meter rates as a normal taxi. Wheelchair taxis can be ordered on demand within the city and at both area airports. Due to the demand for WAVs in Los Angeles, wait times can exceed 45 minutes. Wheelchair taxis are typically quick to respond to LAX airport, however. The following taxi companies offer wheelchair accessible taxis:
United Taxi
(323) 653-5050
www.unitedtaxi.com
L.A. Yellow Cab
(424) 222-2222
www.layellowcab.com
L.A. Checker Cab Company
(800) 300-5007
www.ineedtaxi.com
L.A. City Cab
(888) 248-9222
www.lacitycab.com
Silver Strand State Beach
Silver Strand State Beach features extensive beaches on both the Pacific Ocean and San Diego Bay with many accessible features. The front gate opens year-round at 8 a.m. Camping is available for self contained vehicles – motor-homes or trailers. It's always a good idea to call ahead regarding operating hours, fees, and conditions, which can change. The beach is located 4.5 miles south of the city of Coronado on Highway 75.
Restrooms are accessible. Crown Cove Trail, is a loop trail that roughly parallels the Cove and offers some nice Bay views. It is accessible for its .8 mile length. The trailhead is opposite parking lot 3, and an accessible restroom is nearby.
Beach/Shore Access: Beach wheelchairs are available. Call or check at entry station for information. Beach mats are also available to provide some limited firm path access to the beaches.
Website: access.parks.ca.gov
Phone: 619-435-5184
They Will Surf Again
Whether you were born with a form of paralysis or were injured recently; whether you see yourself as an athlete or the opposite (!); whether you're young or not so young, YOU BELONG HERE, in this active community of Life Rolls On. They'd love to see you join them at our surf and skate events.
Website: liferollson.org
Address: 602 Pacific Coast Hwy
Huntington Beach, CA 92648
Email: jesse@liferollson.org
U.S.S. Midway Museum
This is an experience of a lifetime! Experience life at sea on one of America's longest serving aircraft carriers. Visitors will walk (or roll) in the footsteps of 225,000 Midway sailors who have served our country. Accessibility is always a priority here. There are complimentary wheelchair rentals as well as elevator access onto the ship and inside the ship.
Website: www.midway.org/wheelchair
Facebook: facebook.com/ussmidwaymuseum
Phone: 619-544-9600
Get Out, Enjoy Life: 2017-2018 Accessible US Travel Guide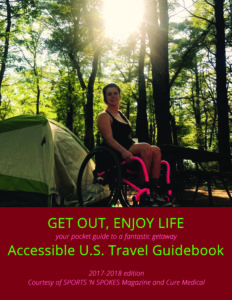 Looking for more fun ways to experience the outdoors across the nation?
Download our free accessible travel guide!
This updated travel guide is an easy, encouraging read that will help you explore all kinds of travel destinations and family fun spots, whether you are new to using a wheelchair or a seasoned pro.
These accessible travel suggestions are part of the 2017-2018 Get Out & Enjoy Life [GOEL] program that is a joint educational initiative between SPORTS 'N SPOKES magazine, published by the Paralyzed Veterans of America, the Spina Bifida Association and Cure Medical.
Enjoy Our Free Resources & Articles

CURE NATION is designed with you in mind, to offer assistance and education when you need it through a personal support program.
All of the information you find below and on our related social media pages is meant to guide you to places, topics, and resources that enhance your life, while also connecting you with a growing group of friends.
SaveSaveSaveSave
SaveSave
SaveSave
SaveSave
SaveSave