As reported in HME News, November 2018 issue:  Manufacturers and distributors are grappling with updates to California's Proposition 65 that went into effect Aug. 30.
Prop 65 requires businesses to warn individuals in California about products containing 900-plus listed chemicals "known to the state to cause cancer, birth defects, or other reproductive harm."
What's new: standardized warning labels. Manufacturers must include them on these products, distributors must incorporate them into their websites and catalogues, and online retailers must use them to notify consumers before purchase.
Hollister recently sent a letter to its customers, advising them that the gloves in its Apogee Plus Touch Free Intermittent Catheter System Kit, for example, may result in exposure to chemicals, including diisononyl phthalate or DINP, which is known to the state of California to cause cancer.
"Hollister will include the required warning on both the label and the (integral field unit) IFU of its Apofee IC Kit," the letter reads. "However, distributors and suppliers also need to take appropriate action to ensure compliance with the new regulations."
In September, distributor NDC, Inc., had its catalogues on hold to make sure featured products complied with the regulations.
"Our catalogues and also our website are being scrubbed," said Ian Fardy, vice president of marketing for NDC. "As a distributor, we are responsible for understanding where our products go and where our customers sell into. We have a team working on it."
The biggest danger from not complying with the regulations: lawsuits.
Even before the updates went into effect earlier this year, Prop 65-related lawsuits topped $25.8 million in 2017, according to the office of the California attorney general.
For other manufacturers like Cure Medical, the updates to the regulations serve as another talking point with its provider customers and users about its stance not to use chemicals like diphthalate to make its products flexible.
"When there are options to create intermittent catheters that work just as well as those made with standard chemicals, there's really just no reason to use these chemicals anymore if you can avoid it," said John Anderson, CEO of Cure Medical. "Cure Medical believes it's the right thing to do, so we made the decision to go without DEHP or any Prop 65 chemicals in our products."
Note: Cure Catheters and Cure Closed Systems are not made with any Proposition 65 chemicals including DEHP/DINP, BPA or natural rubber latex.  
For HME Providers + Partners
Cure Medical is your partner and your manufacturer. We are here to help you succeed!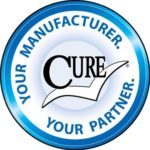 Cure Medical believes that outstanding user comfort and safety should be considered standard care, and we are committed to supporting HME providers who are experts in delivering quality care.
We have partnered with outstanding distributors nationwide who share this vision. They help ensure that end-users receive the ideal combination of high quality products with specialized customer service.
Knowledgeable, experienced, Cure Medical distributors not only provide FREE SAMPLES of our products, they can:
 Assist with product selection
Address questions on insurance coverage and third party billing
Coordinate with physicians or case managers
Ship products promptly and discreetly
Contact your current medical supply provider to ask for Cure Medical catheters.
Or, request samples directly from us and we will help you obtain the name of a Cure Medical catheter distributor near you!
Would you like to partner with Cure Medical? Contact us!