As featured in AAHomecare's Wednesday in Washington report, see original story here.
Last Friday, the Administration announced that Section 301 Tariffs on a range of products imported from China would move forward.  Thanks in part to quick action by DME stakeholders, several product categories related to our industry were among items removed from the original 1,333 items proposed for a 25% tariff levy.
Executives from Drive DeVilbiss were the first to reach out to AAHomecare to encourage the Association to take a leadership role in coordinating an industry response on the proposed tariffs, paving the way for a round of calls and follow-up communications involving manufacturers, distributors and suppliers, along with members of AAHomecare's Executive Committee.
"I've never seen AAHomecare leadership act so quickly and effectively under such difficult circumstances and time constraints," said Mitchell Yoel, MPT, senior vice president, global commercial operations with Drive DeVilbiss.  "Getting a large group of competing manufacturers together, harnessing the relevant legal and regulatory resources, and finishing the job by getting all stakeholders to do their part so that the industry could speak with one voice to our government, all in a matter of days, was both impressive and, to my knowledge, unprecedented."
The group identified and engaged King & Spalding to draft industry comments on the tariffs and serve as a clearinghouse for companies to confidentially submit information on items they would like to see removed from the tariff list, including the quantity and value of the items used.
In just a little over a month from the first discussions on the tariffs, the group completed their work and submitted comments to the U.S. Trade Representative on the tariffs.
Cure Medical also took a leadership role in the project, with a goal of protecting urology dealers and customers from resulting price increases that a tariff on plastics would create.
Cure Medical CEO John Anderson says, "I was impressed by how quickly AAHomecare and the Health Industry Distributors Association (HIDA) united a coalition of DME manufacturers as a team to stop these changes.  AAHomecare leadership gathered vital information from us to help create a report on the economic impact that these tariffs would create, outlining how destructive tariffs would be for people who depend on medical devices."
"AAHomecare's and HIDA's ability to create a highly persuasive report in such a short timeline, and effecting positive change to eliminate the tariff impact on our industry was nothing short of stunning," Anderson continues. "Cure Medical takes a lot of pride in not having increased pricing to our partners and distributors over the last 10 years, so we were especially determined to make sure DME providers and their customers wouldn't be subject to increases caused by these tariffs."
DME-related product categories and corresponding HTS codes removed from the original proposed tariff list include:
40169915: Caps, lids, seals, stoppers and other closures, of non-cellular vulcanized rubber other than hard rubber
73202050: Iron or steel, helical springs (o/than suitable for motor-vehicle suspension)
76042910: Aluminum alloy, profiles (other than hollow profiles)
85079040: Parts of lead-acid storage batteries, including separators therefor
90183100: Syringes, with or without their needles; parts and accessories thereof
90183900: Catheters, cannulae and the like nesi, used in medical, surgical, dental or veterinary sciences, and parts and accessories thereof
90192000: Ozone, oxygen and aerosol therapy, artificial respiration or other therapeutic respiration apparatus, and parts and accessories thereof
90211000: Orthopedic or fracture appliances, and parts and accessories thereof
90213100: Artificial joints and parts and accessories
90262080: Instruments and apparatus, other than electrical, for measuring or checking the pressure of liquids or gases
About AAHomecare
AAHomecare is proud to provide advocacy and lobbying efforts to represent healthcare providers, equipment manufacturers and community healthcare organizations in Washington, D.C. Our main efforts include lobbying members of Congress, the Administration and the Centers for Medicare and Medicaid Services (CMS) to ensure homecare is not unfairly burdened by Medicare and other federal programs.
Our efforts preserve and strengthen the access to care for millions of Americans who need medical care each day in their homes. We have members in all 50 states and provide regular updates to our members about new regulations and legislation that will impact their business and patients.
Contact AAH Sr Director of Member Services Mike Nicol for more details or to join AAHomecare. JOIN NOW!
For HME Providers + Partners
Cure Medical is your partner and your manufacturer. We are here to help you succeed! 
Cure Medical believes that outstanding user comfort and safety should be considered standard care, and we are committed to supporting HME providers who are experts in delivering quality care.
We have partnered with outstanding distributors nationwide who share this vision. They help ensure that end-users receive the ideal combination of high quality products with specialized customer service.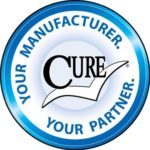 Knowledgeable, experienced, Cure Medical distributors not only provide FREE SAMPLES of our products, they can:
 Assist with product selection
Address questions on insurance coverage and third party billing
Coordinate with physicians or case managers
Ship products promptly and discreetly
Contact your current medical supply provider to ask for Cure Medical catheters.
Or, request samples directly from us and we will help you obtain the name of a Cure Medical catheter distributor near you!
Would you like to partner with Cure Medical? Contact us!