As seen in HME News. View the full article on HME's website here: https://hmenews.com/article/vendors-emphasize-need-specialize
vendors emphasize need to specialize
Despite consolidation rippling through the urologicals category, manufacturers see the market continuing to be a positive environment for HME providers. By adhering to solid financial practices, sharpening their knowledge and context of the field and working closely with their supply partners, providers should enjoy success in the market, vendors say.
"I look to our providers in amazement as they manage so many different policies, allowables and amounts with insurance payers," says John Anderson, CEO of Newport Beach, Calif.-based Cure Medical. "We believe that remaining an independent, non-competing partner will continue to create a lot of opportunities, so we can focus on what we do best. We will not be changing our non-competing commitment to our sales partners in any way."
Having a broad context on the competitive urological, ostomy and wound care space also serves as an advantage for providers, Anderson said. Having detailed knowledge of the product lines, service levels, reimbursement matrices and logistics dynamics helps providers work with vendors on optimizing the supply chain.
"Cure Medical has made great strides over the years in creating more efficient shipping without negatively impacting our product quality or service levels," Anderson said. "Also, we are continually investing in automation that helps lower costs and increase quality overall. We intentionally pass on the savings realized by these improvements to our business partners. That's why we can proudly say we have never had a price increase since day one."
Jeff Bowman, vice president, home medical equipment for Irving, Texas-based McKesson, says manufacturers are poised to be an information resource for providers about the category.
"By the year 2030, there are expected to be 71 million older adults, and with this increase in demand, manufacturers are in an ideal position to provide education to HME employees about product categories, related conditions and when their products should be used," he said.
Moreover, Bowman recommends a three-part strategy for HME providers to become the go-to source for urologicals.
"First, they should consider aligning with the right suppliers who have the proper product line-up, believe in continued product innovation, support the HME industry and can help educate their staff," he said. "Second, once the assortment and staff education are set, providers should market themselves as experts in that area to referral sources. This is key to the provider's success. The more they can say they 'specialize' in this area, the better response they will get from referral sources and payers.
"Third, providers should make sure they are operationally efficient. This means working with a distributor who has access to the product assortment needed, has shipping capabilities to get product to the patient and is connected with the right technology companies to ensure the order-to-cash process is as efficient as possible."
To Anderson, product expertise and category context are essential for HME providers' success. Embellishing the company website with current product images and instructions for use gives consumers a better idea of their options. Training customer service representatives to explain the pros and cons of available products can increase patients' understanding of which products are best for them.
Further, using the manufacturer's online marketing support materials (videos and webinars) expand the provider's reach and reputation in the community, Anderson said.
Quality matters
Common perception about urology is that "catheters are catheters" and that any type will suffice as long as the price is right. Anderson disputes this contention, however.
"I do not believe the urology space is commoditized—we have found that when end users are using urological supplies at home, they demand features and quality," he said. "Not to mention the sheer differences in anatomy and physical ability among our end-user population that causes differentiation as a minimum requirement for appropriately serving individual health needs. As long as HME providers can supply a quality product from manufacturers who respect reimbursement, companies like Cure will do well."
Bowman believes the commodity perception stems from years past when no choices were available.
"It was almost a 'one-size-fits-all approach,'" he said. "But more recently, there is an ongoing focus on meeting an individual patient's set of unique needs. Because of this trend, we're seeing constant improvement in current products and an emerging pipeline of new products."
Optimism reigns
The health of the urologicals, ostomy and wound care markets depends on knowledge, commitment and confidence in the supply chain and manufacturers are bullish about its potential.
"The future is bright for the urological space," Anderson said. "We continue to produce a new, diverse range of products that are easy to use, have great coatings, are as small as possible and are cosmetic-looking. Most importantly, the longevity of our space depends on products that allow providers to earn a margin under current and forthcoming reimbursement rates. Cure is very excited for the future as we are doing our part to positively contribute to it, for the sake of our partners and the community we serve."
Likewise, Bowman has a positive outlook.
"We're excited about the future of urology in the HME category and see upside for all stakeholders up and down the continuum," he said. "But even more important, we believe patients will ultimately benefit from the advancements in this category. I can honestly say this is an exciting time to be part of the HME community."
For HME Providers + Partners
Cure Medical is your partner and your manufacturer. We are here to help you succeed! 
Cure Medical believes that outstanding user comfort and safety should be considered standard care, and we are committed to supporting HME providers who are experts in delivering quality care.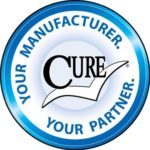 We have partnered with outstanding distributors nationwide who share this vision. They help ensure that end-users receive the ideal combination of high quality products with specialized customer service.
Knowledgeable, experienced, Cure Medical distributors not only provide FREE SAMPLES of our products, they can:
 Assist with product selection
Address questions on insurance coverage and third party billing
Coordinate with physicians or case managers
Ship products promptly and discreetly
Contact your current medical supply provider to ask for Cure Medical catheters.
Or, request samples directly from us and we will help you obtain the name of a Cure Medical catheter distributor near you!
Would you like to partner with Cure Medical? Contact us!