If you are a urological supply professional, you already know firsthand that a world of difference exists between styles and brands of intermittent catheters available on the market today.
Cure Medical stands out and above the rest, thanks to the following benefits that you'll find in every Cure Catheter.
1. Cure catheters: no scary chemicals
Several kinds of medical devices, including some catheters, still contain DEHP — and unfortunately, this is currently legal. However, if you can avoid these chemicals all together in the products that you offer to your customers, there are compelling health reasons to do so.
Reducing exposure to known carcinogens is a legitimate concern for people who have a higher risk for cancer due to hereditary or other health issues.
FOR EXAMPLE, THE INCIDENCE RATE OF BLADDER CANCER IN PEOPLE WHO HAVE SPINAL CORD INJURY (SCI) IS 16 TO 28 TIMES HIGHER THAN THAT OF THE GENERAL POPULATION, ACCORDING TO A RESEARCH STUDY PUBLISHED BY MODEL SCI CENTER CRAIG REHABILITATION HOSPITAL.
Cure Catheters are not made with scary chemicals like DEHP, BPA or natural rubber latex.

2. Cure Catheters Always Have Smooth Eyelets
Unlike many PVC catheters that are cold-punched in the manufacturing process, Cure Catheters and Cure Closed Systems have smooth, fire-polished eyelets for increased comfort and a more positive catheterization experience.
Cure Medical always uses this ultrasonic process to ensure that all eyelets on all catheters are exceptionally smooth. The difference in eyelet quality between a Cure Medical product and others can be seen – and felt!
3. Cure Packaging Is Discreet, Convenient and Easy to Open
For example, the popular, U-shaped CURE MEDICAL® POCKET CATHETER for men is an ideal choice for individuals who value the convenience and discretion of carrying a catheter in a pant pocket or small bag.
The sterile, single use, U-shaped Cure Medical Pocket Catheter is not made with DEHP, BPA or Natural Rubber Latex. It offers men discreet portability by easily fitting in most pant pockets.
The Cure Medical Pocket Catheter is made with polished eyelets on a straight tip and funnel end in a standard (16") and an extra long (25") length.  A coude tip version is also available with lubricant.
4. The Cure Commitment: 10% for a Cure
Only Cure Medical donates 10% of net income to research for a cure for urinary retention, paralysis and central nervous system disorders. We call it the Cure Commitment. As a result, using any Cure Medical product helps contribute to a promising future.
5. Cure Catheters Are Reimbursement Friendly
Cure Medical products are inexpensive and affordable because we know the high cost of medical supplies and treatment for permanent conditions like neurogenic bladder and SCI/D.  We partner with health care providers to offer quality-made catheters that fit well with a variety of insurance plans and formularies.
---
Contact your dedicated Cure Representative for our new sales collateral illustrating the above call points for your team!  We'll be happy to provide you with materials that educate and grow your sales force.
---
Cure Medical is your partner and your manufacturer. We are here to help you succeed!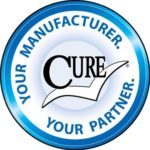 Cure Medical believes that outstanding user comfort and safety should be considered standard care, and we are committed to supporting HME providers who are experts in delivering quality care.
We have partnered with outstanding distributors nationwide who share this vision. They help ensure that end-users receive the ideal combination of high quality products with specialized customer service.
Knowledgeable, experienced, Cure Medical distributors not only provide FREE SAMPLES of our products, they can:
 Assist with product selection
Address questions on insurance coverage and third party billing
Coordinate with physicians or case managers
Ship products promptly and discreetly
Contact your current medical supply provider to ask for Cure Medical catheters.
Or, request samples directly from us and we will help you obtain the name of a Cure Medical catheter distributor near you!
Would you like to partner with Cure Medical? Contact us!