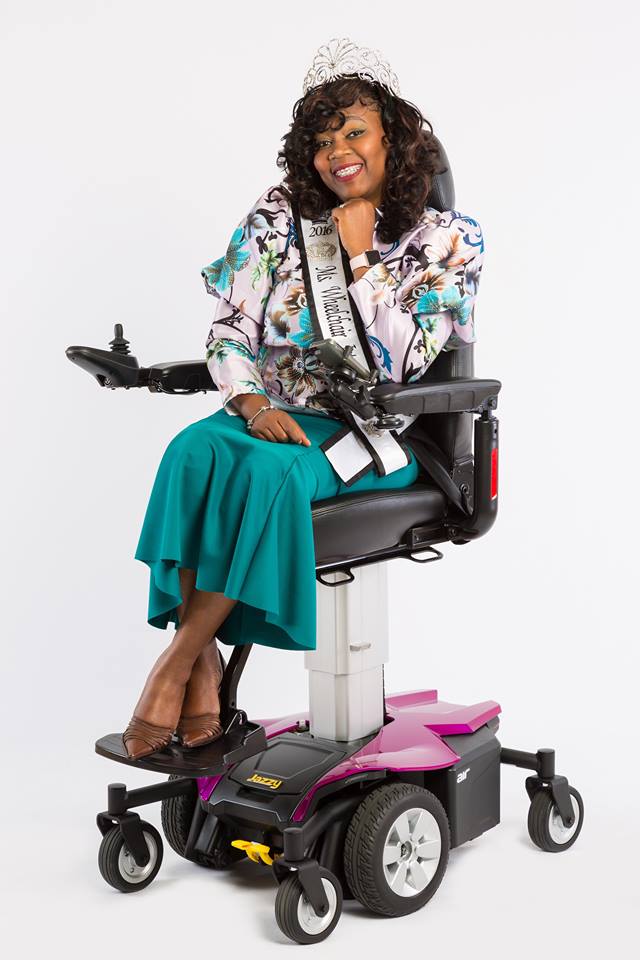 Yvette Pegues Ed.D.(c), of Georgia, is the reigning Ms. Wheelchair International, Corporate Disability/Diversity Consultant of Your Invisible DisAbility Group, educator and advocate. Yvette travels nationally and abroad, advocating for others with disabilities.
Yvette was diagnosed with a condition called Arnold Chiari malformation – a genetic condition that remained dormant until nearly six years ago. Unfortunately, the brain surgery to remedy the condition caused a spinal cord complication.
A WIFE, MOTHER OF TWO AND ENGINEER BY TRADE, YVETTE WAS DIAGNOSED WITH A SPINAL CORD INJURY FOLLOWING BRAIN SURGERY. BEING THE SURVIVOR THAT SHE IS, SHE MADE A CHOICE TO #LIVEFORWARD AND ADAPT TO FIND HER NEW NORMAL – A DESTINY JUST WAITING TO BE FULFILLED.
It soon became clear to Yvette that her passion was to educate and empower others. She had already begun making a positive impact in her local community supporting children with Autism, so when the Ms. Wheelchair USA organization invited Yvette to participate in their pageant program, her local community service qualified as her "talent."
"Initially, I was against it," Yvette recalls. "That kind of 'girly stuff' just had never been my style, but eventually I agreed to participate."
"Attending the national pageant had a profound impact on me. Each of the other state titleholders were confident, smart and beautiful inside and out – it was eye-opening."
Yvette returned home as Ms. Wheelchair USA's very first woman of color and Georgian to hold the National title. She immediately got busy working on her "Legacy of Literature" platform – helping children turn #Storms2Stories.
Yvette was crowned Ms. Wheelchair International shortly after she concluded her reign as Ms. Wheelchair USA.
LEARN MORE ABOUT YVETTE AT WWW.YVETTEPEGUES.COM.
As Yvette's platform continued to evolve and she got more involved with disabilities on an international scale, she discovered so many great opportunities and resources to support the disability community. Unbeknownst to her, one of those opportunities was adaptive golf.
Yvette Pegues Discovers Adaptive Golf
In 2016, PGA of America reached out to Yvette to express their interest in sharing golf with more diverse audiences. Her national platform became a great vehicle to raise awareness for the sport and offered her the opportunity to be formally trained near where she lives.
The National Center on Accessibility at Indiana University in cooperation with Clemson University did a study that found:
10 percent of persons with some disability now play golf;
22 percent of those with disabilities played golf before incurring their disability, but don't play now;
35 percent of individuals with disabilities are currently not playing golf, but are interested in learning.
OUT OF THE 35% OF PEOPLE WITH DISABILITIES THAT WERE INTERESTED IN PLAYING GOLF, ABOUT A THIRD OF THEM IDENTIFIED COMMON FACTORS THAT KEPT THEM FROM DOING IT, INCLUDING A BELIEF THAT THEY WOULDN'T BE ABLE TO GET ASSISTANCE OR TRAINING SPECIFIC TO THEIR NEEDS.
Yvette is always up for learning a new skill or a trying a new adaptive sport, so she decided to give golf a try. She enrolled in the "Get Golf Ready" Program at a nearby PGA Tour Superstore and was able to take classes with other lady golfers in an accessible, indoor setting.
The group of other women learning the game raged in age from 17-77. She was the only student with a disability.
Yvette was paired with an Adaptive Golf Coach at the PGA Tour Superstore, specifically trained to teach adaptive golf.
After six weeks of training, the final class took place at a nearby golf course. Because she had been working with PGA of America directly, several members of the organization flew in from Florida to film her outdoor finale. By this time, Yvette had fallen in love with the game of golf and was doing great.
Next, Yvette and Tim, Golf Professional and Adaptive Golf Coach from PGA Tour Superstore, headed over to the CNN complex in Atlanta for a media appearance on HLN's Daily Show to promote adaptive golf.
HEADLINE NEWS FEATURES YVETTE ON ADAPTIVE GOLF
Yvette had no idea how much she would enjoy the game of golf or in how many ways she would benefit by playing. In addition to the peace and serenity of the course, she enjoys the heritage and how the sport can be passed down to her children.
The Georgia State Golf Association's Adaptive Golf Program, is consistently offered with bi-monthly complimentary clinics geared to individuals of all abilities to get started on the right track. Georgia is currently leading all other state golf associations across the US with adaptive golf programs and has hopes of mentoring others and replicating their successes of enhancing lives through golf.
Yvette says, "There's also a health and wellness component from golf that people don't take into consideration. The other sports I enjoy, like water/snow skiing, require that I'm sedentary – always in a sitting position. But going in and out of the standing position while golfing [using the ParaGolfer], I'm using new muscles and stretching my back more than I ever have."
She goes on to say, "I've been surprised at how much more I've been able to use my upper body. The pivoting motion in the swing has really helped condition my core muscles."
How Does Adaptive Golf Work?
There are two main types of assistive technology that are available to people with limited mobility. The devices not only help individuals "walk the course," but they actually elevate a person to a swinging position.
The SoloRider is something of an accessible golf cart that is hand-driven and enables people to get around the course. The seat rotates out, which makes for an easier golf swing – even allowing golfers to bear weight on their feet if able, while remaining supported.
The ParaGolfer is a smaller unit that actually incorporates a standing frame to assist the golfer into a full, upright position. Users strap in at the chest and knees and use a joystick to navigate. This device, while much more expensive, allows more flexibility with where the golfer can roll on the green and gives them the proper swinging position.
When these assistive devices weren't available, Yvettes's been known to use her height-adjustable Pride Jazzy Air power chair to play!
There are increasing resources available to adaptive golfers today. With the growing popularity of the sport, and even Olympic interest in adaptive golf, more courses are encouraged to acquire adaptive equipment to have on-hand for golfers with mobility impairments.
The United States Adaptive Golf Alliance   is comprised of over 30 adaptive golf organizations, operates clinics and recurring programs across the US while offering coach and program development trainings through the Adaptive Golf Academy. The USAGA is active and willing to help facilitate helping you to find programs and equipment so anyone can learn and play the sport.
READY TO GIVE ADAPTIVE GOLF A TRY?! Visit USAGA.ORG TO FIND RESOURCES NEAR YOU. IF YOU DON'T SEE ANYTHING IN YOUR AREA, CONTACT USAGA OUTREACH COORDINATOR BOB THIBODEAU DIRECTLY AT 770-856-9442.
Enjoy Our Free Resources & Articles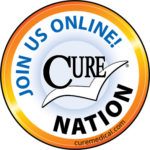 CURE NATION is designed with you in mind, to offer assistance and education when you need it through a personal support program.
All of the information you find below and on our related social media pages is meant to guide you to places, topics and resources that enhance your life, while also connecting you with a growing group of friends.