Get Out, Enjoy Life Presents the Accessible Travel Guidebook: Northern California Spotlight
Are you ready to Get Out and Enjoy Life?! Well, don't let accessibility concerns stand in your way! Check out the FREE Accessible Travel Guide, including this section on Northern California, brought to you by Sports 'N Spokes, a publication of the Paralyzed Veterans of America, Cure Medical and the Spina Bifida Association.
There are some great organizations and programs in Northern California that are inclusive and accessible to people with disabilities. From adaptive sports to coastal excursions, you'll find all kinds of great opportunities for accessible adventures below! There's nothing stopping you, so get out and enjoy life.
Download your copy using the button below.
Access Leisure & Paralympics Sport Sacramento Club
Access Leisure is a program of the City of Sacramento Department of Parks and Recreation. Access Leisure provides sports, residential camping and outdoor education as well as social and fitness programs for children, teens, and adults with disabilities.
Website: www.accessleisuresac.org
Email:  jyarrow@cityofsacramento.org
Phone: (916) 808-3809
Achieve Tahoe
Adaptive kayaking! Adaptive waterskiing! Adaptive canoeing, boating, jet skiing, sailing, tubing and paddle boarding! Achieve Tahoe makes all of these water activities possible for people with limited mobility as well as most other disabilities. In the winter Achieve Tahoe is the leader in adaptive snow skiing at Squaw Valley, Alpine Meadows, and Northstar.
Located in North Lake Tahoe and Sacramento, California
Website: achievetahoe.org
Phone: 530-581-4161
Email: info@achievetahoe.org
Adaptive Fencing – Salle D'Asaro
Salle D'Asaro is the South Bay's premier fencing club. They specialize in training competitive and recreational athletes in the sport of fencing and wheelchair fencing with an emphasis in the disciplines of sabre. They're open 6 days a week and offer both group and private lessons. Monthly, quarterly and daily membership rates are available. Their dedicated coaches focus on teaching students techniques and strategies to be successful and safe fencers.
Website: www.salledasaro.com
Address: Salle D'Asaro Fencing Club
1450 228th St. #1, Torrance, CA 90503
Phone: (310) 714-5407
Email: info@salledasaro.com
Bay Area Outreach and Recreation Program (BORP)
BORP is headquartered in Berkeley, California and is the leading provider and promoter of accessible sports and recreation opportunities for children and adults with physical disabilities in the greater San Francisco Bay Area. In addition to our high quality innovative sports and recreation programs, our expert staff provides advocacy, trainings, referrals and consultation services and have helped initiate adaptive sports programs in several other cities across the state. BORP also conducts disability awareness trainings and adaptive sports exhibitions for a variety of community agencies and serves as a valuable resource to physical therapists, rehabilitation hospitals, parks and recreation departments and related organizations.
Website: www.borp.org
Email: info@borp.org
Phone: 510-849-4663
Facebook: borp.org
Bay Nature
The Bay Nature Institute, based in Berkeley, California, is dedicated to educating the people of the San Francisco Bay Area about, and celebrating the beauty of, the surrounding natural world. We do so with the aim of inspiring residents to explore and preserve the diverse and unique natural heritage of the region, and of nurturing productive relationships among the many organizations and individuals working towards these same goals.
Website: baynature.org
Email: webmaster@baynature.org
Facebook: BayNature
Bay Area Association of Disabled Sailors
The Bay Area Association of Disabled Sailors (BAADS) seeks to make all aspects of sailing accessible. To fulfill this mission, we offer dinghy sailing every Saturday and keelboat sailing every Sunday out of South Beach Marina, adjacent to AT&T Park.
Their keelboat fleet includes four keelboats, each specially rigged and equipped with adaptive features to make sailing the San Francisco Bay possible for people with disabilities. Additionally, they have 23 Access Dinghies, ranging in size from 8 to 14 feet long, all of which are specifically designed for people with disabilities. Some of these are equipped with servo motors so that people with severe physical disabilities can sail solo.
Website: www.baads.org
Phone: 415-281-0212
Email: info@baads.org
Facebook: BAADSSF
Embarcadero – San Francisco
San Francisco may be one of the hilliest cities in the USA, but this doesn't mean that it is not accessible for wheelchair travel. Power wheelchairs will have more freedom to explore the inner neighborhoods of San Francisco, but those using manual chairs may need to be pushed. There are, however, a few areas in San Francisco that are flat or relatively flat, which makes it easier for some to explore San Francisco.
The Embarcadero is one of those accessible destinations in San Francisco, and is nearly level for miles (one steep hill between Aquatic Park Cove and Fort Mason)  and includes places eat, drink, and attractions along the way. Catch the ferry to Alcatraz Island on the Embarcadero. Baseball fans can start the Embarcadero stroll at the section that begins with the MLB Giants Coliseum. Technically, the Embarcadero ends at Pier 39, one of San Francisco's most popular tourist attractions, but a paved walkway provides further access past Pier 39 to the Fisherman's Wharf, Aquatic Park Cove, Fort Mason, the Marina, Crissy Field and finally to Fort Point. This entire stretch of paved walkway is about seven miles long.
Environmental Traveling Companions (ETC)
ETC opens the beauty and challenge of the great outdoors to people with disabilities and disadvantaged youth. Every year, more than 2,000 people join ETC to raft whitewater rivers, ski alpine meadows, kayak the waters of the Golden Gate and Tomales Bay, and build leadership skills.
Website: www.etctrips.org
Phone: (415) 474-7662
Facebook: ETCtrips
Reach for the Stars
"Reach for the Stars Hot Air Balloon Foundation is a California non-profit corporation based in Riverside County and is recognized by the IRS as a federal 501c3 corporation. Our mission is to share the joy and excitement of hot air ballooning with all people, especially those with physical challenges."
"Our unique, easy-entry custom baskets allow people with limited mobility, as well as wheelchair users, to experience a tethered ride or a traditional flight."
Website: reach4thestars.org
Phone: 951-538-7368
Facebook: reachforthestarshotairballoon
Up & Away 
"In Spring 2011, Up & Away Ballooning became the first hot air balloon operator in the United States to offer wheelchair adventurers the opportunity to soar above the magnificent hills and vineyards of the Sonoma County Wine County. The Pegasus Project's specially-designed and crafted passenger basket makes it possible for wheelchair users, to break the bounds and float away on the gentle winds."
"The special basket with a lowered rail, easy access ramp and window makes it possible for the seated passenger to enjoy more than180-degree visibility."
Website: www.up-away.com/wheelchair.html
Email: flightinfo@up-away.com
W.E.T. River Trips
In its 37 years of operation, Sacramento whitewater rafting outfitter W.E.T. River Trips has accommodated people with visual and auditory impairments, as well as those with physical and intellectual disabilities. W.E.T. River Trips is the Sacramento area's premier whitewater rafting company. Their whitewater rafting trips are tailored to all skill levels, and our professional guides are ready to show groups of all ages and abilities an unforgettable rafting experience.
Phone: (888) 723-8938
Website: www.raftwet.com
Wheeling California's Coast
California's spectacular coast offers many outdoor adventures for wheelchair riders, parents pushing strollers, and others who need accessibility features such as a wide, fairly level and firm path of travel. This guide can help you choose the destinations that suit your needs from among the coast's many wheelchair-accessible parks, trails, beaches, viewpoints, and other sites of interest.
Website: www.wheelingcalscoast.org
Facebook: wheelingcalscoast
Now, you're all set to plan your accessible Northern California adventure!
Get Out, Enjoy Life: 2017-2018 Accessible US Travel Guide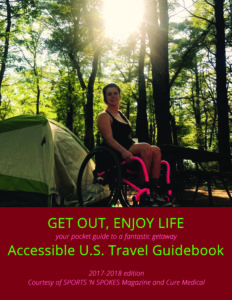 Looking for more fun ways to experience the outdoors across the nation?  Download our free accessible travel guide!
This updated travel guide is an easy, encouraging read that will help you explore all kinds of travel destinations and family fun spots, whether you are new to using a wheelchair or a seasoned pro.
These accessible travel suggestions are part of the 2017-2018 Get Out & Enjoy Life [GOEL] program that is a joint educational initiative between SPORTS 'N SPOKES magazine, published by the Paralyzed Veterans of America, the Spina Bifida Association and Cure Medical.
Hitting the Road? Choose a Catheter that makes travel easier.
Have you seen the extra long M14XL Cure Catheter? This 25-inch long catheter eliminates the need for extension tubing and may also save you from having to transfer in a public restroom.
The sterile, single use, Extra Long Cure Medical Pocket Catheter is not made with DEHP, BPA or Natural Rubber Latex. It offers discreet portability by easily fitting in most pant pockets.
The Cure Medical M14XL Extra Long Pocket Catheter is offered with polished eyelets on a straight tip and funnel end in an extra long (25") length. It is also offered as an extra long (XL) with lubricant and gripper sleeve.

To request free samples of the Cure Medical® Extra Long Pocket Catheter or any Cure Medical catheter, contact your local distributor of quality healthcare products, or click here.
Enjoy Our Free Resources & Articles
The CURE NATION is designed with you in mind, to offer assistance and education when you need it through a personal support program.
All of the information you find below and on our related social media pages is meant to guide you to places, topics and resources that enhance your life, while also connecting you with a growing group of friends.
SaveSave
SaveSave
SaveSave
SaveSave