The days are growing shorter and that can only mean one thing. Summer is coming to an end. But that doesn't mean it's quite over yet and we want to see how you spent the summer getting out and enjoying life.
Yes, that's right. It's time for SPORTS `N SPOKES magazine's annual photo contest. Along with friends from Cure Medical, the Spina Bifida Association and Abilities Expo, we've got something brand new that you'll love!
Introducing the 2018 Wheels UP! Photo Contest
After seven years, we thought it was time for a little change. This year's photo contest kicks off September 1-14 and we're hoping you'll join us for a chance to win some great prizes!
That's because we've taken what you loved about the Get Out, Enjoy Life event and flipped the focus on you.
While we're still going to be giving shout-outs to all those amazing accessible destinations, events and organizations, this year's contest will focus on the individual, their journey and their amazing photographs.
Show Us How You Explore the World
Take a minute to send us a fantastic picture of your favorite wheelchair accessible hotspot, wheelchair sporting events or recreational activity. When you do, you're encouraging other friends who roll to explore their world too!
Your photo entries should illustrate the general theme of the contest by featuring yourself taking part in accessible sports, travel, and recreation. When you send in a picture using our official contest entry form, we'll add it to the Wheels UP! photo gallery where they will be judged for first, second, third, and fourth-place.
You may enter as often as you like throughout the contest period provided your photo(s) meet the contest criteria and terms of the contest. You can view the rules here.
Win Cool Prizes in the Wheels UP! Photo Contest
This year's first-place winner will land the cover of the November 2018 SPORTS `N SPOKES magazine and win a Southwest Airlines $1,000 gift card. (USA and Canada residents only are eligible for prizes).
Plus we are giving away an EZ-Access travel ramp, a $200 gift card for medical supplies, and more sweet prizes!
Snag the Wheels UP! Accessible Travel Guidebook
Whether you submit a fabulous selfie or not, we want you to have the Wheels UP! Accessible travel guidebook.
It's our free gift to you, from your friends at SPORTS 'N SPOKES, the Spina Bifida Association, Cure Medical and the Abilities Expo.
This updated accessible travel guide is an easy, encouraging read that will help you explore all kinds of travel destinations and family fun spots across the United States, whether you are new to using a wheelchair or a seasoned pro.
Don't forget — Get your complimentary Wheels UP! Travel Guidebook NOW.
Meet the Wheels UP! Celebrity Photo Judges
We're stoked about this year's panel of photo judges from right within the disability community who have all generously donated their time, and eye, to this year's photo contest. From Christiaan "Otter" Bailey to Kristina Rhodes, we have six amazing judges ready to go Wheels UP! as your 2018 photo judges.
MEET Christiaan "Otter" Bailey here.
If you've ever hit the waves or shredded a skatepark, chances are you've come across Christiaan "Otter" Bailey. He is world renowned for his surfing skills and WCMX moves and with good reason.
Since his spinal-cord injury in 2006, Christiaan has gone on to become captain of USA Surfing, is a four-time USA National Champion, ISA World Adaptive Surfing Championship medalist and of course, our 2012 Get Out, Enjoy Life photo contest winner.
Abilities Expo star Julienne Dallara will be looking for a winning picture that is nice and in focus, creative and a picture that tells a story.
When it comes to making your trip more accessible in a place that might not be too accessible, Julienne says to compliment first, then point out what isn't accessible.
Chris Malcom is a former quad rugby player, founder of the iPush Foundation and more.
When it comes to a winning WheelsUP! Photo Contest photo, Chris will be looking for photos that "push the boundaries and will show people doing things that an able-bodied person would assume can't be done."
As a mother and entrepreneur, Kristina feels that having an active lifestyle is very important. Rhoades has spent her whole life in a wheelchair after getting injured at just 10 months old, which resulted in a T5 spinal-cord injury. Although she was injured before the age of one, her sense of adventure never dwindled. Kristina and her family are very active.
"Regardless if someone has a disability or not, I believe we are here to experience all life has to offer," she says. "There is so much wonder and beauty and adventure out there waiting for us. Although it can, at times, be more challenging to travel with a disability, it doesn't have to keep us from getting out there."
Bob Yant dedicates his life to helping find a cure for spinal-cord injuries (SCI). Bob broke his neck as a result of hitting his head on a sandbar in 1981 and sustained a C-5 SCI. Bob was a member of the national board of directors of the Christopher and Dana Reeve Foundation for 29 years. Since his injury, he has helped raise over $6 million for spinal cord research.
Bob is the founder of Cure Medical, a company that makes safe, comfortable and easy to use catheters. Cure Medical is the only company in the world that gives 10% of their net income to fund paralysis research for a cure. His dream is to "help develop nerve regeneration that causes recovery in people who live with paralysis."
After a car accident in 1988, Cook sustained a C5 spinal-cord injury (SCI) and became an incomplete quadriplegic. He has been a wheelchair user for 30 years. Clint makes it a priority to help other with living with an SCI. He started a support group on Facebook called "Spinal-Cord Injury USA" that has over 2400 members.
He is also a peer counselor at the Shepherd Center and leads many SCI group functions in Atlanta. Clint is also an athlete and was one of the founding members of the Atlanta quad rugby team back in the late 1980s. He has played sports such as quad rugby, wheelchair tennis and most recently, billiards. 
When it comes to the winning WheelsUP! photo, Clint will be looking for a photo that shows adventure, risk, and speed. "So maybe someone next to their hot rod car," he says.
Stay connected!
Visit us on our social media sites to get in on the action:
SPORTS N SPOKES – https://www.facebook.com/sportsnspokes/
Spina Bifida Association – https://www.facebook.com/spina.bifida.learn/
Cure Medical – https://www.facebook.com/CureNation/
Abilities Expo – https://www.facebook.com/AbilitiesExpo/
---
Founded by a quadriplegic, Cure Medical is the only catheter manufacturer in the world that donates the first 10% of its net income to support research programs in pursuit of a cure for urinary retention, paralysis, spinal cord injury and central nervous system disorders.
Enjoy Our Free Resources & Articles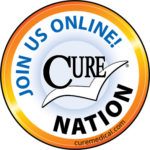 CURE NATION is designed with you in mind, to offer assistance and education when you need it through a personal support program.
All of the information you find below and on our related social media pages is meant to guide you to places, topics and resources that enhance your life, while also connecting you with a growing group of friends.