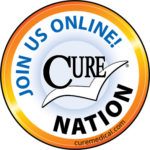 More than 30 years ago, California's Safe Drinking Water and Toxic Enforcement Act went into effect. Referred to as Prop 65, this state law prohibits businesses with 10 or more employees, including those that ship products into California, from exposing people in California to listed chemicals without a "clear and reasonable" warning, among other requirements.
IMPORTANT: New requirements for the California Prop 65 law go into effect on August 30, 2018. Learn what they are at: https://www.p65warnings.ca.gov/about/law-regulations
As awareness is spreading about the continued presence of Proposition 65 chemicals in medical supplies (including other brands of catheters), a growing number of leaders in the disability community are raising their voice in support of not using intermittent catheters that are made with scary chemicals known to cause cancer. These chemicals are also listed on the Prop 65 registry.
Instead, more and more leaders in the disability community are Choosing a Cure catheter, because they know Cure catheters are not made with DEHP, DINP, BPA or natural rubber latex.
DEHP, DINP and BPA are chemicals that are included on California's Prop 65 warning list and are still commonly used in the manufacturing process of some other brands of intermittent catheters.  Learn More.
To request free samples of the Cure Catheter® or any Cure Medical catheter, contact your local distributor of quality healthcare products, or click here.
---
"That's right, I learned that even the catheters I had been using all of my life contained chemicals that I had already been avoiding for years. But, that's now a thing of the past.
Thankfully, I discovered catheters made by Cure Medical—they aren't made with scary chemicals like DEHP, BPA or natural rubber latex. Now, with Cure, I can rest assured that I'm using medical products that I feel are best for my body."
---
"As a medical supply professional, I love Cure products. They make quality but inexpensive catheters, which is great. And they show you right on the packaging that Cure catheters are not made with DEHP."
---
"As a nurse, I had to start caring about the medical supplies I was using, so I could be in the best position to suggest products to patients. Often, we're not taught to be big advocates about our own bodies and the products we use, plus we aren't usually screened enough."
---
"I appreciate that Cure Medical doesn't make their catheters with scary chemicals. That's actually amazing! Our bladders are important and we need to take care of them,"
~ Rollettes founding member Edna Serrano who is a paraplegic since childhood due to a neuroblastoma tumor. She's a dancer against cancer!
---
"Cure Medical is an active partner of the community of people with disabilities. I feel like companies who aren't a part of looking for solutions to living with a disability are a part of the problem we have. Cure Medical is an exception to the rule."
---
"I'm also proud to say that I use Cure catheters myself because they aren't made with scary chemicals, and they were designed by someone who actually uses them."
---
"I started off liking the Cure Medical catheter, because it reduced the number of UTIs I had. But then, after I learned more about them, I really appreciated that the Cure catheters didn't contain any DEHP or BPA in their catheters. I didn't want to put anything with DEHP or BPA in my body. I'd love to talk with any person who wants to try out a Cure Medical catheter, and I'll be happy to share my experiences."
---
"Tired of dealing with uncaring companies and inferior catheters, I stopped by the Cure booth at the Los Angeles Abilities Expo and talked with company founders John Anderson and Bob Yant (who is a quadriplegic). John suggested that I try Cure's products after I told him about my frustration with other brands."
---
"To have a company make that kind of commitment to the disability community, it's one of the reasons why I choose to use a Cure catheter."
---
"In my medical position, I work for a distributor of catheters. We sell several brands of catheters. So, I've used different brands of catheters, but I believe that Cure Medical is manufacturing some really good products, especially their new hydrophilic and ready-to-use catheters. I personally use and prefer the male hydrophilic straight catheter made by Cure Medical."
---
MEDICAL PROFESSIONALS UNDERSTAND DEHP'S HEALTH RISKS
Expert urologist Dr. Gerard Henry sees patients from all over the world at his practice, Ark-La-Tex Urology, because of his skill and reputation in treating male urinary incontinence, erectile dysfunction and urinary difficulties. He received his medical degree from University of North Carolina at Chapel Hill School of Medicine, and completed a six-year Urology Residency at Duke University in Durham, N.C. including a one-year basic science research fellowship and has been in practice for more than 20 years.
"Catheter users should care about DEHP and BPA, because they are known carcinogens and known to cause reproductive harm," Henry says.
"As a medical professional, my first rule is to Do No Harm," he continues. "If I was discussing with my medical colleagues what they were prescribing, if they were still prescribing catheters that are made with DEHP, I would refer them to that landmark study from Craig Hospital in Denver. Anything you can do to avoid known carcinogens is a good idea."
An informative video on the risks of DEHP in catheters presented by the aforementioned Dr. Henry is available at www.youtube.com/watch?v=09LcP0mXis0, or watch it here:
To request free samples of the Cure Catheter® or any Cure Medical catheter, contact your local distributor of quality healthcare products, or click here.

---
Enjoy Our Free Resources & Articles
CURE NATION is designed with you in mind, to offer assistance and education when you need it through a personal support program.
All of the information you find below and on our related social media pages is meant to guide you to places, topics and resources that enhance your life, while also connecting you with a growing group of friends.