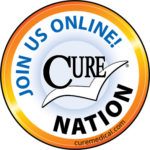 At 24, Tommy Hollenstein survived a mountain bike accident that resulted in a C4/5 spinal cord injury. He resides in Southern California and as an accomplished artist, has become a well-known name in the L.A. art scene. We bring you his story below, especially for the CURE NATION.
Tire tracks from a power wheelchair in vibrant swirls and paint-stamped paw prints decorate the canvases in Tommy Hollenstein's art studio. 
Tommy's recovery was no "walk in the park." He had been extremely physical and an avid surfer and skater. With his high spinal cord injury, he was sure all of that were things of the past.
Shortly before his SCI, he had also nearly finished a program to become a private-eye and was one day short of completion. After rehab, Tommy returned and passed his final exam and attempted to pursue the career. After about nine months, though, he concluded that he was no longer able to do the high-tech work that he had originally wanted. He decided to move on; but to what? That was the dilemma.
Tommy Pictures Life After SCI
Tommy's future felt pretty bleak in the couple years following his injury. He wasn't sure if or how he could regain any of his independence and didn't know what to do with his life. When SCI groups learned he had once dreamed of becoming an artist, they tried to nurture his desire to paint by exposing him to traditional adapted art, but it didn't spark his interest.
"Tommy hated the confinement of a mouth stick, it was 'too restraining' he said, and his childhood dream seemed destined to be just that, a dream." source
At his lowest point, Tommy struggled with substance abuse and eventually ran into some trouble with the law. Eventually, he seemed to come to a crossroads – and luckily, he was about to find his saving grace.
Two years after his accident, he received his first service dog from Canine Companions, a yellow Labrador named Weaver.
Tommy shares, "Weaver was the one who gave me back my independence and gave me the confidence to move into my own apartment."
"The bond between the dog and I was just phenomenal, and as he started to get older, I really wanted to have something as a memory of him on my wall other then a photograph. So I kept thinking that someday I'm gonna roll through paint and have him walk through the same paint. It'll be like tire tracks and paw prints."
The pair had been together for a decade when Weaver had a stroke. The event made Tommy realize that their time wouldn't last forever and he was inspired to buy some paint.
Tommy Hollenstein Rediscovers Art, with the Help of a Friend
Motivated by his desire to get Weaver's paws on canvas and not interested in using a mouth stick for his craft, Tommy started with the canvas on the floor. In the 1990s, the two accomplished their first collaboration, and Weaver's paws were featured in Tommy's first two paintings.
"Weaver not only became Tommy's 'best friend', but also brought hope and inspiration back into His life. Using non-toxic paint, which was safe for Weaver's paws, Tommy had assistants apply paint to the dog as well as the wheels of his chair." source
Incredibly, in an effort to preserve the precious bond between man and companion, the act of painting sparked something inside Tommy that would change his future. Weaver had not only given him his renewed independence, but he had also helped Tommy find his passion for art once again, and there was no turning back.
Tommy had his first gallery show in 2005 and has built quite a reputation in the art world, not just in L.A.
His art is owned by the likes of Joaquin Phoenix, Dean Koontz and Slash, and he's shipped and sold all over the U.S. and Canada, as well as Australia, Germany and England. Someday, Tommy dreams of showing his work in Paris and somewhere in Spain.
Over the years, he has continued to incorporate his dogs is his work. His current companion, Pearl, even joins in sometimes without invitation. Tommy shares, "If I've been too involved in my work and not giving her enough attention, Pearl will walk through a painting on purpose."
Check out Tommy Hollenstein's online gallery here, with works dating back to 2003.
Tommy's Commitment to the Disability Community extends beyond art
Cure Medical founder, Bob Yant, and Tommy Hollenstein go way back. Tommy was introduced to Bob, who is a quadriplegic too, shortly after his injury through the Paralysis Project. They became friends and Tommy went to work for Bob in a previous company. They teamed up to work on a variety of important projects that benefited the SCI community.
One such project was the Tom Hollenstein Golf Tournament, which, in over 20 years, raised well over a million dollars for SCI research and quality of life. Tommy and Bob also collaborated with a friend at Casa Colina to create the Land Meets Sea Sports Camp, which still takes place annually in Long Beach, California.
The Land Meets Sea Sports Camp, part of Casa Colina's renowned Outdoor Adventures program, is a unique 3-day camp for people with disabilities offering a variety of adaptive sports and recreational activities. Click here to download the camp flyer for the 22nd annual event, August 14-16, 2018. 
Tommy Supports Bob's Mission in Cure Medical
It's not everyday that a for-profit company in the disability industry gives back to the community it serves, let alone 10% of all net income. Tommy says he remembers the ability to raise funds for SCI research was a huge driving force for Bob Yant since the first day he began working in this business.
Once someone learns about the Cure Commitment, Tommy says, "who would choose to go with another company for their catheters? I think it's great."
About the Cure Commitment
Cure Medical offers two areas of support to our community, with the intermittent catheters we manufacture, and also through the neurological research programs that we financially support.
WHEN YOU USE CURE MEDICAL CATHETERS, YOU ARE ALSO TAKING PART IN THE PURSUIT OF A CURE!
Founded by a quadriplegic, Cure Medical is the only catheter manufacturer in the world that donates the first 10% of its net income to support research programs in pursuit of a cure for urinary retention, paralysis, spinal cord injury and central nervous system disorders.

To request free samples of the Cure Catheter® or any Cure Medical catheter, contact your local distributor of quality healthcare products, or click here.
Enjoy Our Free Resources & Articles
CURE NATION is designed with you in mind, to offer assistance and education when you need it through a personal support program.
All of the information you find below and on our related social media pages is meant to guide you to places, topics and resources that enhance your life, while also connecting you with a growing group of friends.