Abilities Expo will be back at the Renaissance Schaumburg Convention Center June 29 – July 1!
The Cure Nation team is gearing up for the first Abilities Expo of the summer! At the end of June, we'll join the disability community as we come together for a fun three-day event held in Chicago that showcases all the latest and greatest products, services and resources available.
In addition to vendors and exhibitors, attendees can also enjoy informative workshops, live demonstrations and artist market and more!
Abilities Expo is family-friendly and FREE for all attendees! Pre-register here to save time at the door!
Show hours are 11-5 on Friday and Saturday, 11-4 on Sunday. Get info on parking and directions here. With so much to do and see in just a few short days, we thought we'd put together some highlights that you won't want to miss!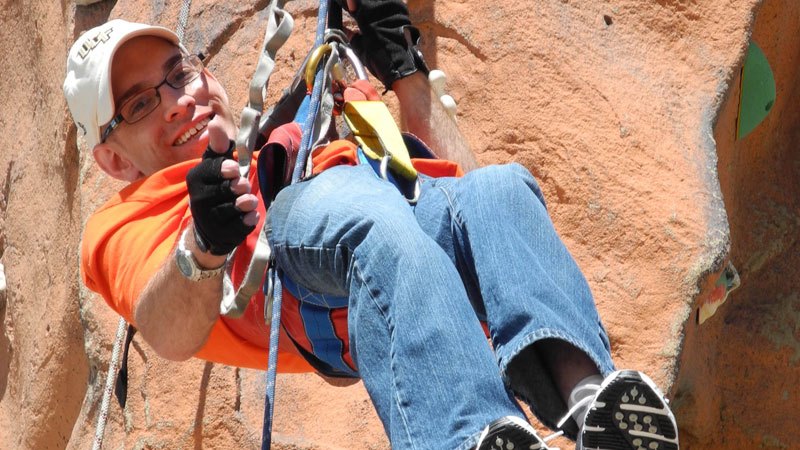 Adaptive Climbing Wall
Two-time paralympian, adventurer and author of No Limits, Mark Wellman, will be on hand in Chicago with his adaptive climbing wall. Mark is the first paraplegic to summit El Capitan and Half Dome in Yosemite National Park, and there's no better person to give instruction on adaptive climbing. In addition to being a lot of fun, climbing has tremendous benefits – building confidence, developing goal-setting skills, increasing strength, and improving flexibility. Happening each day!
---
Rollettes Experience
Our friends, the Rollettes, will be giving one of their high-energy performances each day at 2:00 p.m. A dance team made up of women in wheelchairs, the Rollettes perform unique and captivating routines across the country as well as sharing their stories of adversity and how through determination and high spirits they've gone on with their lives to fulfill their dreams to dance. Whether you just come to watch or decide to get in on the fun yourself, it's an experience you won't want to miss.
CURE Medical is a proud supporter of the Rollettes and sponsor of the Rollettes Experience 2018!
Would you like to win a free trip to the Rollettes Experience International Camp 2018?  Cure Medical is helping one lucky winner to attend their annual event with a free pass as well as airfare and hotel.
This August, the Rollettes will host an intensive dance experience, along with their Be Boundless Summit, bringing together people from all over the globe. Open to all ages and abilities, we welcome you to partake in this life-changing bundle of moments, regardless of dance background.
The Rollettes Experience is more than just dance. It's about finding someplace where you fit in perfectly.
Chelsie Hill founded the Rollettes and the Rollettes Experience to meet other women like her and create friendships.  The Rollettes are excited to welcome women and kids attending from 8 different countries at this year's Experience.
The Rollettes Experience encompasses the team's mission to create a community that redefines what it means to be strong, female, and resilient. When you attend, you're able be a part of that movement, creating lasting friendships, and learning more about yourself in the process.
---
Quad Rugby Demo
Are you an adaptive sports fan? Did you know that competitive wheelchair rugby is one of the fastest growing wheelchair sports in the world? Find out if it's the sport for you at Abilities Expo Chicago! The Chicago Bears Wheelchair Rugby Team, together with Elipsis Factor, will be leading a demo to introduce the exciting sport to attendees. The main message of quad rugby is "Smashing Stereotypes One Hit at a Time" and the sport has proven to be a life changer for those who start playing it. The demo kicks off the day on Saturday, beginning at 11:30 in the events arena.
Miniature Therapy Horse Demo
Horse therapy can be life-changing for many with disabilities. In Chicago, attendees will have the opportunity to interact with miniature therapy horses and learn what types of tasks they can perform as service and therapy animals! You're sure to fall in love with these gentle and adorable horses (not ponies). After the demonstration, guests can interact with the horses and talk with the knowledgable equine staff. Learn more about Soul Harbour Ranch.
Hyperbaric Oxygen Therapy Workshop
If you've been curious about hyperbaric oxygen therapy (HBOT), this workshop is your chance to learn all about it. At this session attendees will learn basic information about HBOT, what it is, how it can help, and how to access this treatment. Extensive research supports that HBOT can benefit numerous conditions including cerebral palsy, stroke, multiple sclerosis, diabetes, cancer, chronic inflammation, SCI, sports-related injuries, Autism and more. Catch this workshop Sunday, from 1:00 to 2:00.
Assistive Technology Showcase
Happening all weekend in booth #813, the Assistive Technology Showcase will feature an array of AT for people of all disabilities to experience hands-on. In 2018, it's pretty amazing that all these products are available to improve independence and quality of life. The Easter Seals DuPage & Fox Valley staff will be on hand to help you or your loved ones explore technology that could help bridge the gap between ability and disability.
Emergency Preparedness Resource Booth
Being proactive and prepared can save lives! This booth is hosted by the American Red Cross together with emergency and disability preparedness experts from regional government agencies, and non-profit organizations. Their purpose is to provide attendees with vital personal preparedness tips to help you create realistic plans to meet your needs, maintain your independence, and recover from emergency and disaster situations. Booth #521!
Meet Chris Collins in the Cure Medical Booth!
When you're cruising around the show, be sure to stop by the Cure Medical booth, #810, to meet Cure Advocate Chris Collins! Chris Collins is an athlete, outdoor enthusiast and a paraplegic due to a motorcycle accident at 21. Chris will share about his love for adventure, how you can get involved with adaptive sports in your area and why he's a proud advocate for Cure! While you're there, you can take a look at our line of products (never made with DEHP, BPA or Latex) and request a sample – and don't forget to ask about the Cure Commitment!
This show will be here before we know it, so make plans to attend today. Visit the Abilities Expo website for additional info on hotels, disability services and more. See you there, Cure Nation!
Enjoy Our Free Resources & Articles
CURE NATION is designed with you in mind, to offer assistance and education when you need it through a personal support program.
All of the information you find below and on our related social media pages is meant to guide you to places, topics and resources that enhance your life, while also connecting you with a growing group of friends.