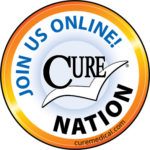 Jorge Alfaro is a peer mentor at Shirley Ryan AbilityLab, formerly the Rehabilitation Institute of Chicago, and an avid adaptive sports fan.  The Shirley Ryan AbilityLab is the first-ever "translational" research hospital where clinicians, scientists, innovators and technologists work together in the same space, applying research in real time to physical medicine and rehabilitation.
After surviving an accidental gunshot wound at the age of 10, Jorge has spent over three decades as a wheelchair user and much of his life since motivating others. He shares his story for the Cure Nation below!
Thirty-eight years ago, when Jorge Alfaro sustained his spinal cord injury, it was a much different world for people with disabilities. There was no Americans with Disabilities Act, which meant access to many public places was extremely limited. Assistive technology and mobility devices were not as advanced as they are today, so getting around was not as easy. The resources, services and programs that did exist were not many or readily available.
In the past, it was much more difficult to connect with others in the disability community. At times, Jorge felt like he was the only person in the world with with a disability.  
"Adaptive sports didn't exist for kids," Jorge remembers. "I'd go to the park and watch the kids picking their teams at basketball – I would always get picked last, then they would make me be coach. I mean, who wants to be coach?! I wanted to play! Then, as a young adult, there were obstacles to being social and going out."
"I felt a sense of oppression – and I didn't even really know what that was. I wanted to hang out with people like me, as well as people without disabilities."
But, Jorge persisted and eventually found adaptive sports, which lead to all sorts of other positive experiences. Before long, he found one of his life's callings was to offer motivation and support to others with disabilities through peer mentoring.
Jorge Alfaro is a Natural-Born Peer Mentor
"I've been peer mentoring really all my life, but with this organization, it has been over ten years now," says Jorge. "I work with Lisa Rosen, the Director at the Life Center – one of the programs at the Shirley Ryan AbilityLab. The center works with families and provides resources, and it's one of the biggest resource centers around for people with disabilities."
"I love mentoring. I think I would have adjusted to my life, had more confidence and faced my insecurities quicker if I had these resources when I was growing up. It was more difficult to find a mentor for me."
"I remember feeling alone or completely reliant on loved ones. Now, I'm in the position to help others, and instead of them having to find me, I find a way to reach out to them in their time of need."
After more than a decade volunteering as a peer mentor, Jorge says he gets as much out of the peer mentoring as he gives. He shares, "I'm always learning something new from people I mentor, as well. They become friends, too. We continue to have a relationship outside of rehab, if they choose to. But, I make sure it's up to them to make the move to reach out – which also helps them gain some independence."
Coming Full Circle with coaching adaptive sports
At 49 years old, Jorge still loves playing adaptive sports, including softball and basketball. And, remember how he didn't like being designated as the coach all the time at the park as a kid? Well, it turns out that experience came in handy .Jorge is also now the coach of a wheelchair basketball team – and beloved by his players!
There's no doubt about it, Jorge Alfaro will continue to be a powerful force within his community, making people laugh all along the way. But, he's no hero, he says. He does this work because he feels like he HAS to.
"After all these years, I don't really believe in amazing people in life, I just believe we're all just ordinary people that have to overcome amazing obstacles. I just want to be a regular Joe Schmo and not miss an episode of America's Got Talent."
When it comes to his disability, Jorge knows that was all part of the plan to lead him down his rightful path.
"People ask me – it's the million dollar question – if I could go back in time and change the day I got shot. It took me a long time, but I got to a point where I started saying 'no, I wouldn't change it.' Everything I've done, all my experiences are due to my disability."
"I don't think there's anything I can't do now that I could do if I was walking, aside from running up a flight of stairs – but who needs to do that?!"
Why Jorge Alfaro is a Big Fan of Cure Medical
"As a medical supply professional, I love Cure products. They make quality but inexpensive catheters, which is great. And they show you right on the packaging that Cure catheters are not made with DEHP. Plus, Cure has continuously added new products," Jorge shares.
"I love that they give back to the community for SCI research, too. It feels so good to members of this community that can't give out of their own pockets to SCI research, but can still offer support by choosing a Cure product."What Jorge loves the most about Cure Medical is their commitment to educate and support kids and their caretakers through the cathing process – which can be scary for anyone.
"The Cure Medical teaching literature for kids is awesome and really well done. It can be a traumatic experience and Cure's educational materials make it easier and friendlier for all involved. I'll definitely share it when peer mentoring."
Learn more about Cure's pediatric catheters and the free educational resources we offer!
PEDIATRIC HYDROPHILIC CURE CATHETER® FEATURES
Sizes: 8-14 French
10-inch long, STRAIGHT catheter
High quality materials — not made with DEHP*, BPA or natural rubber latex
Smooth polished eyelets for increased comfort
Purified water packet for easy, mess-free/stain-free instant hydration
Textured advancer/gripper for clean, controlled use
For Pediatric Use
Available in USA and Canada
FREE EDUCATIONAL MATERIALS FOR GIRLS & BOYS
In addition to the new Pediatric Hydrophilic Cure Catheter®, Cure Medical is offering a new EDUCATION PROGRAM that parents can use to teach their children 'How To Cath' using fun, instruction tools like:
Backpacks in orange, red, blue and pink with no logos — for discretion at school or away from home,
Flash cards for boys and girls that also include steps for cathing with or without stomas
Coloring books with crayons, a complimentary toy – and more!
Contact us  to request your free backpack with educational materials to help your child learn the steps for self-cathing.
You can also request a sample of the Pediatric Hydrophilic Cure Catheter® using the REQUEST SAMPLE button on the top right side of this page. When you do, an option will appear allowing you to add an educational backpack to your order.
ORDERING INFORMATION + REQUEST A SAMPLE
Offered as a case of 300 units (10 boxes of 30).

To request free samples of the Pediatric Hydrophilic Cure Catheter® or any Cure Medical catheter, contact your local distributor of quality healthcare products, or click here.
Enjoy Our Free Resources & Articles
CURE NATION is designed with you in mind, to offer assistance and education when you need it through a personal support program.
All of the information you find below and on our related social media pages is meant to guide you to places, topics and resources that enhance your life, while also connecting you with a growing group of friends.