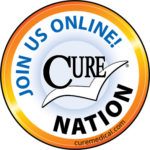 Did you know that prostate cancer is the 2nd most common cancer among American men following skin cancer? With over 160,000 new cases reported each year, the American Cancer Society states, "About 1 man in 9 will be diagnosed with prostate cancer during his lifetime."
What is Prostate Cancer?
Medical News Today explains, "Prostate cancer affects the prostate gland [which is only present in males], the gland that produces some of the fluid in semen and plays a role in urine control in men."
"Cancer starts when cells in the body begin to grow out of control. Cells in nearly any part of the body can become cancer cells, and can spread to other areas of the body. Prostate cancer begins when cells in the prostate gland start to grow uncontrollably." (source)
Common Symptoms & Risk Factors
During the early stages of prostate cancer, individuals may experience little to no symptoms. If and when early symptoms do appear, they often include one or more of the following:
Frequent urges to urinate, including at night
Difficulty beginning and maintaining urination
Blood present in the urine
Painful urination and/or ejaculation
Difficulty achieving or maintaining an erection
If the cancer advances and spreads, patients can experience more severe symptoms, including:
Pain in the hips, back (spine), chest (ribs), or other areas from cancer that has spread to bones
Weakness or numbness in the legs or feet, or even loss of bladder or bowel control from cancer pressing on the spinal cord
It's important to remember, though, that if you or someone you know is experiencing these any of the symptoms listed above, it doesn't mean the diagnosis is prostate cancer. The American Cancer Society explains, "Most of these problems are more likely to be caused by something other than prostate cancer. For example, trouble urinating is much more often caused by benign prostatic hyperplasia (BPH), a non-cancerous growth of the prostate."
Risk factors for prostate cancer include age, race/ethnicity, geography, family history and gene changes. There are also potential links to other factors including diet and obesity, smoking, exposure to chemicals, inflammation of the prostate, as well as a possibly slightly increased risk in men who have had a vasectomy. Not all of the correlations were confirmed in all studies.
Early Detection & Diagnosis
As common as prostate cancer is for men, it's also often manageable with early detection. In fact, sometimes prostate cancer never progresses or causes any harm to the person who has it. If any of the above symptoms arise, however, it's important to notify your healthcare professional right away.
Did you know? Famous people, including Arnold Palmer, Robert De Niro, Bob Dole, Frank Zappa and Nelson Mandela, have been diagnosed with prostate cancer.
According to cancer.org, "The American Cancer Society (ACS) recommends that men have a chance to make an informed decision with their health care provider about whether to be screened for prostate cancer. The decision should be made after getting information about the uncertainties, risks, and potential benefits of prostate cancer screening. Men should not be screened unless they have received this information."
The discussion about screening should take place at:
Age 50 for average risk – men expected to live at least 10 more years
Age 45 for high risk – includes African Americans and men who have a first-degree relative (father, brother, or son) diagnosed with prostate cancer at an early age (younger than age 65)
Age 40 highest risk – those with more than one first-degree relative who had prostate cancer at an early age
After talking with their healthcare professional, men who choose to be screened can undergo a physical exam and/or a PSA (prostate-specific antigen) blood test. If the screening results are abnormal, patients can choose to undergo other tests including an ultrasound and biopsy.
Should the risk factors, symptoms and testing point to prostate cancer, there are a variety of treatment options available. They range from "watchful waiting" and hormone therapy to more aggressive approaches, such as surgery, radiation and chemotherapy.
"If [prostate cancer] is found before it spreads to other organs in a process known as metastasis, the 5-year survival rate is 99%. After 15 years, this decreases to 96%." –Medical News Today 
Living with Prostate Cancer
After a diagnosis, a patient will either choose to move forward with treatment or, if the cancer is small enough and slow-moving, the only treatment may be continued observation. Either way, it will be beneficial to make healthy lifestyle choices.
The American Cancer Society suggests these healthy-eating tips:
Check with your cancer care team for any food or diet restrictions.
Ask your dietitian to help you create a nutritious, balanced eating plan.
Choose a variety of foods from all the food groups. Try to eat at least 2½ cups of fruits and vegetables each day; include citrus fruits and dark-green and deep-yellow vegetables.
Eat plenty of high-fiber foods, like whole-grain breads and cereals.
Buy a new fruit, vegetable, low-fat food, or whole-grain product each time you shop for groceries.
Decrease the amount of fat in your meals by baking or broiling foods.
Limit your intake of red meat (beef, pork, or lamb) to no more than 3 to 4 servings a week.
Avoid salt-cured, smoked, and pickled foods (including bacon, sausage, and deli meats).
Choose low-fat milk and dairy products.
If you choose to drink alcohol, limit the amount to no more than 2 drinks per day.
Don't Use Catheters Made With Cancer-Causing Chemicals
Many people who have been diagnosed with prostate cancer eventually must use a catheter; some on a regular basis. Have you ever checked what chemicals are in the catheters you use?
You may be surprised to learn that some intermittent catheters are made with the chemical DEHP. If you haven't heard of it, HME Business explains DEHP below.
"DEHP (Di(2-ethylhexyl)phthalate) is a chemical commonly used in traditional catheter manufacturing. DEHP is a plastic softener that is often used in the manufacturing process to make PVC more flexible, and it is listed on the Proposition 65 registry as a known chemical that can cause cancer and reproductive toxicity in males."
At Cure Medical, though, we're committed to the well-being of our customers. That's why Cure Catheters are not made with DEHP.
Cure Medical CEO John Anderson explains, "The use of DEHP in catheters creates a number of health risks including patient exposure to hazardous chemicals which leaches from vinyl medical devices. When there are options available to create intermittent catheters that work just as well as those made with standard chemicals, there's really just no reason to use these chemicals anymore if you can avoid it."
"Cure Medical believes it's the right thing to do, so we made the decision to go without DEHP in our products," Anderson adds.
Regardless if you're at a higher risk for prostate cancer, have been diagnosed or have already received treatment, you probably want to be sure that your medical supplies aren't made with scary chemicals like DEHP, BPA or natural rubber latex.
A couple of great options are the Cure Ultra for Men (in both straight and coude tip) and the extra long M14XL! 
Cure Medical also has the largest selection of pocket-sized catheters on the market today that:
are not made with scary chemicals and
do not kink when they are bent.

To request free samples of any Cure Medical® catheter, contact your local distributor of quality healthcare products, or click here.
For more information on understanding and managing prostate cancer, visit the American Cancer Society or the National Cancer Institute for free resources and downloadable docs!
Founded by a quadriplegic, Cure Medical is the only catheter manufacturer in the world that donates the first 10% of its net income to support research programs in pursuit of a cure for urinary retention, paralysis, spinal cord injury and central nervous system disorders.
Note: This article is for informational use only and should not be construed as medical advice. Always consult your physician with questions related to your individual condition or health needs.
Enjoy Our Free Resources & Articles
CURE NATION is designed with you in mind, to offer assistance and education when you need it through a personal support program.
All of the information you find below and on our related social media pages is meant to guide you to places, topics and resources that enhance your life, while also connecting you with a growing group of friends.
SaveSave
SaveSave
SaveSave