Hey Cure Nation, remember Cure Advocate and WCMX Star Jerry Diaz? Well, he's back with another interview to share about his recent scholastic accomplishment in hopes of motivating you to Go After Your Goals!
Jerry Diaz Embraces His Passion for Metal
As one of the top-ranked WCMX riders in the world, Jerry Diaz has a real talent for handling his wheelchair. He seems to merge with the metal frame as he races up skate ramps, down grind rails and spins effortlessly on one wheel.
Fans love his cool energy and the confidence he commands over his chair, but it took a long journey for him to take charge of the person he is today.
In 2011, Jerry survived a spinal cord injury after attempting to take his own life (read more about Jerry's story here). The experience and second chance at living that followed inspired Jerry to approach life in an entirely new way. WCMX was the outlet that allowed Jerry to become really active and develop a better understanding of himself.
While WCMX kept Jerry pretty busy, he became interested in also exploring a new career. He just didn't know what that could be.
Jerry says it was different before his injury when looking for a job because he would just take whatever he could get. "I'd probably just get any job, like some warehouse job. Some lousy job that I'd probably hate," he shares.
But, post-SCI, Jerry feels like he had to dig a little deeper. He had to consider his talents and skill sets and couple those with what he was physically capable of doing. It's not always an easy process, but it can be pretty powerful to learn new things about yourself.
"I had to really think about what else I could be good at. I always liked working with my hands, so I thought I could do some sort of construction. I'd considered woodworking, but never really pulled the trigger."
"Then one day, I told myself, I just gotta do something."
Then, out of the blue, it came to him. While watching TV one day, Jerry saw a commercial for Mech-Tech Institute in his home-city of Orlando and decided to do a little research. "I was familiar with welding, and my brother welded sometimes. I thought it sounded cool, so I called the number and talked about the possibility of doing the program and eventually started the enrollment process," Jerry recalls.
A Talent for Welding Evolves Into Metal Artistry
At one point in his program, Jerry had finished his assignment and instead of sitting there bored, he asked his instructor if he could make something out of scraps. He got the approval, so he looked through a pile of metal and pulled out some pieces. That day, he made a tiny, detailed skateboard and ignited a passion for metal art.
Over the last couple years, Jerry has continued to hone his welding skills and is now able to make all sorts of incredible things out of metal objects – one of his favorites being a beautiful metal rose. He has even made trophies for WCMX tournaments!
Jerry received his professional certification in Industrial Welding in May and landed a great gig after graduation at a custom fabrication shop. 
Several months before his program ended, Jerry was offered a position at Mad Creative Fabrication in Orlando. "Everyone there is an artist in some way. We make cool stuff for Universal Studios, theme parks and, really, anybody. Even personal stuff for people, including a millionaire that hired us to create an elaborate Alien-themed Halloween display for his mansion last year."
What's Next for Jerry Diaz?
Without a doubt, Jerry will continue developing his metal artistry and shredding on the ramps at any skatepark he can find. But, he's got something else coming up in the fall that gives back to the community he's a part of.
Recently, a representative from a fantastic non-profit, The WhatStopsYou.org Foundation and their inspiring documentary film, Humanity Stoked, reached out to Jerry to invite him to be a part of an event for Make-A-Wish & Starlight Foundation children, this August in at Disney's Give Kids The World in Orlando. Jerry will be on hand to do some of his sweet WCMX tricks, specifically with the goal of lifting the spirits of kids on wheels that will be participating.
The non-profit Humanity Stoked documentary film is a philanthropic journey told through luminaries and thought-leaders. By memorializing their personal stories, passions, perspectives and their connections to skateboarding, humanity, philanthropy, arts, and sciences, music, human rights, LGBTQ rights, environmental issues, politics, the law, and more,  Humanity Stoked is raising awareness and money to help fund those very causes. 

Jerry Will Teach WCMX skills to KIDS wITH Spina Bifida in las vegas
This September, Jerry will join the Spina Bifida Association of the Intermountain Region in Las Vegas as a special guest star at their Lucky 7 celebration event.
During this celebration, they'll be commemorating 7 years of serving the Intermountain region Spina Bifida community with a local educational event.  The Lucky 7 event will feature:
– Two medical expert sessions
1. Dr. Tim Brei who is a pediatrician from Seattle Children' s Hospital and an adult with Spina Bifida
2. Paula Peterson, Spina Bifida clinic coordinator from Primary Children's Hospital in Salt Lake City
– Social hour & community connection opportunities
– A WCMX skills demonstration from extreme wheelchair athletes including Jerry Diaz
Learn more about how you can join Jerry at this fun, informative, and FREE event here.
If Jerry can do it, you can, too!
Jerry says if there's a job out there that you want, go for it. Sure, you may run into some issues or challenges, but if you can add value somewhere with your skills – nothing's stopping you, but you. You can look at your SCI or disability as a curse, or use it to discover new talents, interests and passions that are already within you.
"That's why I don't pity my life, you know," Jerry says. "It's brought a lot of opportunities to me. I live life now. My SCI motivated me to do something different with my life – to see what I could actually do."
WHY JERRY DIAZ CHOOSES A CURE CATHETER
Jerry says, "One day in the not too distant future, I hope research scientists will find a cure for spinal cord injuries. By using Cure catheters, I'm helping to support research, because 10% of the net income from Cure is donated to spinal cord research to help me and other people with spinal cord injuries."
If you can't afford to donate money for spinal cord research, then by using Cure products, the company donates for you and for me.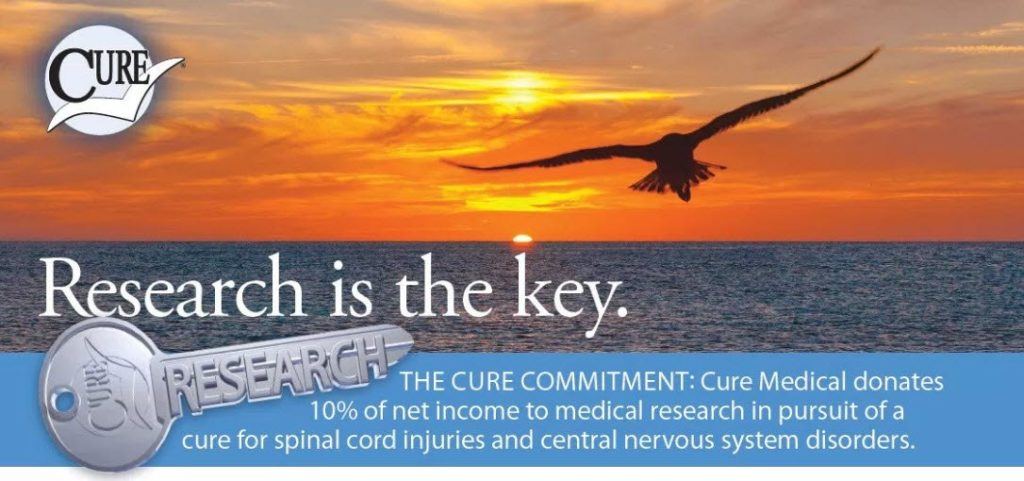 "I'm often asked which catheters I use. I like the Cure pre-lubricated closed system catheters, because the tubes don't kink-up or collapse. Also, each catheter comes with the tube and the bag all connected. Then I don't have to get a water bottle to attach to it or sit on the toilet."
VIDEO: WCMX STAR JERRY DIAZ SHARES WHY HE USES THE CURE MEDICAL CLOSED SYSTEM
I haven't had a urinary tract infection for 4 years, and I think that's because I use Cure catheters.
"Please know that I'm very diligent too about washing my hands before and after I use the catheter, and I wear gloves when I self-cath.
I'm able to get my Cure catheters through my medical supply company. The medical supply company calls and checks on me to find out when I need more catheters shipped to me."
Join the Cure Nation! Choose a Cure catheter like Jerry has.
"Although I've used several different brands of catheters since my injury, I've found Cure catheters to be the easiest to use, and I've had the fewest problems with the Cure catheters. I'm sold on them."

To request free samples of the new Cure Medical® Closed System or any Cure Medical® catheter, contact your local distributor of quality healthcare products, or click here.
Enjoy Our Free Resources & Articles
CURE NATION is designed with you in mind, to offer assistance and education when you need it through a personal support program.
All of the information you find below and on our related social media pages is meant to guide you to places, topics and resources that enhance your life, while also connecting you with a growing group of friends.