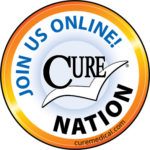 Congratulations to Brittany Rieman who is the grand prize winner of a Cure Medical scholarship to attend the 2018 Rollettes Experience in Los Angeles this August!
A native of Virginia, Brittany was paralyzed in a car accident less than six months ago. She is 30 years old and has 3 beautiful children who love their mom so much, regardless of whether she is walking or rolling. Her son is 11 years old and her two daughters are 8 years old and 11 months old.
Brittany was trapped in her car for two hours after the accident, and fought to survive before she was found.
She's still adjusting to life after spinal cord injury and we are so honored for the opportunity to welcome her to the Rollettes Experience and the Rolling Sisterhood.
Brittany discovered the Rollettes Experience after going on social media looking for friendships with other ladies who use wheelchairs. She wanted to connect with new friends because she is so new to SCI and doesn't know anyone else who uses a chair in her hometown.
We can't wait to introduce Brittany to more than 100 women who understand the ins and outs of Being a Boundless Babe! See you soon, Brittany, thank you for being part of the Rollettes Experience and the Be Boundless Summit.
About the Rollettes Experience
Our friends, the Rollettes, are a dance team made up of women who use wheelchairs. The Rollettes perform unique and captivating routines across the country as well as sharing their stories of adversity and how through determination and high spirits they've gone on with their lives to fulfill their dreams to dance. 
CURE MEDICAL IS A PROUD SUPPORTER OF THE ROLLETTES AND SPONSOR OF THE ROLLETTES EXPERIENCE 2018!
This August, the Rollettes will host an intensive dance experience, the Rollettes Experience International Camp 2018, along with their Be Boundless Summit, bringing together people from all over the globe. Open to all ages and abilities, we welcome you to partake in this life-changing bundle of moments, regardless of dance background.
The Rollettes Experience is more than just dance. It's about finding someplace where you fit in perfectly.
Chelsie Hill founded the Rollettes and the Rollettes Experience to meet other women like her and create friendships.  The Rollettes are excited to welcome women and kids attending from 8 different countries at this year's Experience.
The Rollettes Experience encompasses the team's mission to create a community that redefines what it means to be strong, female, and resilient. When you attend, you're able be a part of that movement, creating lasting friendships, and learning more about yourself in the process.
Learn more about the Rollettes Experience International Camp 2018 here.
Enjoy Our Free Resources & Articles

CURE NATION is designed with you in mind, to offer assistance and education when you need it through a personal support program.
All of the information you find below and on our related social media pages is meant to guide you to places, topics and resources that enhance your life, while also connecting you with a growing group of friends.