GET OUT, ENJOY LIFE PRESENTS THE ACCESSIBLE U.S. TRAVEL GUIDEBOOK: Virginia SPOTLIGHT
Hey, travel fans, if you've been itching to visit the beautiful state of Virginia, see these accessible ideas and destinations below. This should help you on your way!
The adventure of the Old Dominion State awaits, with rich history and beautiful outdoors.
Be sure to download our   FREE Accessible Travel Guide, brought to you by   Sports 'N Spokes, a publication of the Paralyzed Veterans of America,   Cure Medical  and the   Spina Bifida Association.
Note: This isn't an inclusive list of all the accessible travel spots in Virginia. It's more of an idea generator to help you get moving and planning your next getaway. Photos below courtesy of 2017 Get Out, Enjoy Life event. Enjoy!
USTA Adaptive Tennis Virginia
The USTA Adaptive Tennis mission is to provide opportunities to everyone, regardless of any disability, to enjoy tennis. Adaptive Tennis' goal is to promote and develop recreational tennis opportunities for individuals with differing abilities and circumstances through inclusion, knowledge, and support, and by providing, where needed, adaptive programming, equipment, and teaching techniques.
Website: www.usta.com
Facebook: facebook.com/USTA
Phone: 540-982-5524
SportAble Adaptive Sports & Recreation
The reason Sportable exists is to transform the lives of people with physical and visual disabilities through sport! Offers several sports including but not limited to: strength training, cycling, tennis and archery.
Website: https://sportable.org
Facebook: https://www.facebook.com/SportableRVA
Phone: 804-340-2991
Wintergreen Adaptive Sports
Wintergreen Adaptive Sports is a non-profit, 501(c)3 corporation whose mission is to improve the lives of people with a disability through outdoor sports and recreation. As of 2010, we offer instruction in alpine skiing, snowboarding, kayaking, and canoeing. In addition, in 2009 we created our first Wounded Warrior golf program. Located in the Blue Ridge Mountains, next to the slopes of Wintergreen Resort and adjacent to Wintergreen's beautiful Lake Monocan, WAS offers fun, exhilaration and the opportunity to enjoy the outdoors with family and friends.
Website: https://skiwas.org
Facebook: facebook.com
Phone: 434-325-2007
Accessible Virginia
"Accessible Virginia gives extraordinarily detailed descriptions of Virginia attractions, lodging, bed and breakfasts, restaurants, outdoor recreation and shopping facilities that meet the needs of travelers of varied abilities. This web site provides comprehensive information such as locations and measurements of doors, aisles, stairways and bathroom facilities, as well as listings of dialysis centers, equipment repair locations and even veterinarians for assistance animals."
Website: www.accessiblevirginia.org
Email: contactus@accessiblevirginia.org
Facebook: facebook.com/pages/Accessible-Virginia
Accessible Fishing 
The VA Department of Game and Inland Fisheries provide a list of accessible fishing spots for people with disabilities.
Website:  www.dgif.virginia.gov
Email: dgifweb@dgif.virginia.gov
Facebook: facebook.com/VDGIF
See their list of accessible fishing and boating locations in Virginia here: https://www.dgif.virginia.gov/fishing/accessible/
Accessible fishing locations include:
Smith Mountain Lake
James River
Mattaponi River
Lake Orange
Sandy River Reservoi
Lake Robertson, and many more across the state!
The Virginia Travel Guide for Persons with Disabilities
The Virginia Tourism Corporation is currently offering "The Virginia Travel Guide for Persons with Disabilities" website. This site describes the accessibility features of travel attractions, lodging and dining establishments statewide. Packed with information that disabled travelers often find difficult to obtain in advance of their trip, the site is designed to meet the needs of mobility-impaired as well as visually and hearing-impaired travelers. Facility descriptions range from specific measurements of door widths to availability of Braille menus and signing interpreters.
You can access the guide online at https://www.AccessibleVirginia.org.
Get Out, Enjoy Life: 2017-2018 Accessible US Travel Guide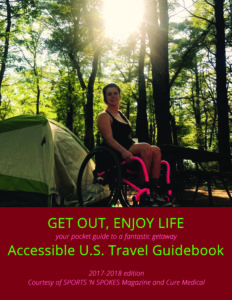 Looking for more fun ways to experience the outdoors across the nation?
Download our free accessible travel guide HERE!
This updated travel guide is an easy, encouraging read that will help you explore all kinds of travel destinations and family fun spots, whether you are new to using a wheelchair or a seasoned pro.
These accessible travel suggestions are part of the 2017-2018 Get Out & Enjoy Life [GOEL] program that is a joint educational initiative between SPORTS 'N SPOKES magazine, published by the Paralyzed Veterans of America, the Spina Bifida Association and Cure Medical.
Enjoy Our Free Resources & Articles
The CURE NATION is designed with you in mind, to offer assistance and education when you need it through a personal support program.
All of the information you find below and on our related social media pages is meant to guide you to places, topics and resources that enhance your life, while also connecting you with a growing group of friends.
SaveSave
SaveSaveSaveSave
SaveSave