This past week, Cure Medical representatives joined over 200 disability advocates and wheelchair users in our nation's capital for United Spinal Association's 6th annual Roll on Capitol Hill.
The purpose of the event is to give attendees the opportunity to meet with congressional leaders and highlight health, independence, community, and quality of life issues vital to people with spinal cord injury/disease (SCI/D).
United Spinal is a non-profit membership organization dedicated to improving the quality of life for all Americans with spinal cord injuries and disorders (SCI/D), including multiple sclerosis, spina bifida, ALS and post-polio.
They are proudly celebrating their 70th year and over that time, have held a significant role in writing the American's with Disabilities Act and also made important contributions to the Fair Housing Amendments Act and the Air Carrier Access Act.
Today, they work diligently year round with their 50-plus chapters, 200 support groups and over 1 million individuals impacted by SCI/D across the country.
This year's event was a huge success in advocating for legislation that improves the quality of life for people with spinal cord injuries and disorders, but you don't have to take our word for it. See the member pictures and experiences below!
Nothing About Us Without Us: Cure Medical Supports disability Advocacy and rights
Cure Medical was a proud sponsor of this year's Roll on Capitol Hill event. Cure Medical Director of Sales Chris Sellwood was on the ground in Washington D.C. to interact with United Spinal members and chapter leaders from all over the U.S.
Rick Hayden, Cure Advocate and president of United Spinal's Southern California Chapter, was also in attendance.
A prominent and long-time disability rights advocate, Rick spoke directly with legislators and policy makers about issues close to his heart, including a law to provide access to complex rehab technology for people with disabilities.
Rick has been a wheelchair user since 1976 and has worked in mobility for much of his career. Even though he has seen progress over the years, he emphasizes how crucial it is right now to remain vigilant for disability rights.
"We have come so close to getting a complex rehabilitation bill passed and now, post-election, we seem farther away. This affects not only me, but thousands of people who require custom mobility and or seating to maximize their function, independence and potential." – Rick Hayden

Learn why Rick hayden serves as a cure medical advocate here. 
Rick talked about how important sponsorship is to the work being done by advocates.  Last year, he  reached out to every single sponsor of Roll on Capitol Hill after returning home to thank them for their support and to connect with their local reps to his chapter.
"This event really is about protecting our rights for what is rightfully ours. I understand how tight budgets and sponsorship dollars can be for the companies that service our industry. So, we really appreciate those that choose to support our efforts and really take the time to become invested in our community."
2017 Roll on Capitol Hill Agenda
The 6th Annual Roll on Capitol Hill    gave advocates the platform to talk to Congress on a number of topics, including:
Protecting health care benefits and services for the SCI/D community, such as pushing back against all efforts to remove our community's consumer protections for health care coverage and pre-existing conditions.
Advocating for improved access to complex rehab technology that our community and wheelchair users rely on to live active and healthy lifestyles.
Safeguarding the provision of accessible transportation for individuals with disabilities across the country.
Ensuring people with disabilities and wheelchair users are not barred from entering public accommodations at the federal and state levels.
Strengthening the provision of home- and community-based services and supports so that individuals can live and participate in their communities.
Ensuring robust funding for agencies from the U.S. Department of Health and Human Services to the Department of Labor so that our community's benefits and services are maintained
One Major Reason Why We Roll: Protecting Urinary Health
A specific issue of concern for United Spinal's members is urinary health. Catheter Bacteriuria is the most common health care-associated infection worldwide.
If you suffer from UTI's, you should get up to speed on current research and what you can do to influence positive legislation regarding urinary health. You can view a presentation here, by MedStar National Rehabilitation Network, to learn more.
Every voice counts. Including yours!
If you're interested in attending Roll on Capitol Hill next year, you can find out more about becoming a member of United Spinal here and getting involved with your local chapter. You can also check out the Advocacy Center on their website, which has information on how to contact your elected officials and all kinds of other great info.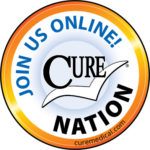 At Cure Medical, we are dedicated to improving the quality of lives for the people who use our products – we call it the Cure Commitment. Not only do we donate 10% of our net income to medical research, but we also support organizations like United Spinal that are working hard to serve the same community.
You can always count on us for support like this, as it is intended to educate and empower our customers and their loved ones.
Don't forget to join the Cure Nation to stay informed with our helpful, community-centered articles and free resources!



Enjoy Our Free Resources & Articles

CURE NATION is designed with you in mind, to offer assistance and education when you need it through a personal support program.
All of the information you find below and on our related social media pages is meant to guide you to places, topics and, resources that enhance your life, while also connecting you with a growing group of friends.