Cure Nation: The outdoors world is waiting for you to visit and explore on wheels!  We hope you'll enjoy the following list of five accessible national parks that are sure to delight you with their sights and wonders.
Before you choose your next outdoors adventure though, sign up now for your free National Parks pass. It's a must-have to get in the gate with no charge at these destinations.
Get the National Parks and Golden Access Pass
National and state parks abound and many offer a broad range of accessible including campgrounds, fishing spots, trails and picnic areas.
For travelers with disabilities, the Golden Access Passport is free and gives users free entry to all national parks, plus 50% off fees for the uses of many park facilities and services.   To get a Golden Access pass, you must show proof of age, US citizenship or permanent residency and proof of disability.  You can request your Golden Access Pass by mail or by internet.
To order passes by mail:
National Park Service
1849 C Street NW
Washington DC 20240
202-208-4747
To order online, visit www.nps.gov.
Ok, ready? Let's go!
1. Glacier Bay National Park – Alaska
People of all abilities can enjoy Glacier Bay National Park! The vast majority of park visitors arrive on board cruise ships and a variety of smaller tour vessels that include Glacier Bay as part of a longer Southeast Alaskan cruise itinerary. By contacting the individual cruise lines, you will discover the easy access for all that they provide.
Inside the park, the Tlingit Trail provides a nice flat, accessible gravel path between the public dock parking area and the front of the Huna Tribal House. While navigable by many new wheelchairs, not all trails meet ADA standards. An exception is the beautiful wooden boardwalk that provides access to a   viewing deck     overlooking a serene pond. This 1/2-mile section of the Forest Trail is accessible and easy to negotiate.
Want to cruise around Glacier Bay National Park? Try Sea Wolf Adventures!
"We offer small ship cruising adventures for everyone including wheelers and slow walkers. Everyone needs adventure and getting into a kayak and paddling through the wonders of nature is food for the soul. So come on one of our adventure cruises with us and see whales, bears, glaciers and amazing vistas in Glacier Bay National park, Alaska."
The Sea Wolf is a redesigned World War II minesweeper. Her decks were widened to 32 inches, three of her six staterooms are wheelchair visitable, a lift was installed for circulation between the two decks and all public areas are accessible. 
Website: https://www.seawolfadventures.net/accessadventure/index.html
Email: kimber@seawolfadventures.net
Phone: 907-957-1438
2. Grand Canyon National Park
One of the most popular U.S. parks and a must-see destination out west, Grand Canyon National Park strives for full and equal participation of all visitors and continually upgrades facilities to make them more accessible.
Know though that some areas in the park pre-date ADA requirements.
A Scenic Drive Accessibility Permit allows entry for visitors with mobility issues access to some areas closed to public traffic. The permit is available at entrance gates and National Park Service visitor centers. The Accessibility Permit does not allow parking in designated handicap parking spaces; a state-issued parking pass is required.
Service animals are allowed in all facilities and on all shuttle buses and trails, but must always be leashed. Persons wishing to take a service animal into the canyon must first check-in at the Grand Canyon National Park Backcountry Information Center.
A digital copy of the Grand Canyon National Park Accessibility Guide Newspaper may be downloaded here.
Looking for a guide? Try the Grand Canyon River Outfitters Association.
"The Grand Canyon River Outfitters Association (GCROA) is a non-profit trade group made up of  the sixteen professional river outfitters which are contracted with the National Park Service to provide the public with multi-day whitewater river trips within the Grand Canyon National Park.  Each outfitter is anxious to share an experience of a lifetime with you!"
Website:  https://www.gcroa.org/home.html
Email: john@gcroa.org
Facebook: https://www.facebook.com/gcriveroutfitters
3. Great Sand Dunes National Park
Great Sand Dunes National Park and Preserve is in southern Colorado. It's known for huge dunes like the towering Star Dune, and for the seasonal Medano Creek and beach created at the base of the dunes. The backcountry Medano Pass Primitive Road winds through a canyon toward the Sangre de Cristo mountains. Trails lead to forests, wetlands and alpine lakes like Medano Lake, which is home to trout and tundra wildlife.
Two sand wheelchairs are available for loan at the Visitor Center. One is designed for adults, and one for children. Although a helper is required to push the chairs, large inflatable tires make short trips across the sand possible and fun!
Great Sand Dunes is continually working to improve access so that everyone can experience this unique landscape. If you have special needs or particular questions, please contact a staff member at 719-378-6395, or visit their website.
4. VolcanoeS National Park – Hawaii
During a volcanic eruption, we are reminded that our planet is an ever-changing environment whose basic processes are beyond human control. As much as we have altered the face of the Earth to suit our needs, we can only stand in awe before the power of an eruption.
Volcanoes are also prodigious land builders – they have created the Hawaiian Island chain. Today, Hawaiʻi Volcanoes National Park displays the results of at least 70 million years of volcanism, migration, and evolution.
Created to preserve the natural setting of Kīlauea and Mauna Loa, the park is also a refuge for the island's native plants and animals and a link to its human past.
Within the park, the Kīlauea Visitor Center, Jaggar Museum, Volcano House, and Volcano Art Center are wheelchair accessible. Pullouts along Crater Rim Drive and Chain of Craters Road afford panoramic views of the park.
Accessible pathways include Waldron Ledge (Earthquake Trail), Devastation Trail, Pauahi Crater, Muliwai a Pele, and Kealakomo Overlook.
Learn more:   https://www.nps.gov/havo/planyourvisit/accessibility.htm
Sunshine Helicopters Can Fly You Over Hawaii
If you thought helicopter tours were out of your reach, think again. Thanks to Sunshine Helicopters' special lift, you can see the splendor of Maui, Oahu, Kauai, and the Big Island from the sky.
Website: www.sunshinehelicopters.com
Email: bookings@sunshinehelicopters.com
Phone: 866-501-7738
5. Statue of Liberty
That's right, the Statue of Liberty is actually a U.S. National Park, and your Golden Access Passport will get you into see her!  The best news is this world-famous New York destination is now wheelchair accessible.
Statue of Liberty Superintendent David Luchsinger said the 2012 renovations, which included installing new staircases and an elevator designed for wheelchair-using guests who wish to visit the observation decks, allow about 26,000 more people who roll to visit the monument per year.   Source
More than 3 million people visit Lady Liberty every year, and you can too!
Get Out, Enjoy Life:
2017-2018 Accessible US Travel Guide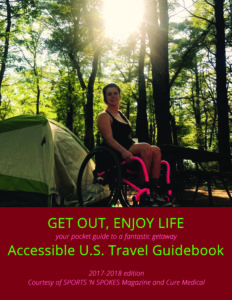 Looking for more fun ways to experience the outdoors across the nation?  Download our free accessible travel guide!
This updated travel guide is an easy, encouraging read that will help you explore all kinds of travel destinations and family fun spots, whether you are new to using a wheelchair or a seasoned pro.
These accessible travel suggestions are part of the 2017-2018 Get Out & Enjoy Life [GOEL] program that is a joint educational initiative between SPORTS 'N SPOKES magazine, published by the Paralyzed Veterans of America, the Spina Bifida Association and Cure Medical.
HITTING THE ROAD? CHOOSE A CATHETER THAT MAKES TRAVEL EASIER.
Have you seen the extra long M14XL Cure Catheter? This 25-inch long catheter eliminates the need for extension tubing and may also save you from having to transfer in a public restroom.
The sterile, single use, Extra Long Cure Medical Pocket Catheter is not made with scary chemicals like DEHP, BPA or Natural Rubber Latex. It also offers discreet portability by easily fitting in most pant pockets.
The Cure Medical M14XL Extra Long Pocket Catheter is offered with polished eyelets on a straight tip and funnel end in an extra long (25") length. It is also available as an extra long (XL) with lubricant and gripper sleeve.

To request free samples of the Cure Medical® Extra Long Pocket Catheter or any Cure Medical catheter, contact your local distributor of quality healthcare products, or click here.
Enjoy Our Free Resources & Articles
The CURE NATION is designed with you in mind, to offer assistance and education when you need it through a personal support program.
All of the information you find below and on our related social media pages is meant to guide you to places, topics and resources that enhance your life, while also connecting you with a growing group of friends.