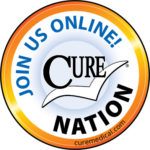 Kim Jackson is the Director of Communications and Marketing for Vermont Adaptive Ski & Sports – a nonprofit organization in Vermont that provides sports and recreation for people with disabilities from all over the United States, regardless of their ability to pay.  Kim shares all of the exciting adaptive sports and programs available through her organization below, especially for the CURE NATION!
The mission of this organization is to "empower individuals with disabilities and promote independence and further equality through access and instruction to sports and recreational activities."
Vermont Adaptive believes that, "Sports and fitness provide physical, mental and social experiences that are immeasurable in promoting self-confidence and independence in an individual.
According to Jackson, "We create recreational opportunities for people with a wide range of disabilities (physical, cognitive and emotional or behavioral) and ages. Our participants and athletes can be from anywhere, and they also can have any level of disability. We mainly try to provide outdoor recreation for anyone with any type of disability."
During the winter months, our participants ski, snowboard, cross country snow ski and snowshoe. In the warmer months, our organization teaches sailing, kayaking, paddle boarding, mountain biking, cycling, hiking, tennis, horseback riding, beeper baseball and rock climbing. We also offer a wellness program, C.O.R.E. (Communicate, Overcome, Relate, Empower) Connections and an environmental program, EcoAble Adventures.
About 50 percent of the people we serve are from Vermont, and about 50 percent are people outside Vermont. We often have numbers of ski groups in the wintertime, or they may do programs in the summer.
Since we're very connected to the travel and tourism groups here in Vermont, a lot of our clients are from out of state.
In February, we host events for people who have visual impairments. Our clients come from all over the United States to those outdoor activities. We have volunteer instructors that we train, and when students come in, they make hotel, motel and restaurant reservations.
Our administrative team is headquartered in Killington, Vermont, but because we offer various recreational activities statewide, we have at least a dozen different locations in Vermont that provide outdoor recreation on a year-round basis. We provide instructors, instruction and equipment.
VIDEO: WPTZ News 5 Spotlights Vermont Adaptive Ski Programs
The Way Vermont Adaptive Ski & Sports Began
Vermont Adaptive Ski & Sports was begun in 1987 by Laura Farrell. Initially, our program was known as the Vermont Handicapped Skiing Association. In the beginning, the program was conducted to provide a recreational skiing program for people with disabilities and teach them how to ski.
As the program began to grow and expand, we started offering more and more kinds of outdoor recreation to more individuals with different types of disabilities. In 2016, we celebrated our 30th anniversary.
We are a nonprofit that receives funding and are the beneficiary from individuals, organizations, grants, foundations, donations and fundraising events. So, numerous sources help to fund the many different activities of Vermont Adaptive Ski & Sports.
Every person who takes part in our program has a volunteer instructor who helps design the outdoor sport program in which someone wants to participate.
We deal with people with cognitive and emotional disabilities as well as amputees, cancer survivors, a diagnosis of autism, spinal cord injuries and any other type of disability.
We're not concerned about what kind of disability an individual may have. We just want these people to play and have fun with us – not only in winter sports, but also in spring, summer and fall sports.
Our organization tries to define what kind of sport each person wants to learn or participate in, and what challenges they may have. Then we match each participant with one of our trained instructors who understands the type of challenges the person may have.
The instructor develops a recreational activity that is specifically designed for that participant, according to his or her challenge and the sport.
We have volunteers from the State of Vermont who share their time as instructors for these people with disabilities. We also have instructors from out of state. Some of these instructors may have recreational homes or cabins in Vermont. While they're in Vermont, they'll volunteer as instructors.
During the winter months, we have three main locations – Pico Mountain (https://www.picomountain.com) owned by Killington Resort, Sugarbush (https://www.sugarbush.com/) Resort in Warren in the central part of the state and Bolton Valley (https://www.boltonvalley.com) in Bolton, near Burlington, Vermont.
During the summer months, Vermont offers more places to teach warm weather sports. Our main hub at that time of the year is near Burlington on Lake Champlain.
We have a bike path on the lake, and this is where we teach sailing, canoeing, backpacking and biking. We partner with a rock climbing gym in that area.
We also conduct many of our activities in various Vermont State Parks.
Depending on where the people want to come to or where they live, we also have vehicles with trailers and equipment. We go to wherever is closest to where people with disabilities want to come to or live. The vehicles and trailers give us many more options and places to conduct outdoor recreation and sports for people with disabilities.
The Future of Vermont Adaptive Ski & Sports
Three years ago we started the first phase of a three phase new permanent home at Pico Mountain. In phases two and three, we also want to have a permanent home for our organization in Burlington, Vermont, and another permanent home at Sugarbush Resort.
Our goal at Vermont Adaptive Ski & Sports is to serve as many people with disabilities as we can as often as we can. We also want to make sure we have the most-modern adaptive sports'equipment available, and the best and most highly trained instructors that we possibly can have.
We want to continue to provide a great level of programs for anyone's type of disability. We have a good number of people who come for multiple outings several times during a calendar year. Others only may participate once a year or once in a lifetime.
Vermont Adaptive Ski & Sports has different charges, depending on the activity a person may want to do.
For instance, a full day ski lesson, a lift ticket, an instructor and adaptive equipment costs $140. Part of our mission and a part of the fabric of our organization is that we never turn a person away because of their inability to pay. So, we offer scholarships.
If someone tells us, "I can't afford to pay the cost of an activity, then our organization says, "Okay, what can you afford?" Then we work with that number.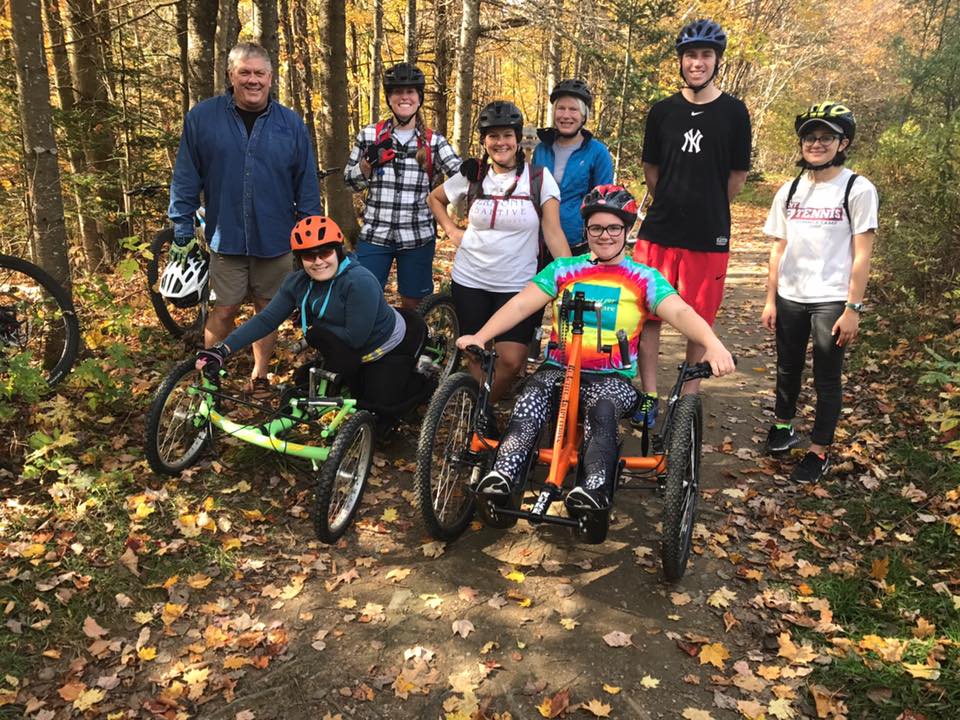 How you can get involved with Vermont Adaptive ski & sports
You can go to our website, but you won't find any pricing on the website. A person fills out a client profile on our webpage and says what area of Vermont he or she wants to visit.
The form goes to one of three program coordinators, who then begins to correspond with the individual who wants to participate in one of the Vermont Adaptive programs. They discuss the program needs of that individual, and what cost may be incurred for each activity.
For instance, everyone in a wheelchair may be using a wheelchair for a different reason, and this is why each visit to Vermont Adaptive Ski & Sports needs to be tailored to the activity and the challenges that each person may have.
If someone needs a certain type of clothing for a sport they want to participate in, and they don't have that type of clothing, we have some clothing that people can borrow. For instance, if someone never has snow skied before, they may not have the clothing needed to snow ski. So, they can ask if that type of equipment or clothing is available.
For more information about Vermont Adaptive Ski & Sports, go to https://www.vermontadaptive.org.
---
Get Out, Enjoy Life: 2017-2018 Accessible US Travel Guide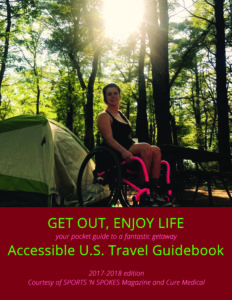 Looking for more fun ways to experience the outdoors across the nation?  Download our free accessible travel guide!
This updated travel guide is an easy, encouraging read that will help you explore all kinds of travel destinations and family fun spots, whether you are new to using a wheelchair or a seasoned pro.
These accessible travel suggestions are part of the 2017-2018 Get Out & Enjoy Life [GOEL] program that is a joint educational initiative between SPORTS 'N SPOKES magazine, published by the Paralyzed Veterans of America, the Spina Bifida Association and Cure Medical.
Enjoy Our Free Resources & Articles
The CURE NATION is designed with you in mind, to offer assistance and education when you need it through a personal support program.
All of the information you find below and on our related social media pages is meant to guide you to places, topics and resources that enhance your life, while also connecting you with a growing group of friends.